This guide will give you the best shipping discount coupons and promo codes. The guide will cover how to get cheaper shipping rates.
Growing industries and online shopping both have compelled the eCommerce business to brush up on their strategies. Shipping charges become an essential factor while transporting a parcel from one place to another. 
Allowing discounts on shipping not only makes the customers happy but also attracts new reliable customers. That is why courier companies like FedEx, DHL, UPS offer lucrative discounts to their customers. 
Now the question is how to avail of these shipping discounts. Don't think much. We are here with this article where we will inform you how to get the shipping discounts and other necessary information. So, here we go.
Discounted Shipping Labels from Different Companies
Considering their services FedEx, DHL, USPS, UPS are some big names. Without going into many complications, let's learn precisely what kind of discounts they offer their customers. 
FedEx discount

FedEx has a range of discount rates to support small businesses. There are up to 26% discounts on FedEx Express U.S. and FedEx Express International. FedEx ground offers up to 15% discounts, and FedEx office services offer up to 20% discount. Using FedEx Shipping Manager, you can seize an additional 5% discount along with your present discounts.  
USPS discount

USPS is always known for its standard charges and services. They allow nearly a 6% discount on all their Priority Mail Express shipments and an 11% discount on the Priority Mail shipments. Other discounts include 8% off for Priority Mail Express International and discounts for First-class Mail letters.
DHL discount

DHL is another renowned shipping company that offers up to 40% discount on all shipping services and offers up to 30% if paid with a credit card.
UPS discount

UPS has different schemes of discounts for small and growing industries. If you are shipping with UPS for the first time, you will get 40% discounts for the first 8 weeks and 35% after those weeks. Besides that, they have a 9% discount offer on UPS Ground service and up to 18% discount on their air and international service.
Special eBay discounts

FedEx, USPS, and UPS offer discounts when eBay is involved. USPS offers up to 25% off, FedEx offers up to 37% off, and UPS offers up to 34% off. 
Additional coupon codes
Though USPS and DHL presently do not have any active coupon codes, FedEx and UPS have their specific coupon codes to lead you to additional discounts. Check them on their official websites.
Now, let's take a quick look at what discounts different countries offer on shipping.
Shipping discounts by countries
Even if you are not a regular customer, you can still avail discounts in these countries.
With priority Mail Express, you can save up to 13%. With Priority Mail up to 40%, with First Class Mail up to 40%, up to 40% with DHL Express savings, you can make.
You can save up to 20% off retail Hermes rates and up to 40% off DPD rates.
You can save up to 22% off Canada Post rates.
How to Get These Shipping Discounts
Now comes the most valuable question – how to get these discounts? Well, keep reading.
With different shipping companies, there are different ways to avail of discounts. Check it out.
USPS Shipping Discounts
For USPS, you get modest standard rates. USPS discounts can offer you considerable savings if you select one of the three options below.
SHIPPO Shipping Discounts : Our 1st Recommendation
As you sign up on Shippo, you get a discounted USPS commercial pricing up to 88%. It has an easy-to-use interface that allows you to print labels from other careers like FedEx, DHL, and UPS which are all available on the platform. From October 1, 2020, Shippo has removed all fees including any monthly fee and you'll only have to pay the discounted USPS commercial rate for postage.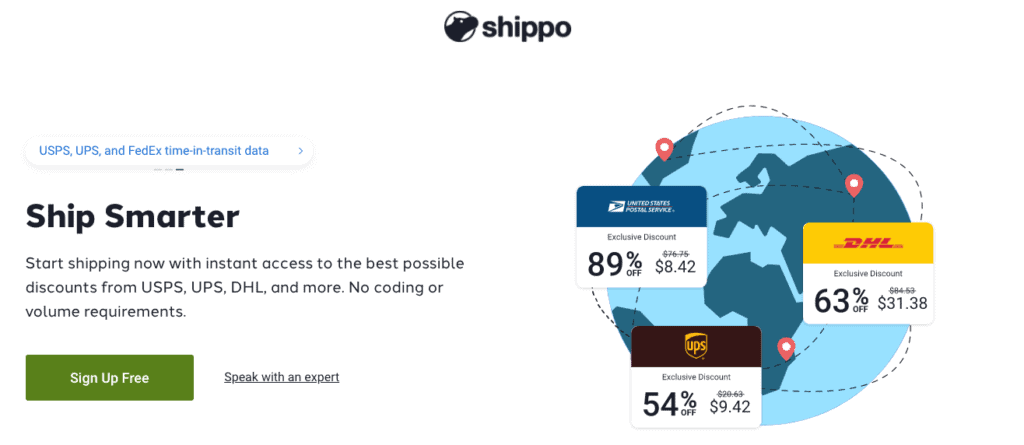 Shipping with Shippo is ideal for occasional purposes like Christmas time and as for extra shipping, you can go for the shipping API and e-commerce integration. It's a handy feature if you need to automate your shipments and if you want to buy labels in batch, you can do that by just uploading a CSV file. Also, USPS offers free pick up for your shipments.
Current Promotional Codes for Shippo:
$10 credit (2 package shipping): SHIP2GET10NOW
Free Professional Plan for 3 Months: 3MONTHSFREENOW
Click here to start your 30 days free trial now.
PAYPAL USPS Discounts
It's a bit hard to find but there is a postage feature in your Paypal account. You can easily buy your postage from there and print it on your home printer. Ideal for one or two labels. More than that can make the interface a bit bloated.
USPS CLICK-AND-SHIP
You can sign up on the official site of USPS to buy labels online. Those are less expensive than buying from a physical post office. However, you don't get discounted commercial rates as you get with Shippo. There's no availability for First-Class postage labels on the website. Only Priority Mail labels for you here.
HIGHLIGHTED DISCOUNTS:
5% off for all shipments for Priority Mail Express
Depending on weight and distance, USPS offers up to 11% off on all Priority Mail shipments,
Up to 8% for Priority Mail Express International (Flat Rate items are excluded)
Undisclosed discounts for Metered Mails (Converted from First-Class mail letters)
FedEx Shipping Discounts
How to get cheap fedex rates? FedEx has a variety of discount programs for their customers.
FedEx ADVANTAGE PROGRAM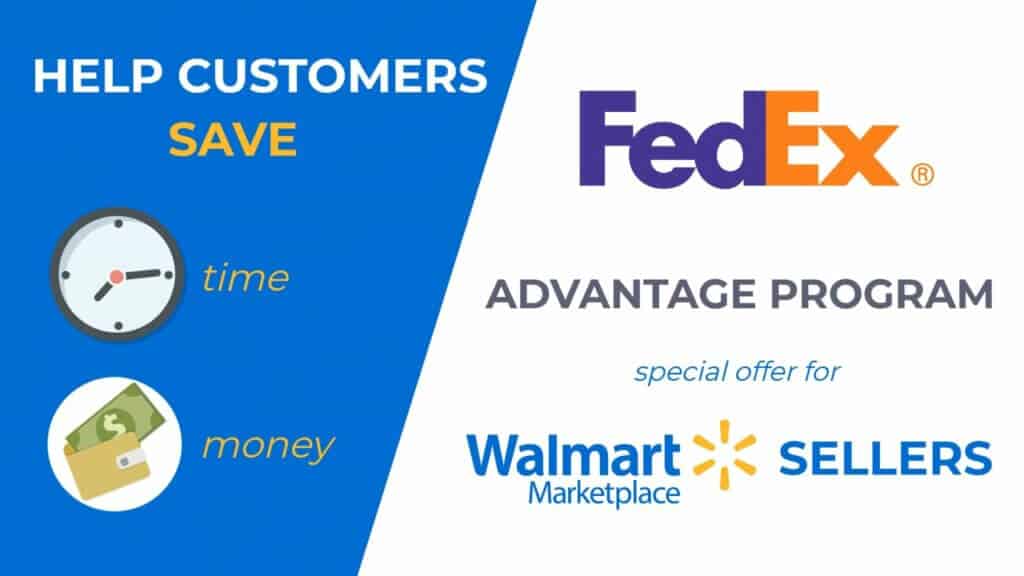 Discounts like 29% off for FedEx Express shipping and up to 20% off on FedEx Ground shipping. You can enroll online for discounts on FedEx Office services. Make sure you have a Shippo account since the promo code is associated with them. The approval of the promo may take a couple of days.
AMERICAN EXPRESS OFFERS
Customers with an American Express card are fortunate because they can get a discount with FedEx. Use an Amex credit card to pay for your FedEx shipping and it can get you a cashback of 20% – 40%.
Check American Express Credit Card Offers Right now!
USAA MEMBERS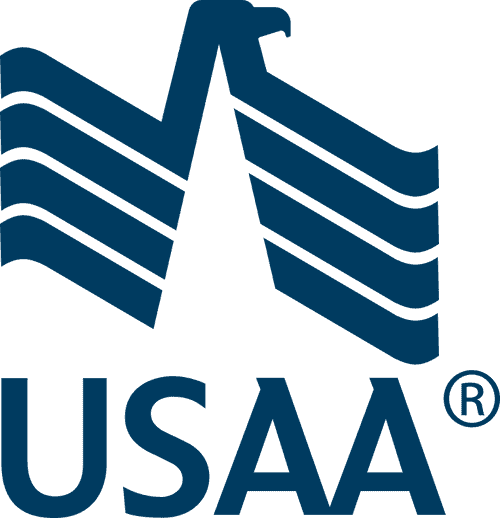 Members of USAA can save up to 28% on U.S. shipping while they can avail of a 36% discount on International FedEx Express. Sign-up online for the program or you can call 800-256-6717 to get yourself enrolled for the USAA member number.
FedEx has several discount plans for small businesses to support them. It includes,
| | |
| --- | --- |
| SERVICE | DISCOUNT RATE |
| FedEx Express U.S. | 26% |
| FedEx Express International | 26% |
| FedEx Ground | 15% |
| FedEx Office Services | 20% |
There's an additional 5% off for users who create labels through FedEx Shipping Manager. Also, for all new FedEx accounts, there are several high discount rates.
FedEx Freight U.S. services – 70% off
FedEx Express® U.S., international, and return services – 40% Off
FedEx Express and FedEx Ground residential surcharges – 25% Off
FedEx Ground® U.S. and return services – 20% Off
FedEx International Ground® services – 10% Off
I hope this answers your question how to get discounted fedex rates here.
UPS Shipping Discounts
If you are shipping a large volume of goods, UPS discount rates can be pretty convenient for you. UPS is responsible for handling a huge part of eCommerce packages in North America and its outskirts.
| | |
| --- | --- |
| SERVICES | DISCOUNTS |
| UPS Small Business Program | 40% discount on all shipping services for the first 2 months and up to 35% later on. |
| Air and international shipments | 18% Off |
| UPS® Ground | 9% Off |
You also get exclusive small business savings with UPS.
30% off on Online Print Products
Get 15% off on Packing Services
5lbs of free shredding with a minimum of 10lbs shredding order
3 months Free Mailbox Services
If you're more into occasional shipping and looking for discounts, here are some options for you.
SHIPPO & UPS
Shippo offers a UPS discount of about 55%. The process is quite easy. You have to sign up for a free Shippo account and apply for the discount. Once you're signed in, just set up your offer.
Click here to start shippo 30 days free trial.
eBay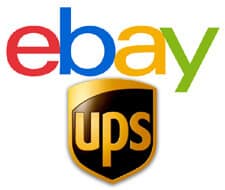 eBay can offer you a discount of 34% on your UPS account. For this, you need to have both eBay and UPS accounts available, and the sign up is absolutely FREE.
PROMO CODES
UPS provides a seasonal promo code to save some bucks on your shipment. In the year 2019, UPS offered a 20% discount on their Ground Shippment and 40% on the Air Shipments. The currently available promo code is: EASY, use it during the payment process.
STAPLES DISCOUNT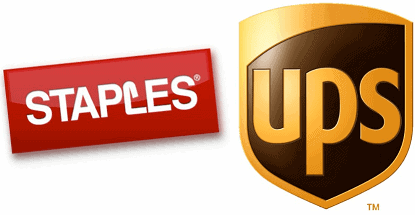 By the time of Christmas, Staples increases its UPS discount from 20-25%. Ground Services are not included in this shipment process as it is available for 2 days or next-day shipments only.
DHL Discounts
DLH is trying its best to gain customers' attention with competitive extra services for account holders along with discount rates. The amount you'll be saving with DHL  completely depends on the volume you are shipping.
40% off on all shipping services
30% off for credit card accounts
30% discount on international shipping depending on the volume of the shipment
Choosing the right shipping partner
Choosing the right shipping partner is the most important task one must go through. Well, shipping charges involve some key factors. Once you learn about those, you will be able to choose the right partner according to your needs and priorities.
Pricing
By Pricing, we generally mean the charges for the parcels. Here, in this case, that is the shipping charge. But actually, there are two main categories in pricing – Postal and Express. For postal service, you need to pay only for the shipping cost. 
But there the service is slow and might be of poor quality sometimes. Keeping that in mind, Express service is fast and provides great quality service. But their charges include shipping surcharge, parcel handling charge, taxes, and duties, etc.
Speed
Now, we have to admit that speed matters. For shipping service, fast delivery becomes a key factor for the company's goodwill. Sometimes it also depends on us whether we want a standard delivery or an urgent delivery. Shipping charges are higher when it is fast or overnight delivery.
Customer Support 
Customers seek reliable service. There are cases like lost packages or refund issues, or even tracking numbers not found. Once looking for a shipping partner, keep these things in mind and check if those issues are handled with care. Follow the review sections if needed.
So, these are some important facts to remember while you choose the right shipping partner for your package or your business. Now, let's learn about the kinds of discounts the renowned companies offer.
Final Thoughts on Shipping Discounts
So, as you can see, we clearly discussed all the important aspects of shipping discounts and gave you ideas on getting these discounts. I hope this serves useful to you. All the shipping companies more or less look after their customers' advantages and so come up with new discount offers. You just need to check their websites regularly. I hope you enjoyed reading our article. Happy shipping.