UPS allows you to get your shipment picked up from your home or office. For that, you will just have to visit their official website ups.com and schedule a pickup. However, we have also provided a simple step-by-step guide regarding How to schedule a UPS Pickup.
You can also call them at 1-800-PICK-UPS to schedule your pickup. UPS provides you the facility to get all your packages picked with just one single pickup request. Plus, they don't charge you any extra money as pickup fees.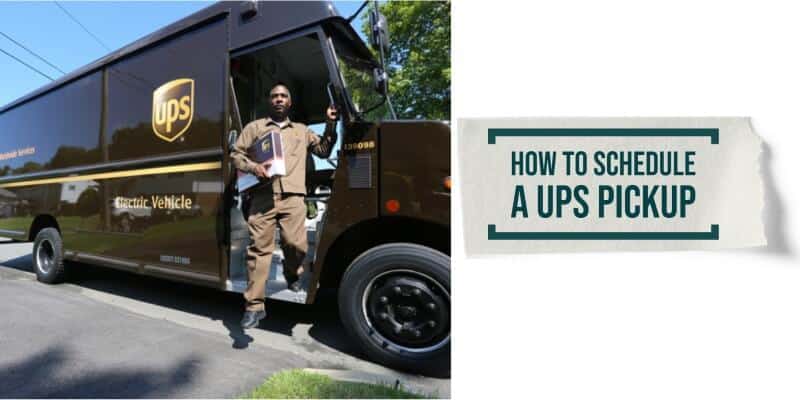 How to schedule a UPS Pickup: Step by Step Guide
Step 1: Visit the official website at ups.com
Step 2: Select "Shipping" on the top
Step 3: Click on "Schedule a Pickup."
Step 4: In the form mention whether you have pre-printed shipping labels or return labels by checking the box. 
Step 5: Fill in the form. You are required to input all the necessary pickup information, location details, customer details, service and package information, and other important details on the form.
Step 6: Enter the number of packages you want to be picked.
Step 7: Set the date and time to schedule the pickup according to your convenience. 
Step 8: Leave an email address and phone number for the contact person at your requested pickup location. This will help you to keep track of the shipment
Step 9: Click on the "Next" button to avail of the pickup service.
Step 10: Now input your payment details
Step 11: Click on "Next" to verify the details of your pickup request.
Step 12: Click on "Next" to receive your pickup confirmation. You will also receive a Pickup Request Number.
N.B.: Note down the Pickup Request Number. This will enable you to access the services of canceling, modifying, or tracking the status of your pickup. It is more convenient if you can take a printout of the confirmation page. Keep the printout safe with you for future reference.
How to schedule a UPS Pickup: Steps to Schedule a Recurring UPS Pickup
To set up a recurring UPS pickup, you are required to have a ups.com payment account.
Steps if you already have an account:
Step 1: Sign in to your account using your user ID and password
Step 2: Select the Payment Option from the drop-down menu
Step 3: Edit the Payment Option where you want to add the recurring shipment
Step 4: Select the Pickup Options and choose the one that suits you the best
How to schedule a UPS Pickup: Steps if you do not have an account:
Step 1: Create a ups.com account using a user ID and password
Step 2: You will receive an email on the registered email account
Step 3: Click on the link to verify your email address
Step 4: You will be redirected to the ups.com home page
Step 5: Click on your user name to reveal a drop-down menu
Step 6: Select Payment Option
Step 7: Click on "Add New Account" from the "Add Payment Method" drop-down menu
Step 8: Select your preferred pick up options
Additional Details for How to schedule a UPS Pickup:
You can schedule the pickup for the same day or any other day in the future.
Infrequent shippers can avail of the service through UPS on-call pickups and need not schedule a pickup service.
Traveling business users are permitted to request a pickup other than their usual location.
UPS pickup services are available to most addresses.
You can pick up the package from UPS before delivery to your home. Click the link to check the detailed guide.
Benefits of UPS Pickup:
UPS picks up all your ground, air, and international packages.
The pickup services are quite flexible and adjustable to customer needs.
Fees are applicable as per each pickup service, irrespective of the number of packages.
Availability of convenient service at commercial and residential locations.
You can also talk to a human at UPS if you get stuck while scheduling the pickup.
How to Complete UPS Pickup Date and Time Information:
Step 1: Select a Pickup Date to indicate when you want your package to be picked
Step 2: Select Earliest Pickup Time to indicate by when the package will be ready to be picked up
Step 3: Select Latest Pickup Time to indicate the latest time to expect access to your package
How to Complete UPS Pickup Location Information:
It is advisable to provide as many details as possible while filling in your location information to quickly locate your shipment.
If you are logged in, you can avail yourself of selecting your existing pickup location from the Address Book.
If you are not logged in: You will have to type out your preferred pickup location manually.
How to Enter Specific Location Information:
You can also enter specific location information to ease the locating process for the UPS driver.
Choose from the Preferred Pickup Location options to further specify locations or add more pickup details.
The Special Instructions section allows you to enter additional comments.
How to schedule a UPS Pickup: Frequently Asked Questions:
How much does UPS charge for scheduling a pickup?
The charge is $6.80 if you request a pickup on the same day and $5.80 if you request the pickup for a future date.
Is it okay to leave the package outside for a scheduled pickup?
Yes, it is. You can leave the package outside where the driver typically delivers your package, and they will pick it up from there.
Does anyone need to be present at the location during a pickup?
No, it is not necessary. You can arrange the pickup from your garage, porch, or any other place. But make sure that UPS knows about it.
How to check your pickup status?
You can check your pickup status by using the Shipping history or the Pickup Request Number provided on your receipt. 
UPS provides you with an exclusive service to get your package picked from your doorstep without much hassle. You can either create an account to avail of their services for the regular pickups or use their on-call pickup services for not-so-frequent pickups. You can get your package picked at your convenient date, time, and location.
You can also track your package and check the status of your pickup. Plus, you don't even have to be present at the location at the time of the pickup; you can just leave the package at a safe place, and a UPS driver will pick it up. With all the flexibility, convenience, and additional facilities they provide, UPS pickup services can work the best for you, especially if you are a returning customer.