A sound shipment system aims to create a faster and cheaper delivery process. Renowned companies like USPS have already introduced an array of services to deliver efficiency to the customers. For example, you can now print your shipping labels online and attach them on your own despite buying postage. 
This saves a lot of your shipping expenses. With its unique shipping and delivering services, shipment processes are a lot easier for the business owners now with USPS. Now you can bring a post-office right in front of your computer screen with "USPS Click and Ship." So, what exactly is it? Let's dig deeper into it!
USPS Click and Ship service will help you to print your shipping labels anywhere and anytime at your convenience. This is a kind of online service that helps you print the shipping pre-paid labels even on a regular printing paper. 
USPS will deliver you with a confirmation number that allows you to get information about your package and track all delivery events. The labels encompass delivery confirmation numbers and the time of the delivery. It was estimated in 2019 that about 400,000 business owners had used this service to print labels online.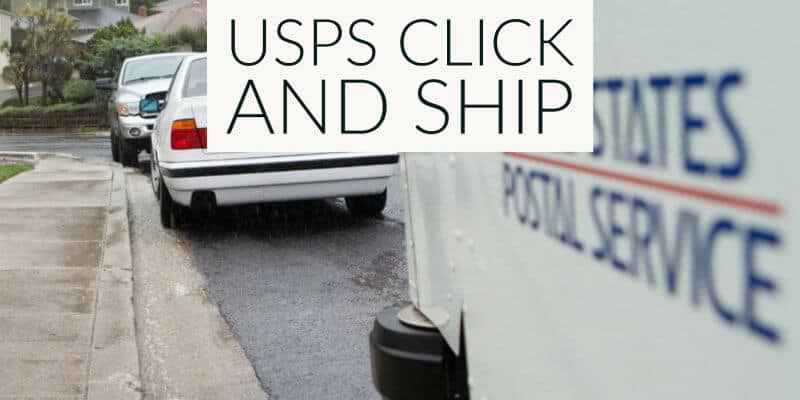 Shipping is a part of the business and a time-consuming process. It is expensive and also diverts the owners from other essential tasks. However, you cannot ignore this as it is a vital part of your business. For all these reasons, businesses always rely on a convenient platform to expect to run a successful delivery. 
What if you are presented with a service where you can print your shipping labels from your local printer, add other required options, and send packaged with your letter carrier? Thanks to USPS for introducing their Click and Ship shipping service to make that possible.
---
What USPS Click and Ship Has to Offer?
Click, and Ship is the all in one postal service provided by USPS to ship the packages dwelling right at your home. If you are using any of the below-mentioned services, this service is relevant for you.
Priority Mail
Express Mail
International Mail services
All you have to do is sign up for the program by creating a free USPS.com account and getting access to the printer and a credit card. Have a look at the features that Click and Ship includes: 
You can calculate and compare rates
Allows you to purchase postal labels on the USPS Website
You can pay for postage with credit cards
Includes addresses standardization
Up to $200 of insurance coverage
Get an address book with up to 1K domestic and international addresses
Email notifications
Convenient account management in the "My Account" portal
Print up to 10 domestic labels in a single credit card transaction
Access to shipping history from the past 6 months to check postage labels
Which International and Domestic Services of USPS Allows You To Print Click and Ship Labels?
Priority Mail
Express Mail
Global Express Mail
Global Express Guaranteed
Which International and Domestic Services of USPS Do Not Allow You To Print Click and Ship Labels?
First Class Services (It is not allowed recently)
Package Services
First-Class Package
USPS Retail Ground (non-military sender)
USPS Retail Ground
---
How USPS Click and Ship Works? 
It's quite a hassle-free process as almost everything is handled automatically. After entering your package's destination and the proper weight of the item, you have to choose shipping methods and other details also. Then you have to pack the box yourself. 
You have to select the shipping date and print your shipping label also. Now, wait for the USPS delivery person to come or you can also drop it by yourself. Leave the rest in their hands; they will get it done for you. 
---
What About The Cost Of USPS Click and Ship?
Click and Ship's cost mostly depends on the particular mail class you are using along with the distance of delivery, and the weight of the items. USPS offers a special discount for those who use exclusive services of USPS. 
The scheduled carrier pickups are free, but only for certain services such as on-demand pickup, USPS charges additional costs. Below mentioned are the rates that will help you understand the cost of using this Click and Ship service.
---
Cost Chart (Domestic Shipping Charges)
| | | |
| --- | --- | --- |
| Service | Price In-Store | Price Online |
| Priority Mail flat-rate envelope | $4.80 | $4.75 |
| Express Mail flat-rate envelope | $16.50 | $16.00 |
| Priority Mail flat-rate box | $9.80 | $9.30 |
| 1lb parcel shipping for 150 miles through Priority Mail | $4.80 | $4.75 |
| 1lb parcel shipping for 150 miles with Express Mail | $12.60 | $12.22 |
The discounts are insignificant for a single parcel but if you are shipping a large volume of shipments, then think how much this service will help reduce your cost? If your business frequently ships the numbers are also high, this service will reduce your overall shipping costs.
---
What Are the Advantages And Disadvantages of This Service?
USPS Click n Ship is quite a handy and easy-to-use service. Highly recommended for small businesses as regular post-office visiting might both cost extra money and time. It's a lifesaver for businesses that are run from home premises. However, like every other service out there, USPS Click n Ship has its own set of advantages and drawbacks as well.
Let's have a look!
Advantages:
Free To Use
Print Labels Easily
No Other Equipment Required
Mobile Friendly
Prices Details Available That Will Help You See What You Will Pay For 
Disadvantages:
No Volume Discount Available
There Are No Low-Rate Shipping Options 
Comes with Only A one- Time Pickup
---
FAQs
Who Should Opt For Click and Ship?
Click and Ship can prove to be a very convenient shipping option for those who prefer amenities over shipping costs. If you are regularly shipping and want to take advantage of flat-rate shipping, this service could be your choice.
How much weight is allowed to ship In Click and Ship?
Click, and Ship allows you to ship any product that weighs up to 70 pounds. If you think the rates are too high, then we suggest searching for some other reliable services.
When Will I Get My Parcels Delivered by the Click and Ship Services?
With flat-rate boxes, you can ship anywhere in the US with the guarantee of two to three-day delivery.
---
Start Your Package Delivery with USPS Click and Ship
USPS is one of the most convenient and preferred online services that allows managing your shipments easily. Starting from printing labels and filling custom forms, it offers you an array of services to choose from. Just provide all the details and get ready for the package pickups. Make sure you have a strong internet connection, a USPS account which is free to open, and a credit card. You're all set to get started!