Your FedEx deliveries may arrive when you are not at home. And if no one is there to receive it, it may return back. But nothing to worry about! With a FedEx Door Tag, you can track your parcel easily after it has returned.
FedEx uses a Door Tag to leave you a notification at the shipping address if you aren't present to receive your package. The number on your Door Tag, which is connected to your original tracking number, provides you the means to track your parcel after it returns from your doorstep.
Why does FedEx leave a Door Tag?
There can be two reasons for FedEx to leave a Door Tag. They are:
· To let you know that they have delivered your package and inform you about the exact location where they have left it.
· To notify you that they couldn't deliver your package and inform you about the next steps you are to undertake.
How to Get a FedEx Door Tag?
There are two ways to get a FedEx Door Tag:
· If you are not at home to receive your parcel and sign for it
· If you have filled an online form to authorize the release of the package with your signature
How to Sign a FedEx Door Tag to Authorise Release?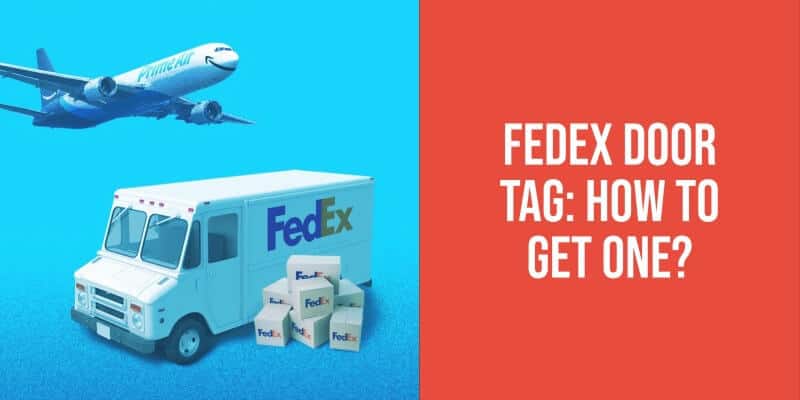 You can authorize the release of your FedEx parcel without your presence at the time of the delivery. For that, you will have to fill an online Door Tag form and sign it. Here are the steps that you need to follow:
Step 1: Go to the Door Tag section at FedEx Official Website.
Step 2: Click on the "Fill and Sign Online" button.
Step 3: You will be directed to an editable PDF template
Step 4: Enter all the required details.
Step 5: Check all the details carefully before submitting
Step 6: Use the "Sign Tool" to put your electronic signature
Step 7: Click on the "Done" button after completing it.
Options to Check on a FedEx Door Tag
When you receive a Door Tag, please check which of the following options is applicable to you. This will help you to understand what you need to do next to get your parcel delivered to you.
Package Not Delivered:
This notifies you that your package has not been delivered. So, you either have to wait for the next delivery or pick it up yourself from the address provided.
Delivery Attempts:
This will inform you about the next delivery date for your parcel. You can either choose to wait or opt to pick it up yourself.
Delivery Requirements:
Check this to know if your delivery requires your signature.
·      Checked Orange Box: If the orange box is checked, you can leave your signature there. Your package will be delivered at the next attempt, even if you aren't at home.
·      Checked "Be Present for Delivery" Box: If this box is checked, then it means that you are to be present when they attempt the next delivery.
Package Delivered:
This notifies you that your package was delivered while you weren't at home. It will also mention the location where your package was kept.
What to do after you get a FedEx Door Tag?
After you get a FedEx Door Tag informing you of your missed delivery, there are two options to choose from:
· Schedule a Second Delivery
· Pick up your Package Yourself
Schedule a Second Delivery:
FedEx usually attempts a second delivery on the next business day. Your door tag will notify you of the date when it will deliver your parcel again. So, you can just sit back and wait for it.
Pick Up your Package Yourself:
If you wish to pick up your parcel before the second delivery attempt, then follow the simple steps:
· Check whether the package is available for pick up
· If yes, then check the door tag to know the pick-up address
· Note the door tag number for verification
· Carry your proof of identification along with you when you go to pick up your parcel
What to do in case you missed the last delivery attempt?
If it was your last delivery attempt that you missed, then you obviously won't have the first option available to you. So, it will be mandatory for you to go for the second option, i.e., pick up your parcel yourself. Your door tag will have the information on whether it was their final delivery attempt. It will also have the location from where you can pick it up. Make sure to call beforehand and check if it's available for pick up at the given address.
How to Track your parcel using FedEx Door Tag?
After getting a FedEx Door Tag, you will have to use the door tag number to locate your parcel. The door tag number is the one that starts with DT, followed by 12 numbers.
Here are a few options to track your parcel using your FedEx Door Tag number:
Using the FedEx Mobile App:
A FedEx App is available for download on your mobile. You can use it to track your parcel. You will have to scan the barcode on your door tag, and the app will track your package and show you its exact location. Also, it will show you the available delivery options.
Using Online Website:
You can also visit the FedEx Website and use their tracking tool to locate your package. Just enter your door tag number, and it will help you show the exact location of the parcel.
Via Text Message:
You can also track your parcel via text message. Just type follow and your door tag number and send it to 48773
Through Call:
You can also locate your parcel by calling 1.800. GoFedEx 1.800.463.3339 Say "Track my Package" and then follow the instructions to get all the information you need.
Some Frequently Asked Questions Related to FedEx Door Tag:
Is the door tag required to pick up your parcel?
Yes, you need to produce your door tag and a photo ID as proof of identification while you go to pick up your parcel.
Is it possible to print a door tag?
Yes; after you are done filling up the online door tag form along with your signature, you can print it out.
Is it allowed to request FedEx to deliver your package without your presence?
FedEx does allow deliveries without signature in certain cases. If you have a suitable secure location to keep your package, you can request FedEx to leave your parcel there. For that, you have to provide a signed confirmation authorizing FedEx to leave your package without you.
That was about FedexDoor Tag. Deliveries are tough to handle, especially with a busy schedule that keeps you out of your home for most of the time. But FedEx deliveries have everything covered to make it simple. With its tracking facilities, door tag, and flexible signing options, FedEx makes sure to provide its customers with a positive delivery experience. It ensures complete security and successful delivery of your packages.