UPS is serving the USA and 220 countries and territories across the world for a long time. In 1907, James E. Casey established UPS's first shop in Washington along with Claude Ryan. From a little shop, it has grown into a global courier service company in no time.
While they have expensive emergency services for 365 days, they have affordable services too. Here, in this article, we will be focusing on every fact of their UPS Ground Shipping Service.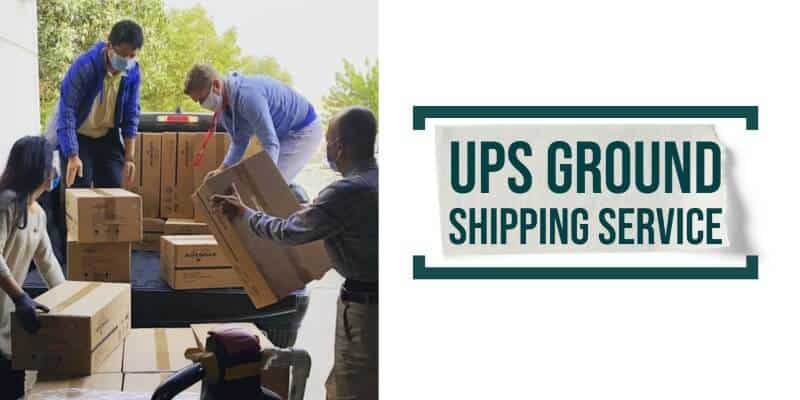 What is Ground Shipping Service? 
The very name of this service suggests its process of delivering the parcels to their destination. UPS uses its ground network to deliver the parcels when you opt for this service. Have you ever seen the brown UPS truck on the streets? Well, that is a very common sight to be seen in the streets of the USA. Yes, that is the very truck that delivers the parcels via the UPS Ground Shipping Service. So basically, it is a freight delivery. 
The freight delivery method makes the Ground Shipping service one of the most affordable services besides UPS surepost. However, this is a completely domestic service. The Ground Shipping Service typically takes one to five business days to deliver the parcel within the United States of America boundaries. 
For Whom UPS Ground Shipping Service Is Ideal?
Ground Service is best for retailers who need to deliver their parcels to their customers within a given time. This is a time-definite and day-definite shipping service. So, if you are in a hurry to get your parcel or send it to its destination, Ground Service is the best option. This can drop the parcel both at your home address or at your commercial store. 
Advantages of the UPS Ground Shipping Service
There are so many advantages of the UPS Ground Shipping Service that you simply cannot overlook. They are- 
This service offers you COD, which means you do not need to pay before your parcel's arrival. Isn't it a great deal? We are sure that it is.
This is probably the cheapest shipping service by UPS. However, the quality of this service is not compromised by the UPS team. 
You are given a tracking ID for tracking your parcel with the Ground Service. So, if there is any delay in the shipment, you can always check it out. 
This service is available in all 50 states of America, which means you can send your parcel anywhere. 
Ground Service is both a residential and commercial service, so individuals and companies can both use it. 
Anything is eligible for this service until it is not more than 150 lbs. 
Pickup and drop can be done both at your doorstep or at any UPS store.
The Ground Service COD
UPS generally attempts three attempts to deliver your parcel at your doorstep for the Ground Service. UPS will try to collect the shipping charges right there. If all these three attempts of delivery become futile, UPS will send the parcel back. In this case, they cannot take the shipping charges from you. 
UPS will accept both the cash and check from you as their shipping charges. The shipping charge for the Ground Service per shipment is US$50,000.00. This rate is the same all over the USA.  
How to Track a Parcel via the Ground Shipping? 
There are mainly four ways of tracking your parcel at the UPS Ground Shipping Service.
Tracking ID
This is the most well-known and preferred way of tracking any parcel at UPS. UPS will send you an 18-digit tracking ID in your Email. This tracking ID becomes active as soon as the UPS collects your parcel and gives you the estimated delivery timing. By putting the 18-digit tracking ID on the UPS website, you can track your parcel from anywhere. 
Phone Number
There are two phone numbers for tracking your parcel. One is for tracking the domestic parcel at the UPS, which is 1-888-742-5877. The other number is for tracking any international parcel, which is 1-866-782-7892. Check more details here: How Do I Talk to a Real Person at UPS?
UPS My Choice 
This is basically a page where you have to log in by creating an account. Here, you can get all the tracking-related information along with the tracking alerts.  
SMS Tracking 
For availing of this tracking service of UPS, you have to register your number on the UPS website. 
Among all these tracking services, our preferred one is the tracking ID. However, there might be some issues with the tracking ID option at times. Keeping this fact in mind, UPS has designed the rest of these three easy tracking options for their customers.
Some Important Regarding UPS Services FAQS  
What to do if my parcel is delayed? 
UPS tries its best to deliver your parcel at the given time. However, we are not saying that there cannot be delays. Obviously, it can happen. An emergency situation may arrive. If you have not got your parcel by the given time, you can inquire about it by calling this number- 1-800-PICK-UPS® (1-800-742-5877). Here, you can also get a refund by saying "Refund." 
What if my tracking ID is not working?
This is a rare case when your tracking ID is not working. Either they have given you the wrong one, or there are some technical glitches. However, you don't need to worry about that. There are three other options for getting all the tracking information. We have given the details of these three options in this article. 
Does UPS work on holidays?
Well, UPS is such a courier company which works on most of the days of the year. However, there are some international and national holidays when all the UPS deliveries and collections remain suspended. The national holidays defer according to the country, but the international holidays remain the same for UPS. 
In today's competitive market, where there is a huge demand for courier companies, UPS has maintained its credulity and credibility. They have many services, some of which have become the first choice of American citizens. The UPS Ground Shipping Service is one such service. This service has more pros than it has any cons. This is why for any domestic shipments, big retailers seek to send their parcels via the Ground Service.