Canada Post allows its customers to contact them via phone calls, email, website, and even through their social media sites. Whether for a simple query or to complain, Canada Post's Customer Care Service is always at your disposal.
Yet, not many people know about this excellent service they provide. Hence, we introduce this article to provide detailed information about the Canada Post Customer Care Service. 
Now, let's hop right in!
How to Talk to a Live Person in Canada Post Customer Care Service?
Not all of us are comfortable talking to a robot when addressing certain issues like losing or holding a package, the package is still yet not delivered to the receiver. In these cases, you seek instant support and help.
So, now let's know how you speak to someone at Canada Post:
Step 1: Dial the number 1-866-607-6301 
Step 2: Press 1 to avail of the service in the English language.
Step 3: Press 1 to enquire about residential service.
Step 4: Press 6 to address any other issues, including those that involve an exciting service ticket.
Step 5: Press 3 to help with the specific issue you are looking to address.
Step 6: Stay on the line and wait for another 5 to 15 minutes for the live person to be available at your service.
After the short wait, you will be able to talk to a live person who can then guide you regarding any issues you seem to be facing with the Canada Post.
To avail of any other service in this method, use the below options in the phone menu:
Press 1:  To call about residential service
Press 2: To address business-related topics
Pressing one will open an array of sub-menu for you to choose from:
Press 1: To track your package, check the delivery status and know the estimated delivery date for your parcel. 
Press 2: To report about an item that's yet to be delivered or to complain about a delayed or damaged delivery.
Press 3: To address any issues with the mail delivery service at the community mailbox or the mail forwarding services.
Press 4: To know about any post-office-related information or enquire about postal codes or rates.
Press 5: To enquire about any issue related to a delivery notice card.
Press 6: To obtain help on any issues other than those mentioned above, including those that involve an existing ticket service.
Press * Key: To repeat the entire sub-menu once again, for you to understand and correctly choose the category of your inquiry.
6 Other ways to contact them:
Canada Post offers you excellent Customer Care Service through various media, trying to serve you to the best of their abilities. You can either use your phone or social media to get in touch with them. You can also fill out an online form to file a complaint, report any issues, or create a service ticket. Plus, they have an entire Support section dedicated to their customers, addressing all the common and frequently asked questions.
Find below the various ways in which you can access the Canada Post Customer Care Service: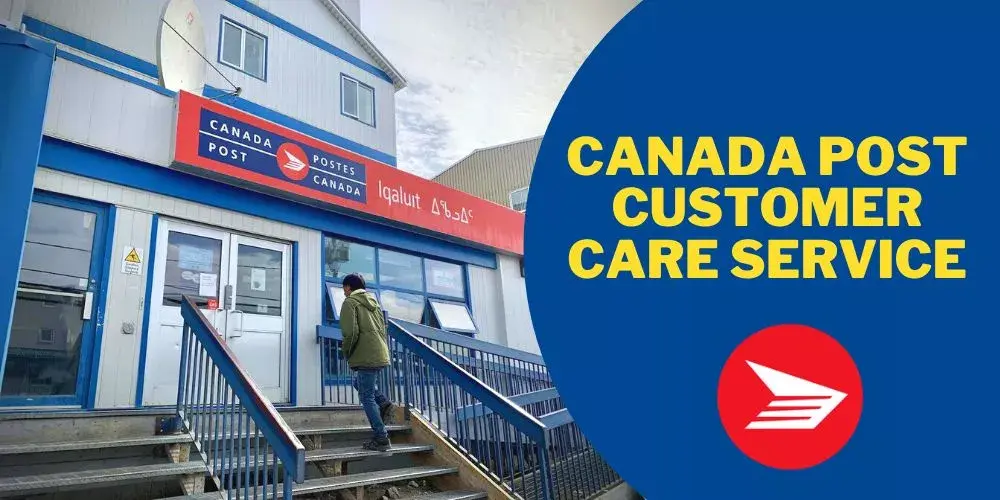 Phone:
To contact the Canada Post Customer Care Service via phone, use the following contact numbers:
Inside Canada: 1-866-607-6301
Outside Canada: 416-979-3033
Timing to contact them via phone call varies for weekdays and weekends as:
Weekdays (Monday to Friday): 7 am to 11 pm (ET)
Weekends (Saturday and Sunday): 9 am to 9 pm (ET)
The specific reasons for which you can contact them via phone call include:
To know the Delivery Status of an order which can be tracked
To acquire any knowledge about Community Mailbox
To ask something about sending or receiving emails
To address any inquiry about Email marketing
To unsubscribe from Email Marketing
Website:
Instead of calling Canada Post directly, you can visit the Support Page on their official website and see if they already have answers to your specific queries. You can choose your issue from the topics displayed on the website, like tracking service, claim policy, delivery service, community mail service, etc. You will also find several other postal service and business-related topics addressed there.
On the Support Page of their website, you can even search their support resources to find the particular answer you are looking for. More often than not, you will find the solution to your problem on their support page. And that will enable you to solve your issue without contacting them directly, saving you a lot of time and energy.
Email:
Even though Canada Post offers better and faster Customer Care Service via phone calls, some still prefer to contact them via email.
Now, Canada Post has a different email address to serve a different purpose. This is done to ensure that their customers receive fast and quality service.
Below are the email Ids to contact Canada Post Customer Care Service:
For Customer Service: [email protected]
To Lodge a Complaint: [email protected]
For Career Queries: [email protected]
However, it should be noted here that contacting Canada Post via email is a rather slow process compared to other media. That's because of the huge volume of queries they receive daily. So, if you are in a hurry, it's better to call them or contact them via social media. But if those options aren't available to you and you have the time to wait for a reply, then you can use the email method.
Social Media:
You can also contact the Canada Post Customer Care Service via social media platforms like Facebook and Twitter. The postal delivery company is known to have an active support team on these platforms, who chooses to address your doubts and queries at an excellent speed, typically within an hour.
Here is how to contact them on these social media platforms:
Facebook: Canada Post; Available Monday to Friday; Time: 9 am to 5 pm ET
Twitter: @canadaposthelps; Monday to Friday; Time: 9 am to 5 pm ET
While contacting them via these platforms, you can:
Share your personal experience with the Canada Post
Address your doubts and queries regarding their service
Find out about new products and promotional activities
Online Form:
You can also fill out an online form on the official website of the Canada Post, enquiring about their service or filing a complaint regarding any unfortunate incident you encountered with them.
The online form generally addresses specific topics like postage rates, late or damaged delivery, order cancellation, return to sender, refund service, etc. They also have various shipping, business, and marketing-related topics and different tools and service options for the customers to choose from.
To avail of this service with the Canada Post, you need to follow these steps:
Visit the official website of Canada Post 
Scroll over to the Customer Care Service section 
Choose the options that best describe your particular issue. 
Use the frequently asked questions in their support section to find the answer to your query.
If you can't find the particular topic you want to address, contact them directly and inquire about it in person. 
Mail:
Last but not least, if you want to go all old-school and send them a mail, then the Canada Post Customer Care Service can be reached at the following address:
                    Canada Post Customer Service
                    PO Box 90022
                    2701 Riverside Drive
                    OTTAWA ON K1V1J8
This is the most time-consuming and risky process among all the previous methods. So, it's advisable to use it only when you don't have any other options.
Online Live Chat:
Canada Post offers a virtual assistant in English to assist customers with various inquiries. This automated service provides quick and convenient solutions for tracking packages, locating post offices, and answering common questions. Use Canada Post's virtual assistant for a seamless experience and efficient support.

Most of the time, It will answer your queries but if you want to talk to an agent then you can ask for the same.

Note: If you want to talk with an agent then you have to provide the full destination address along with your full name, email and phone.
But this doesn't seem to be much of an issue since all the other customer care services offered by Canada Post seem to work just fine in helping their customers worldwide.
Conclusion:
Canada Post is forever ready to serve its customers to the best of its ability. And the mastery over their Customer Care Service helps them achieve just that with a speed and efficiency that amazes their customers. All the customers need to do is know precisely how to use the Canada Post Customer Care Service to their greatest advantage. Hope this article has successfully equipped you with the right tools to achieve just that.