Shein is one of the largest fashion hubs for stylish clothes, accessories, and exclusive items offered at an affordable range. The Chinese website boasts of an array of suppliers all over, and hence it doesn't take an item much time to slip out of its warehouse and reach its customers.
Yet some customers still doubt whether Shein can deliver on time owing to the long distances of delivery locations. But that is simply not an issue to worry about. Being China's leading e-commerce store, Shein doesn't like to keep their customers waiting.
The exact shipping time depends on the delivery destination and the shipping method, but still, Shein is very quick to complete its task of deliveries. It usually gets everything delivered within the estimated delivery time.
But exactly how long does Shein take to ship and deliver? That's the real question to answer. There are a few more things to know about shipping with Shein. Well, let's do that through this article, then! 
---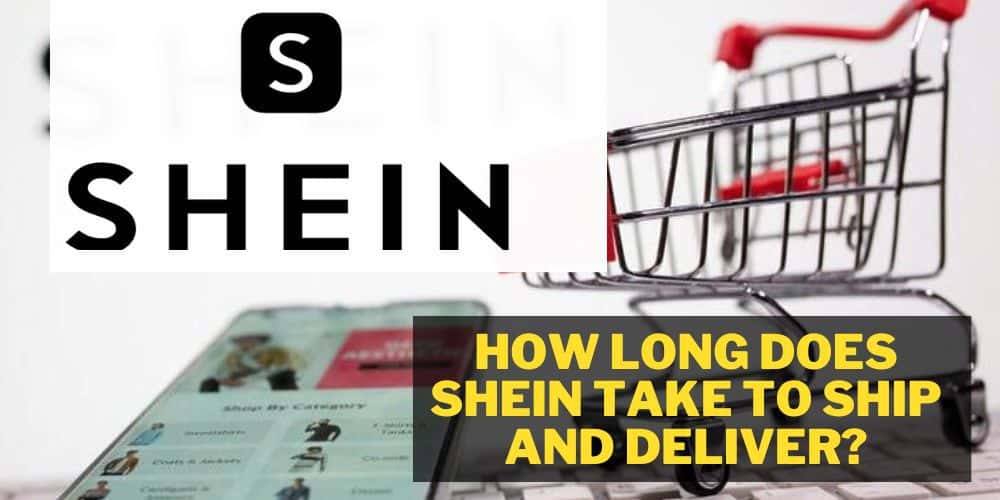 How Long Does Shein Take to Ship?
Shein usually takes 7 to 15 days to ship and 2-3 weeks to deliver your products once you place your orders with them. However, it can take up to 4 weeks under certain conditions.
Firstly, it takes 2-3 business days to place and prepare your orders. These days are set aside for the specific sellers to process the orders. The processing time is excluded from the company's shipping time. Shipping doesn't take too long for the items already present in the warehouse.
Asian countries enjoy faster deliveries for items manufactured in Asia. Packages shipped to Europe or North America take a bit longer. A little more time is assigned for the orders traveling to remote places. Moreover, the closer a location is to its warehouse, the shorter the shipping time. Shein usually gives a heads-up about the estimated delivery time once the customers place an order.
The Three Shipping Methods of Shein:
There are three methods that Shein uses to ship its products: Economy Shipping, Standard Shipping, and Express Shipping. The shipping method chosen determines the cost, quality, and delivery time.
Let's have a look at these methods one by one to understand them better:
Economy Shipping:
This shipping mode helps the customers save a few bucks on the shipping cost but makes them wait for almost a month to get their orders delivered.
So, if you are keen on saving money and can spare time waiting for your parcel, then economy shipping is the best option. It's most affordable for those who aren't in a hurry to greet their Shein order.
Standard Shipping:
Slightly faster and a little more pricey than economy shipping, Standard Shipping offers you good value for money with guaranteed delivery within 2-3 weeks.
So, if you want your order to arrive on time and you can spend an extra amount, Standard Shipping is for you. Offering a good balance between cost and delivery time, this shipping mode is the most preferred choice of Shein customers.
Express Shipping:
Express Shipping is the fastest and the most expensive mode of shipping that can deliver your package within 1-2 weeks. And, on certain special occasions, it takes even less time with its premium shipping service.
So, if you want your Shein parcel to arrive as fast as possible and can afford the added expense, then Express Shipping is the one to go after. 
Where Does Shein Ship From? 
Shein has its origin in China and ships from there most of the time. It also has a few pop-up locations worldwide, like New York, Chicago, Los Angeles, Miami, Dallas, etc. The online retail company also has various international warehouses in Asia, the USA, Europe, and the Middle East—the locations that encompass Shein's customer base.
None of the warehouses produces the orders, though. They are still shipped mainly from China and temporarily kept at warehouses. Shein gets its products manufactured by overseas companies before carrying them to their warehouses to facilitate faster shipping. If someone orders an item not present in the warehouse, they take time to make it and then dispatch it from China.
In the beginning days, Shein shipped solely from China. But now, with the company's growth, it established international warehouses to cut costs and serve its customers faster.
Delivery Time for Shein in Different Countries
The delivery time for Shein differs from country to country, depending upon the distance between the origin and the product's destination. The table below gives an estimation of the delivery time according to the destination countries:
| Country | Shipping Time |
| --- | --- |
| US | 12 to 14 Days |
| UK | 15 to 17 Days |
| Australia | 15 to 18 Days |
| Canada | 13 to 17 Days |
| Germany | 15 to 17 Days |
| Italy | 14 to 17 Days |
| France | 12 to 14 Days |
| Singapore | 9  to 10 Days |
| Netherlands | 7  to 11 Days |
| Brazil | 20 to 28 Days |
| Russia | 21 to 38 Days |
| Austria | 13 to 16 Days |
| Denmark | 15 to 20 Days |
| Finland | 18 to 21 Days |
| Hong Kong | 10 to11 Days |
| Malaysia | 8 to 10 Days |
| Spain | 12 to18 Days |
| India | 7 to14 Days |
When Does Shein Offer a Free Shipping Service? 
Shein offers free shipping services to its customers based on certain specifications. 
Let's explore the various options available to the Shein customers to demand a free shipping service:
Order above a Certain Amount:
Shein offers free shipping on orders above a certain standard amount. The exact amount depends on the destination country. Certain Asian countries enjoy free shipping without any minimum order limit. Using the Shein app rather than the website helps more in these cases.
Free Shipping Coupons:
Shein also offers free shipping coupons, both within and outside the app. You may have to visit every website page, subscribe to their newsletters, or download the app to secure the coupons. It seems like a lot of work, but the coupons earned ultimately make it all worth it.
Facilities on Sundays:
Shein sometimes offers free shipping services on Sundays. You must be very attentive to catching such random Sunday offers with Shein. Though, their countdown counter appearing on the homepage makes it hard to miss the offer.
Offers for New Buyers:
Occasionally, Shein gives free shipping services to its new customers. An offer message on its homepage will notify you whether you qualify for a free shipping offer. Try your luck by registering for a Shein account, or try opening it for someone else if it doesn't work for you, and see if you two can enjoy a free shipping service.
Free Shipping through Shein Games:
Shein offers a few games for the customers to play and earn coupons. So, if you can play these games daily and earn a good amount of coupons, then they can be used to cater to the shipping charges.
Free Shipping by Watching Live Broadcasts:
On Wednesdays, Shein broadcasts live on their app, introducing new trends and offering coupons with free shipping. If you can catch them in these lives, you run a fair chance to win and use these coupons to get free shipping vouchers within 2 hours.
How Does Shein Shipping Work? 
Shipping at Shein involves three crucial steps:
At first, Shein will receive your orders, and it will take up to 24 hours to have them confirmed.
Once received, it will take 1-2 business days to process the orders and get them ready to ship.
Once ready, the parcel will be shipped within 1-4 business days.
How to Track Orders on Shein? 
Shein has a tracking system to help customers track their orders in real time and know their current location. You don't have to call customer care at Shein all the time to know where your package is. You can simply hit the tracker on its website with your tracking number to know the live location of your package.
Here are the detailed steps to track your orders with Shein:
Step 1: Visit their official website or open the app. 
Step 2: Navigate to the Track My Order tab.
Step 3: Click on the Order History button.
Step 4: Click on the Track Order option.
Step 5: Choose the item(s) you want to track or enter the assigned tracking number for your package(s).
Step 6: Click on the Track My Package button.
The tracking information will be displayed for all the orders shipped with Shein.
To retrieve your tracking number, follow these steps:
Step 1: Visit their official website.
Step 2: Log in to your account by clicking on My Account.
Step 3: Click on the My Orders option to check all your orders with Shein.
Step 4: Choose the item whose tracking number you want to see.
Step 5: Click on the View Details icon to preview the order details.
Step 6: If the shipment status is marked as Shipped, click on the Track Order option on the right.
It will display the unique tracking number connected to the courier service dealing with the package.
P.S.: The Shein app makes tracking a package easier than its website tracker.  
What is the Return Policy at Shein? 
Like all other e-commerce businesses, Shein has its return policy. 
Shein's return policy allows its customers 45 days after purchase to claim a refund. But the customers still have to pay the shipping cost, which would be deducted from the refunded amount.
Personal items like lingerie, underwear, bodysuits, and party supplies can't be returned due to hygiene concerns.
The return will be processed within seven days of filing the claim. The exact amount and time might differ from country to country.
It's advisable to check out Shein's website for detailed information on the company's return policy.
Some FAQs Regarding Shein's Shipping and Delivery Services 
Before you fly off to order your next exclusive item with Shein, here are a few FAQs regarding their shipping and delivery services.
1: Is the estimated delivery time offered by Shein accurate?
A: Shein usually has a very accurate estimation of the delivery date and time. But if for certain reasons, the delivery time suffers a change, then it's updated on the site within 24 hours. 
The delivery can get delayed if they suffer bad weather conditions, if the customer stops the delivery for some reason, or if the company is loaded with orders but has too few couriers available.
2: What courier services does Shein use to deliver its orders?
A: Shein uses different courier services for different countries or even the same country. Shipping companies like FedEx, Aramex, DHL, Fetchr, USPS, ColisExpat, China Post, Yodel Services, and Naquel— all offer their services to Shein to deliver its products across the world.
3: Can the shipping address at Shein be changed?
A: Yes, the shipping address can be changed by clicking on the "Edit" button at the time of checkout. But you won't be allowed to change the address after you have completed the payment process. In that case, you would need to cancel your order and place it again with the changed address.
4: Can the shipping method used at Shein be changed?
A: Yes, the shipping method can also be changed. You will have to cancel the shipment and change the shipping method before it's shipped. But if it's already shipped, you will have to cancel and reorder the order with the desired shipping method.
Final Thoughts:
Online shopping is fun only if we can get lightning-fast deliveries. If we have to wait too long, the excitement dies. And at times, we may even end up forgetting what we ordered! 
Shein knows exactly how to keep their customers happy with their trendy products and keep them excited to welcome the arrival of their exclusive items. Hence, it ensures that their delivery knocks on the door on time! All a person needs to do is step up and order…