The United States of America's leading courier service USPS has become the first choice for American citizens due to its convenient delivery hours. USPS provides its customers with various delivery hours options for domestic and international shipments according to the type of USPS service.
USPS delivery hours depend on various factors, one of which is definitely the distance of the destination. The delivery hours also vary during the festive season, such as during Christmas and the New Year. The USPS delivers almost 700 million parcels in a single day. Usually, the delivery hours of USPS ranges from 1 day to several weeks.
 In this article, we are going to discuss various USPS delivery hours based on different kinds of USPS services and the other important factors. 
USPS Delivery Hours Depending on the Mail Class (Domestic Service)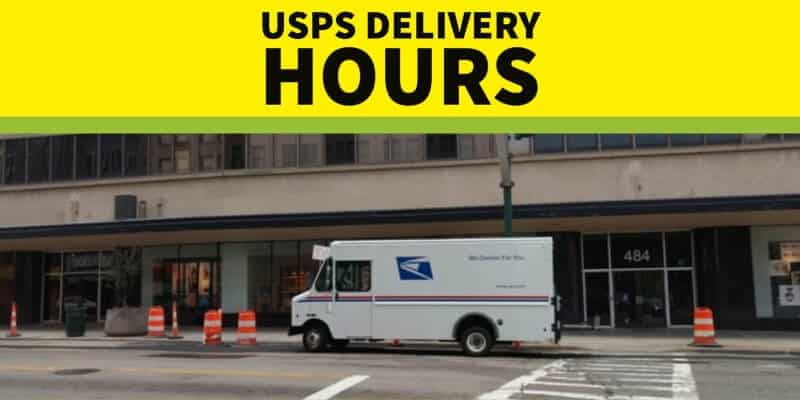 The delivery hours needed for the USPS domestic mail services are as follows-
Priority Mail Class 
This service takes just a single day to deliver your item at the receiver's doorstep.
Priority Mail
This one is quite fast when it comes to delivering your parcel. It takes one to three business days to deliver your product. 
Priority Mail Flat Rate 
This is also a fast delivery mail class that takes the same time, which is one to three business days.
Priority Mail Regional Rate
Though this mail class's service rate is different, it takes one to three business days like the other ones.
First Class Package Service
This mail class is quite popular among American citizens, and it needs one to three business days to deliver your parcel to the right destination. 
Parcel Select Service 
This particular service takes a long time to deliver your mail. The delivery hours for this one is two to eight business days. 
USPS Retail Ground Service
Two to eight business days are needed to deliver your mail when you opt for this USPS service.
Media Mail Service 
Like the former two services, this also needs two to eight business days. 
First Class Mail (letters)
One to three business days are enough for this one.
First Class Mail (large envelope)
Last but not the least, this popular service by the USPS takes one to three business days to deliver a large envelope to its destination.  
USPS Delivery Hours for International Service 
 USPS delivers parcels in 190 countries across the globe. Like their domestic services, their international services are also quite popular in the USA. The delivery hours needed for the USPS international services are as follows- 
Global Express Guaranteed 
The time needed for a shipment via this USPS international service is one to three business days. 
Priority Mail Express International
Three to five business days are needed for international shipping when you opt for USPS's global service. 
Priority Mail International Service
This international service takes a bit more time for an international shipment, which is nearly six to ten business days.
First Class Package International Service 
This service takes more than two weeks at times to deliver the product at a foreign destination. To be more particular, it takes six to twenty business days for shipment. 
First Class Mail International (letters) 
This one also takes six to twenty business days to deliver a letter to other countries. 
Exceptions for the USPS Delivery Hours 
Sundays 
On Sundays, the delivery of most USPS services remains suspended. You can only get your product delivered from Mondays to Saturdays.  
Only the Priority Mail Express service has the delivery option on Sundays even. If you are sending an Amazon parcel, Sundays are eligible for the USPS delivery. 
Christmas 
25th of December is a postal holiday in the USA. Whatever shipping service of USPS you choose, it will not be delivered on 25th December. Both domestic and international shipments remain suspended on Christmas Eve. 
 New Year's Eve
New Year's Eve is not a holiday. So if you are expecting a mail delivery via USPS, New Year's Eve is all eligible for your mail delivery for both domestic and international orders. 
Check out USPS Holidays 2021: Don't Go Without Checking This!
FAQs on USPS Delivery Hours
Now let's find the answers to some frequently asked questions regarding the USPS delivery hours.
What if my mail is delayed and the delivery time is already past?
USPS always tries their best to get your mail delivered within the expected delivery hours. The delivery hours for USPS services are pre-scheduled. In case the delivery hours of your mailing product is gone, you can directly go to the local USPS postal office to inquire about it. There is always a tracking number that USPS gives you to keep an eye on your mail. You can also find out the reason for delayed delivery by using this tracking number on the USPS website.
Do USPS deliveries on Sundays charge extra bucks?
There is only one shipping service available at the USPS that delivers products even on Sundays. USPS delivers parcels via the Priority Mail Class on Sundays, and for this, they just don't cost you some extra bucks.  
What is the timing of USPS delivery?
Usually, the USPS delivery of various services starts at 8.30 am and are done by 5 o'clock in the afternoon, as per the local standard time. If there are some issues in rare cases, maybe with the traffic or something else, the delivery might be late. The timing for international delivery is up to 3 pm for the USPS global services.
How to change the delivery time of USPS?
In case you have failed to receive the USPS parcel from the shipper, you can reschedule it. For that, you need to go to the USPS website. Then you have to fill up a form regarding rescheduling your mail. You will be given a future date for the expected delivery of your parcel.
USPS is one of the leading courier companies in the US. While there are many reasons behind this popularity of USPS, their flexible delivery hours are surely one of the major reasons. We have tried to give you a complete idea regarding the delivery hours of various USPS services in a short space. We hope you find the most convenient USPS service according to the delivery hours.