It is ubiquitous these days to keep track of your shipped packages so that you are aware, when they will be delivered or where they are in the process. It is more valuable and important for retail purposes or larger shipments.
FedEx (Federal Express) is the most reliable shipping company for all deliveries, overnight or normal. It not only offers more delivery options, but also all deliveries are guaranteed with FedEx. The shipment tracking on the FedEx website is kept updated and detailed.
But, what if the FedEx tracking is not updating and you need to know about your delivery? Let's find out here.
An Overview on FedEx Tracking
FedEx is a major courier giant connecting eCommerce merchants with their customers across the world with their proficient, dependable, and on-time delivery services. Delivery is one aspect of any shipment, but smooth tracking is equally important for customers for numerous reasons, like the present times' crisis due to the COVID-19 pandemic.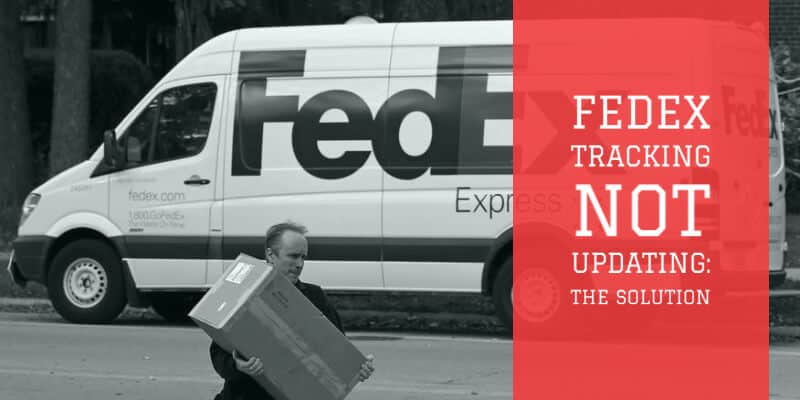 Here you will get a detailed overview of FedEx tracking, how to follow your shipped items, and what if the tracking system is not updating. To make the process easier for you to understand and track, you should know a few things like:
–   Which all services by FedEx offer a tracking facility?
FedEx tracking is mostly available for all the services offered by the company to enhance service compliance and enhanced visibility to various destinations across the globe. The mostly used FedEx services that offer to track are:
–       FedEx Ground / FedEx Express / FedEx Freight / FedEx Home Delivery / FedEx SmartPost / FedEx Trade and FedEx Custom Critical.
–   Understanding FedEx Online Tracking
The online tracking facility of the company is real-time updates of your parcel or good transit status. This information is available on the tracking column of the shipping history page. The different statuses mean"
a)      New: The order has been accepted and picked up and the information on the package has been conveyed to FedEx.
b)      In Transit: The package has left the FedEx Origin facility and at present with the local facility. It also means that the delivery is as per the scheduled date and time.
c)      Out on FedEx delivery: The package is with the FedEx delivery driver and is on its way for delivery to the.
d)     Delivery Exception: The to be delivered package has experienced delivery obstructions like address mismatch, customer not available to receive the package, the business closed, or any unforeseen event.
e)      Delivered: The package has been delivered and received at the designated address.
f)       Delay in Clearance: This message is only with International shipments experiencing custom clearance delays. 
What to do if the tracking is not updated?
The tracking is repeatedly updated every 24 hours until the final delivery of the package. You are advised to wait for 24 hours for the next update. It may so happen that there are delays in picking up the package for delivery by the courier or maybe it has been picked up but has not yet been scanned by the driver.
In case the tracking has not been updated in 24 hours, the first step you can take is to reach out to the Customer Support to get information on the delivery service status and resolve any issues.
Try some others way like the ones mentioned here to stay updated:
–       Try FedEx Mobile App: The mobile app by FedEx is meant for easy tracking of shipments from anywhere. Download FedEx Mobile on your Android or iOS devices. All shipping labels associated with your account will show up over here. Almost all FedEx services like FedEx Express, FedEx Freight, and FedEx Ground tracking is possible over this app.
–   Dial for Assistance: Just call 1800 464 3399 toll-free from your device and announce 'track your package' to get exact information on your shipment.
–   Visit FedEx Website: Using your PC or your mobile device, you can track the status of your package by visiting the FedEx website at www.fedex.com/home. You can get up to 30 tracking details on the status and location of your parcel.
–   Try Easyship Dashboard: If you have your package shipped with FedEx through Easyship, you can track your package with ease through the Easyship dashboard by inputting the FedEx Tracking Number given to you. You will even get notifications on the process via e-mails and SMS alerts.
–   Use FedEx Tracking Number: Each shipment processed with FedEx is allocated a unique number while making an e-commerce purchase at the retail destination. This number is a code that contains all details about a particular shipment encrypted in it.
It is a unique number that could be 10, 12, 15, or 20 digits and printed on the shipping label. This number is also provided to the customer while making the e-commerce purchase and send via email and SMS. You can use this number for all the processes mentioned above and track your shipment from anywhere at your convenience.
You might be interested in knowing about FedEx Smart Post.
What if you don't have or know your Tracking Number?
Tracking of your booked package with FedEx is also possible without the Tracking Number. Even though your package may have a tracking number allotted to it, this number can be renamed as per your convenience like your bank account number or telephone number and alike.
If you have high volume shipments designated to FedEx, you get the advantage of FedEx InSight. FedEx InSight helps you in managing and tracking your package when there are multiple locations and accounts involved with a single shipment.
With Government Orders, tracking of shipment is also possible using the TCN (Transport Control Number) of the department. The tracking number does help in tracking the exact location and status of your shipment from dispatch till delivery, some other numbers on the slip like reference number and order number can also be used to track packages. These numbers come handy, especially when the tracking number is not updated or updating.
The complete guide on How do You Track a FedEx Package Without a Tracking Number?
What are the probable reasons for FedEx shipment getting delayed?
Delays are generally not the norm with FedEx, however, certain conditions are like bad weather, address mismatch, and customs clearance, the business closed or any other unforeseen conditions are beyond control and may cause FedEx shipment getting delayed.
How long do goods stuck in customs take to get cleared?
In general custom, clearance may take up to 1 to 3 days, but nothing is certain and confirmed for all shipments. The actual clearance time also depends on factors like the size of the package, how it has been shipped, and the types of packages being shipped.
What if the delivery has been made at a wrong or subordinate address?
FedEx will never deliver at a wrong address or if the address is wrong or mismatched. However, in certain conditions, the delivery might be made at a neighboring address via the indirect delivery route. In such cases, FedEx ensures that a note is left on your door and the same is updated on the official website notifying the customer about the address his or her goods have been delivered.
If under any circumstances the package is wrongly delivered due to a wrongly written address on the package or delivers slip, contact the local FedEx office and provide them with the details. They will do their best to resolve the issue as immediately as possible.
Here is the full guide: FedEx Delivered to Wrong Address: The Solution
No matter why you want to keep a track of your shipment, the facility of knowing where your package is, and how much more time it may take to get delivered is a very helpful tool. Whatever the good maybe that you want to deliver, knowing when they will arrive is always an excitement and a piece of valuable information that every sender and receiver always wants to stay updated with.