If you ever wondered What Does DHL Stand For? well, DHL stands for Dalsey, Hillblom and Lynn. The acronym derives from the initials of the last name of its founders—Adrian Dalsey, Larry Hillblom, and Robert Lynn. They were the three ambitious businessmen of San Francisco who founded DHL in 1969, and the company has been winning hearts since then. 
With its headquarters in Germany, DHL stands firm as the world's largest logistic company known for its international shipping and courier services. The company is famous for the innovation that it brings for its customers to make shipping tension-free.
Employing around 3 lakhs employees worldwide, DHL offers its services to 220 countries around the globe. With Deutsche Post as its parent company, DHL employs numerous cargos—planes, boats, and trains—to carry out its services worldwide. 
However, very few know about the company's history that makes international shipping appear like a cakewalk! And what's more, DHL offers so many exclusive services that you might not even be aware of all the benefits you can reap from DHL as its customer.
---
What Does DHL Stand For? A Brief History
Three businessmen from San Francisco— Adrain Dalsey, Larry Hillblom, and Robert Lynn—came together in 1969 with a business idea that formed the cornerstone for a globally operating enterprise. 

DHL began more as a door-to-door courier service where the founders personally traveled by plane from San Francisco to Honolulu to deliver customs documents.

The idea was to start the customs processing even before the arrival of the original shipment. The result was a significant reduction in the waiting time of the shipments at the harbor. 

DHL brought forth the idea of rapid transportation of documents and mails by air. Thus, in a way, the company marked the creation of the international air express service.

Building its trust in customer satisfaction based on the dramatic reduction of customs processing time, DHL soon spread its influence to over 360 service centers within a decade that served over 85,000 customers. It took another decade to establish itself in 170 countries with above 16000 employee strength and an even larger customer base.

By the next decade, it has already launched its tracking services and the next few years saw only the rise in its reputation and proficiency in all its services. 

Presently, the company has established itself as the world's leading logistic group specializing in international shipping and courier services.
---
Services offered by DHL
As it turns out from history, DHL was founded based on an innovative idea that changed the way cargo deliveries worked and revolutionized the world of logistics. Innovation has always been the keystone for the company, and DHL still stands strong with novelty at its core, bringing exclusive services.
Below is a compilation of some of the special services offered by DHL in line with its commitment to bring the best solutions for its customers: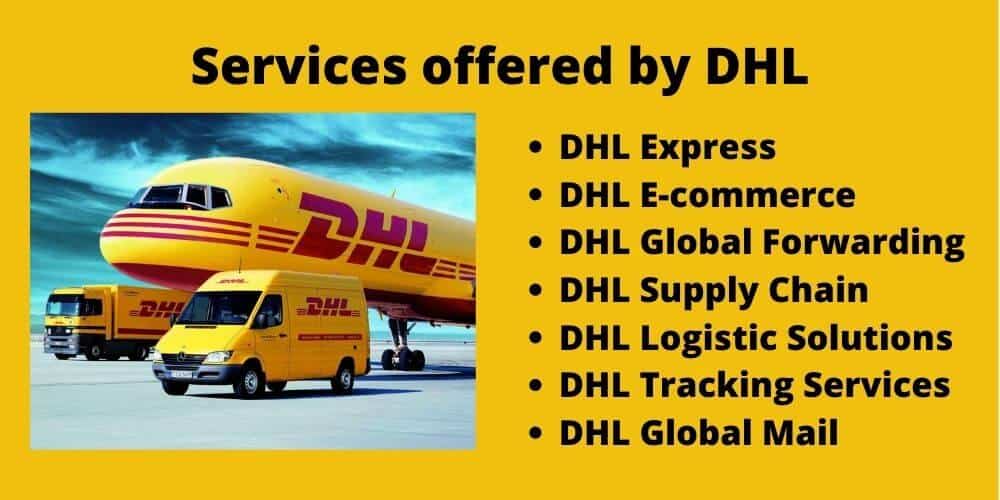 DHL Express is a premium shipping service for domestic and international shipments offered by DHL to business customers. It is one of the fastest delivery methods that comes at an affordable rate. It also allows you to schedule a pick-up and track your package while it's in transit.
DHL e-commerce is the standard shipping service offered by DHL to business customers and consumers for both domestic and international parcels. This service is specially designed for those who need to ship large volumes of e-commerce products. Plus, DHL e-commerce also comes with logistics and facilitation services as well as tracking services

DHL e-commerce services are perfect for looking for an economical way of e-commerce shipping, reliable transit time with commercial clearance, or simply to deliver their business parcels to a large number of customers.
DHL Global Forwarding is the division that is committed to serving the business customers with moving freight through the ground, air, and ocean. It is an expert in providing ocean, air, and ground freight forwarding services that also plan and undertakes major logistic projects.

DHL Global Forwarding offers standardized transports, sector-specific and multimodal solutions, and customized industrial projects with a business model based on the brokering transport services between the customers and freight carriers.

Employing around 43,000 staff in 150 countries, DHL Global Forwarding delivers for over 175,000 customers across the world. The global reach of their network helps connect the customer with the carrier to find the best trade lanes and optimal route, ensuring that all the goods meet with their final destination unbroken and at the right time.
DHL Supply Chain is the logistics provider that offers customer-focused solutions to industrial sectors ranging from automotive, retail, consumer, chemical, energy, and manufacturing to life science, healthcare, engineering, and technology. 

DHL Supply Chain brings together skilled people, innovative solutions, and regional coverage to improve quality and drive efficiency with value-added customized management services.
DHL Logistic Solutions is committed to providing its customers with a wide range of customized solutions tailored to their specific business needs. It offers robust solutions to optimize results and effective services to maximize the benefits of outsourcing.

DHL Logistic Solutions takes care that their customers' time, knowledge, and skills are invested only in what they are best at without dealing with the distractions of complex supply chain issues, simply by providing them with their innovative logistics solutions.
DHL Global Mail is a cost-effective way to ship multiple packages all at once. It helps e-commerce businesses to grow internationally by simplifying the process of bulk shipping to multiple destinations. All the customer needs to do is pack all their small parcels with individual addresses into one large package and send them off to their main office in Germany.

DHL Global Mail is specially designed for customers to bulk-ship multiple packages internationally at a very affordable price. It is an effective method that reduces shipping time and effort, save money, and promotes operational efficiency.
---
Conclusion
DHL is forever focused on its mission to provide ultimate customer satisfaction with a clear vision and innovative business strategies. The world's top Logistic Company is always on the run, devising innovative methods, solutions, and services for its customers to take the burdens off their shoulders.
There is a reason why DHL stands strong as the leading logistics company and why millions of customers worldwide trust it with their domestic and international shipments.