Most of us are familiar with one of the famous and everlasting shipping services of DHL. It is one of the best international shipping service centers all over the world.
Most people make use of these services to deliver important packages, files, and documents from one place to another. But most of us may doubt at what time DHL services will be available.
---
How Long Does DHL Shipping Take?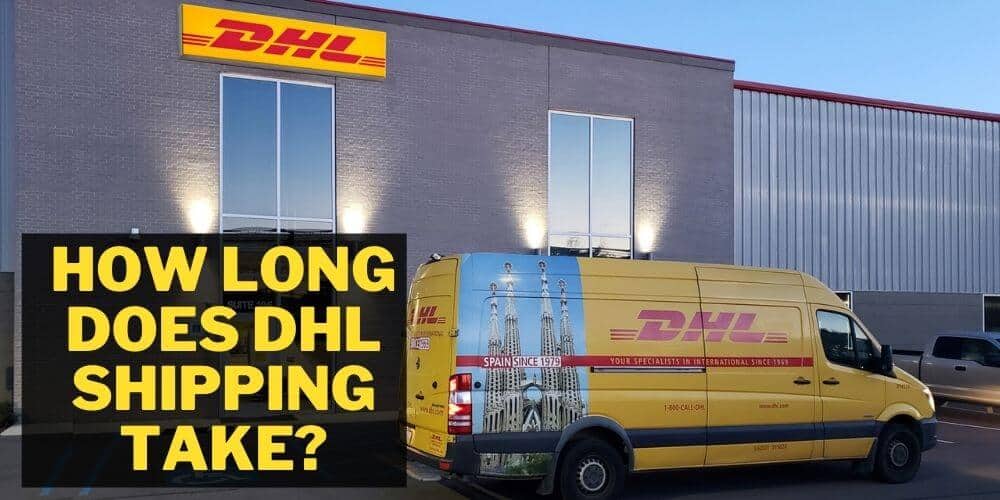 It depends on where the DHL delivery begins and ends. Generally, DHL delivers the shipment within the next possible business day. 
DHL scans the package before delivering it to ensure that there are no illegal materials within, and after making the required changes. Once the process is complete, the package is delivered automatically.
DHL delivery times by service within the USA
DHL eCommerce provides information about domestic DHL delivery times and shipping charges.
Every state is covered by these services on a national level. In the last mile, DHL collaborates with USPS to accomplish local deliveries.
In the United States, DHL offers a variety of domestic delivery services, including:
DHL Smart Parcel: 16 oz. maximum weight.
DHL Smart Parcel Plus has a 25-pound weight limit.
DHL Smart Parcel Return: Designed for returns, with a maximum weight of 70 lbs.
DHL Bound Printed Matter for SmartMail: book rate shipping.
DHL SmartMail Flats: Service for envelopes.
The service type you decide for delivery affects delivery times for these services.
DHL delivery timeframes for these three DHL domestic service speeds are shown in the table below: Ground, Expedited, and Expedited Max.
| | | |
| --- | --- | --- |
| DHL eCommerce Service | Estimated Delivery Time | |
| Expedited Max. | 2-3 business days. | |
| Expedited. | 2-5 business days. | |
| Ground. | 3-8 business days. | |
DHL delivery times in the United States differ from 2 to 8 working days, depending on service speed. DHL's domestic delivery timings are all in working days, which means that DHL does not deliver on weekends and holidays in the United States.
These delivery timeframes are estimates that may change due to unforeseen circumstances such as bad weather or traffic congestion. Smart Parcel Returns, Bound Printed Matter, and SmartMail Flats services do not support the Expedited Max delivery speed.
These due dates are not confirmed, therefore if the shipment arrives late, there will be no return. DHL Domestic, on the other hand, is a flexible and economical choice for retailers wishing to ship lightweight shipments weighing less than 5 lbs.
DHL Delivery Times for International Service 
DHL is a global shipping company that offers services through DHL eCommerce and DHL Express. This means that with DHL international, you may expect quicker delivery times as well as hours than on the next two services.
DHL eCommerce International is a cost-effective shipping alternative for businesses that need to send packages across international borders.
For a premium, DHL Express allows speedy delivery of overseas packages. On selected options, guaranteed delivery is available.
The following table illustrates the delivery times for international DHL Express services.
| | |
| --- | --- |
| DHL Express Service | Estimated Delivery Time |
| DHL Same Day – lightweight documents and parcels | End of business day |
| DHL Express 9:00 | Next possible day by 9:00 AM |
| DHL Express 10:30 | Next possible day by 10:30 AM |
| DHL Express 12:00 | Next possible day by noon |
| DHL Express Worldwide | End of the next possible day |
| DHL Express Envelope -Documents | End of the next possible day |
| DHL Express Easy | Available at DHL Service Points |
DHL Express provides several choices for assured delivery. These DHL Express services, apart from Express Worldwide as well as Express Envelope, offer assured delivery and a money-back guarantee.
You can seek a full refund on postage if your DHL Express package somehow doesn't arrive on time. Excluding Express Worldwide and Express Envelope, DHL delivery hours are included in the name of the service.
DHL Express 9:00, for example, guarantees delivery by 9:00 a.m. on the specified delivery date. Express 10:30, as well as Express 12:00, are on the same ship (noon).
What are the DHL eCommerce international delivery times? DHL eCommerce International Delivery Times are shown in the table below.
---
DHL DELIVERY HOURS
DHL Express Service points are open from 9 a.m. to 6 p.m. for international shipments. Monday through Friday, delivery hours are 8 a.m. to 6 p.m.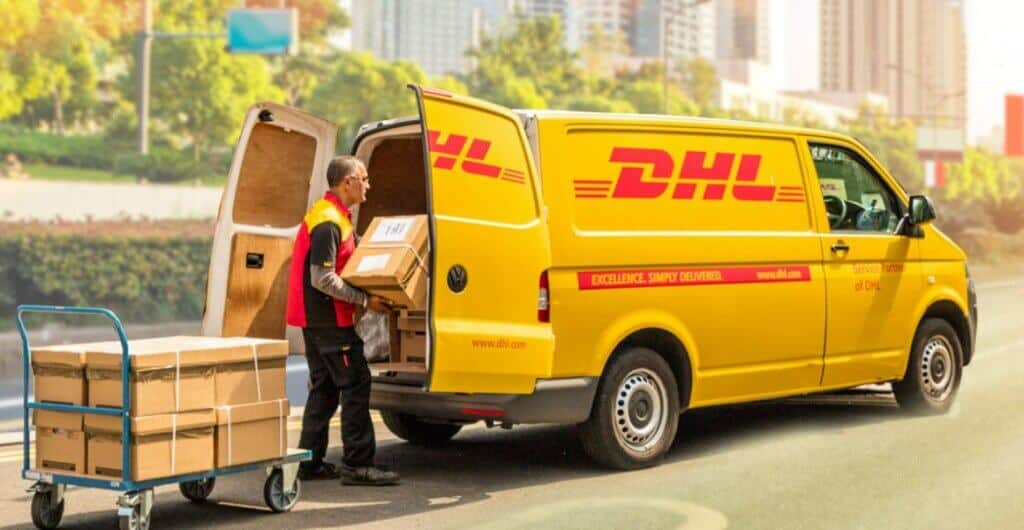 DHL Delivery hours vary depending on the provider and whether it is a domestic or international delivery. Delivery times are also affected by holidays and weekends.

DHL's delivery hours in the United States are Monday through Friday, 8 a.m. to 6 p.m. In the United States, DHL does not deliver on weekends or holidays unless you pay more money and make specific arrangements.

In Europe and other non-US nations, DHL Weekend Service is offered. This covers a wide range of delivery possibilities in all available countries during the weekend.

In addition, DHL's usual delivery operations in Europe run from Monday to Saturday. DHL does not provide international delivery services.
---
How long does DHL take to ship from Japan to the USA?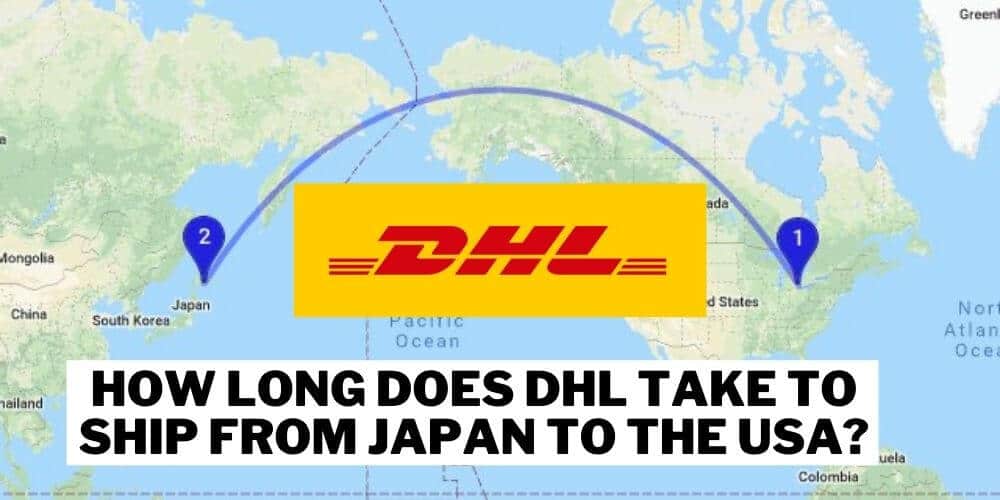 Apart from the case of an inconsistency or a customs check during the cargo, DHL Express shipping takes two to four days to deliver from Japan to the United States.
Normally, cargo leaves Narita Airport after being received by DHL at its local location. DHL may be able to pick it up from a place in downtown Tokyo and then forward the package to its facility the same day, but it may take a day for DHL to get the package to its facility if you are shipping from a remote place. 
The same is true if you or your shipper employs another domestic courier firm to deliver your package from Japan's origin city to DHL's facility.
The consignment will travel by plane in the evening to the United States once it has been delivered to the facility and is ready to ship with the required documents including a commercial bill and packing list.
The flight will then arrive in the United States the same day. DHL will manage to ship within the United States.
---
How Long does it Take DHL to Deliver from Germany?
After several inquiries, it appears that the average time for most big locations is roughly a week or 5 to 6 business days. To find out how much it would cost to mail something, you'd have to contact DHL directly.
---
How Long does it Take DHL to Deliver from Germany to the USA?
A DHL parcel usually takes 10-12 days to go from one border to the next. DHL delivers parcels to the United States in 1 to 3 business days.
---
How Long does it Take DHL to Deliver from Germany to the UK?
Most shipping firms like DHL can ship from Germany to the United Kingdom in 1 to 2 days, with no service taking longer than 5 days.
---
Does DHL Ever Deliver Early?
DHL delivers between the hours of 8 a.m. and 6 p.m. local time. However, unanticipated variables such as weather, traffic jams, airport congestion, failed delivery efforts, and a few more factors may cause the delivery time to extend.

It's important to remember that delivery time is highly influenced by the items being delivered, as well as the delivery's origin and destination.

While deliveries to neighboring countries may take only a few days, long-distance deliveries can take up to 20 days. The seller or online business, on the other hand, specifies the delivery time.

It all boils down to how long DHL shipment takes. Deliveries, mail, and the courier will be delivered according to the schedule, as well as the import and export destinations.
---
How Long Does DHL Shipping Take from China to the USA?
DHL deliveries from China to the USA are known for taking a little longer due to certain factors that determine the shipping process. Depending on those factors, China to USA-deliveries might take around 3-6 days.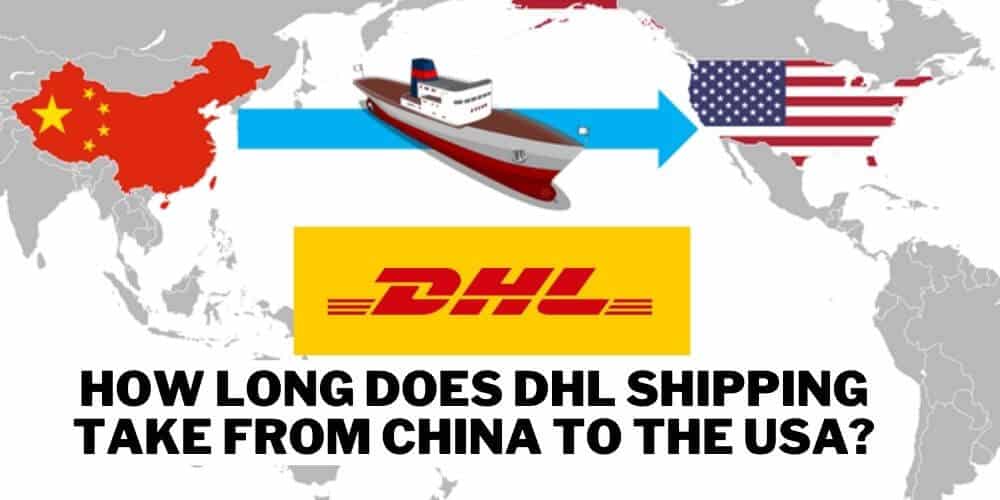 So, it is important to know the factors that influence DHL deliveries from China to the USA:
DHL Agent Service
The DHL delivery system of China requires the shipper to ship their parcel to the DHL Agent Service first before shipping it to the USA. This process takes around 2 days between which the package arrives at the DHL Agent office and makes its way to the China DHL Warehouse.
DHL Flight Delivery
It takes DHL around 2 days to arrange the flight delivery of the package that has arrived at its warehouse. The duration might increase if it falls under the liability of clearance time in the USA.
Chinese Holidays
The Chinese Holidays also influence the duration of DHL delivery. During the Chinese holidays, the workload on the DHL employees is high as they have to do extra deliveries for the holiday shipments. This might affect the time taken in delivering the parcels from China to the USA.
Apart from these, certain unforeseen circumstances also influence the delivery time. Else, if everything goes smoothly, DHL doesn't take more than 5-6 days to complete its delivery from China to the USA.
---
How Long does DHL Express take to Deliver Within Nigeria?
Nigeria is the most populous country in Africa with comparatively weak infrastructure as it's still an emerging nation. 

So, to deliver within Nigeria, it is important to choose a trusted courier service like DHL that knows its way around the country. It reduces the risk of misdeliveries or lost parcels while providing faster delivery services.
Usually, the DHL express takes about 2-3 days to deliver within Nigeria. However, it might take up to 20 days if there is a long distance between the origin and the destination.

You can check the estimated delivery date on the website after completing your order with DHL.
Apart from the distance between the locations, DHL delivery time also depends on the product ordered and the service chosen. 

Moreover, a shipment can sometimes suffer unfortunate delays due to certain unforeseen circumstances like weather issues, customs clearance, operational backlogs, or strikes.

You can contact the service provider if your parcel is delayed by more than 10 days from the expected delivery date.
---
How Long does DHL Shipping Take from Hong Kong to the UK?
DHL Express has recently launched a direct Cargo route from Hong Kong to the UK in order to quicken its delivery services to serve the increasing customer demands for medical, industrial, and consumer goods.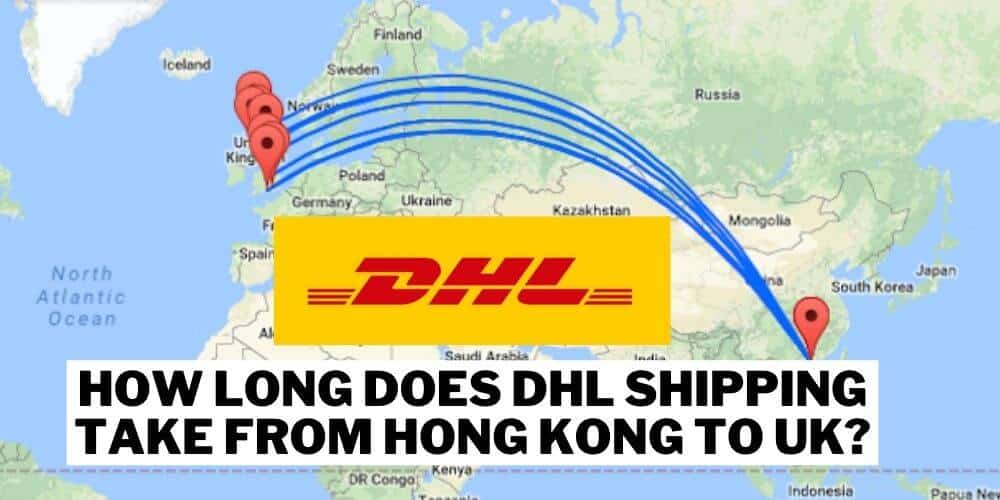 Hence, the parcels that earlier took 7-8 days to deliver, can now be delivered within 3-4 days using the direct cargo route between Hong Kong and the UK. 
However, the service will run once a week. The flight, carrying parcels exclusively for the United Kingdom, will depart from Hong Kong on Friday nights and arrive in the UK on Sunday.

On their arrival, the packages will enter the delivery cycle of DHL services there which will then be distributed across the UK starting from Monday morning itself.

The service will cover several time-critical goods like technology, medical and industrial products. Hence there is little chance of any delivery delays. 

This new service has solely been launched as a response to the demands for specific products and certain time-definite deliveries only. 
---
Frequently Asked Questions (FAQs)
1. Is DHL faster than FedeX?
Both logistics services have their own unique merits and demerits. While FedeX is a better option for rapid deliveries in the U.S, DHL offers competitive prices for delivering overseas.
To that end, it's ultimately the choice of the individual, and it greatly depends on their business type and needs.
2. How long does DHL eCommerce take to ship?
It has to be borne in mind that the delivery time heavily depends on the products being delivered, the origin of the delivery, and the destination.
While it might take just 2-3 days to deliver to the neighboring countries, it can take up to 20 days for the long-distance ones. The merchant or online shop, however, indicates the time of delivery.
3. Does DHL deliver on Saturdays?
Yes, they do. The company has a delivery option on Saturday. In most European countries, the standard delivery option is between Monday to Saturday.
However, there are certain places where Saturday does not fall under the standard delivery category. However one can still get a delivery on Saturday in such places since DHL provides optional services like non-standard billing options and delivery services. 
In other words, you can choose the service as per your requirement while using DHL. Unfortunately, this special service is not available in all locations.
4. Is DHL Estimated delivery date accurate?
DHL promises delivery on a particular date or even before that date, but it does not promise delivery at a specific time of date.
For instance, if you receive a message stating that you will receive your delivery by the end of the day, your package will be delivered by the day's end mostly by 8:00 pm.
Conclusion:
It is all about how long does DHL shipping take? The services will deliver the packages, mail, and courier as per the schedule designed and also the import and export locations. I hope that you all have got a clear idea about the delivery timings.
For further details, you can visit the home page or contact the team of DHL or use the comment box below to ask your questions.