Can someone else pickup my package from fedex? Can you pickup fedex package from the distribution center?
Shipping can be both an essential yet stressful part of the eCommerce business. Any problem with shipping means an extra headache for both the customers and the retailers. FedEx aims to ensure smooth and safe shipping for both buyers and sellers. A proper shipment will also help in building a strong bond between the customers and the brands. 
FedEx comes with a lot of features and improvements to make convenient shipping all across the globe. Tracking numbers, special instructions, home pickups, and other factors have made FedEx a reliable option for everyone. Another facility that has made this delivery service so convenient is that it allows you for a later pickup and a before pickup. This enhances the level of accessibility. Nobody knows what circumstance may come at any point. Hence these kinds of facilities of picking up a shipment at the user's convenient time are much more preferred by all.
FedEx offers a service "Hold at Location" for pickups even before a scheduled time from the nearby FedEx Offices. Below mentioned are all the features and descriptions of this service. Read on to know more!
What is FedEx Hold at Location? Can I Pick Up A Package From FedEx Before Delivery?
FedEx Hold at Location is that method where customers pick their choice from a list of several pre-defined FedEx locations as per the destination of the order, apart from their address.
Therefore, when the shipment arrives at the given location, FedEx notifies the customers that they have 7 days of time to pick up their orders beforehand from the location they have mentioned. Customers have to bring their identification card and tracking number to make this process secure. 
It not only includes center stores or offices, but the list also provides locations like: 
Participating in Albertson's, Kroger, and other grocery stores
Independently-owned FedEx Authorized ShipCenters
FedEx Office inside some Walmart locations
Engaging in Walgreens locations
Hold at Location option is now available with FedEx Express Services and FedEx Ground also. There are over 11,000 locations for FedEx Express from where you can choose one for availing of such service. 
| | |
| --- | --- |
| Hold at FedEx Locationavailable with the followingFedEx Express | Day and Time of Availability |
| FedEx Priority Overnight Saturday delivery available | Within 9 or 9:30 a.m. in the next business day (Monday–Friday) |
| FedEx Standard Overnight | Within noon in the next business day (Monday–Friday) |
| FedEx 2Day Saturday delivery available | Within noon on the scheduled day of delivery (Monday–Friday) |
| FedEx Express Saver | Within noon on the scheduled day of delivery (Monday–Friday) |
On the other hand, FedEx Ground Hold at Location is available for more than 17000 FedEx Office locations nationwide for making a convenient pickup. You are allowed to commence the pickup within the scheduled delivery time of 1 to 5 business days at any FedEx Office Locations.
FedEx Office Print & Ship Center, FedEx Office Ship Center, or FedEx World Service Center, some of the location options where FedEx Ground Hold at Location service is available. The point to mention is that FedEx Express Priority Freight is not available for Hold at FedEx locations. Also, the shipments with hazardous materials are not eligible for Ground Hold at FedEx Location options.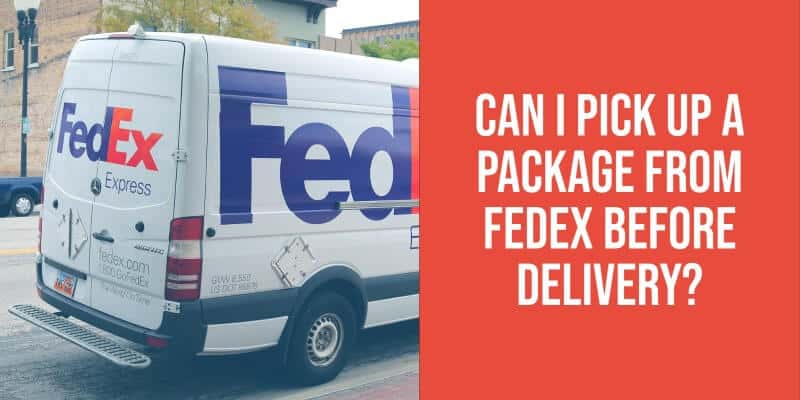 When Does The Customer Want To Hold The Shipments?
Now, this is a big part of why a customer would choose to make a trip to a FedEx location instead of receiving the shipment at home? There are a lot of reasons that make a customer choose this option. 
Delivery Issues:
The problem arises for ones whose house is far away in some rural area that is hard to find. In that case, customers often opt for the halt option to not bring any more hassle by getting delivered to the wrong house. Several customers suffer from this problem of receiving deliveries.
Risk of Package Theft:
There are several areas where packages may get in the hands of some pirates. News about such incidents is quite common nowadays. To save the parcel from such incidents, customers prefer to go and take the delivery beforehand.  
Scheduling Conflicts:
The customer's presence is the most important thing as shipment needs to be signed. Service providers may also turn frustrated if they do not get anyone at home. If the parcel needs an adult signature, that means adding some additional obstacle, like the person receiving should be over 21. To overcome all these hassles, sometimes customers prefer to visit and take parcels from FedEx centers. 
These are some of the common scenarios that lead customers to prefer to pick up such services. Some other reasons may include when you want to surprise somebody or you want to keep things private and something like that. 
Let Your Customers Enjoy The Best E-Commerce Experience
Online businesses mainly aim to serve all the needs of the customers. FedEx enhances the convenience for the shopper by providing them with this option. Whether they have a problem dealing with orders or they need their packages beforehand, FedEx is always there at your service. 
How Can An Online Store Add FedEx Hold Option?
You need to have FedEx Real-Time Shipping, where you should be on the 3dcart Plus plan or higher.
You should have a reliable "Billing Must Match" option whiting your store setting.
Your shop must be built on Core Template Engine, whether through 3dcart's available core themes or by custom design. 
Can I pick up a package at FedEx on Saturday?
You can pick up your package from a store even on Saturdays. If you need instant same-day delivery, then you can, of course, opt for a Saturday delivery.
Why does FedEx hold a package?
It is not that FedEx is holding a package. It's like even if your package arrives at the place before the estimated delivery date, FedEx will hold it until said date. It may also be due to arranging many parcels that are expected on the same day. Hence, on several spots, FedEx holds the parcel.