FedEx provides International Import and Export services with time-definite delivery. Such a flexible range of services is offered to over 220 countries and myriad territories worldwide. They value people and believe that a connected world is the best world. They deliver happiness during the holidays. The esteemed customers of FedEx count on the diverse portfolio of e-commerce, transportation, and business solutions.
What is FedEx Pickup?
FedEx Pickup is one of the special services provided by FedEx. For the service the FedEx delivery guy will pick the shipment right from my warehouse/house at a pre-decided date and time.
Specifying the pickup time earlier can give me sufficient time to plan my shipment packing. The information about the pickup time will help me to pack and prepare my items. It helps in a smooth takeaway of the packages when the FedEx truck appears the door-step.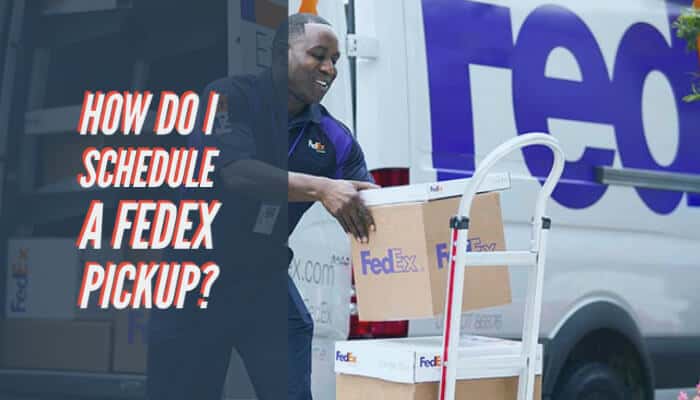 They offer pickups for both freight and normal (less than 150 Lbs) shipments Even if I own SMEs, it would be possible to provide time-definite deliveries to my clients.
The majority of online store owners choose a third-party e-commerce solution to schedule FedEx pickups. For example, a plugin like the WooCommerce FedEx Shipping that offers the features to schedule FedEx Pickup.
How do I schedule a FedEx pickup?
On FedEx.com, I have to visit the Pickups page. I can browse this webpage by clicking on Schedule and Manage Pickups in the below Ship in the top navigation bar or FedEx access section of the homepage.
Now from here, I will have to log in to fedex.com to access my account. If I do not have any account on Fedex.com, I can easily make an account by clicking o the register here.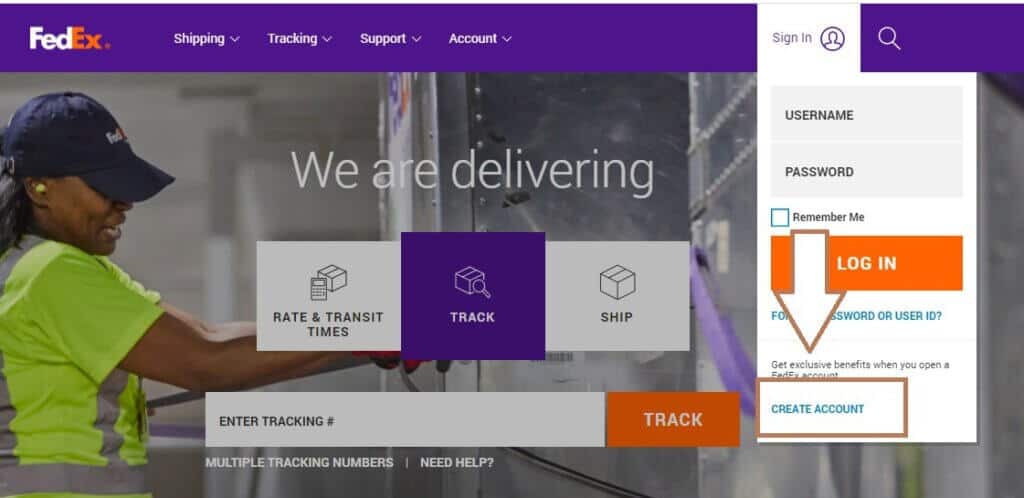 Then, I have to confirm or update my Fedex.com account number in the section of Account Details. If I have many account numbers I will be able to select the one I wish to use from the drop-down menu bar.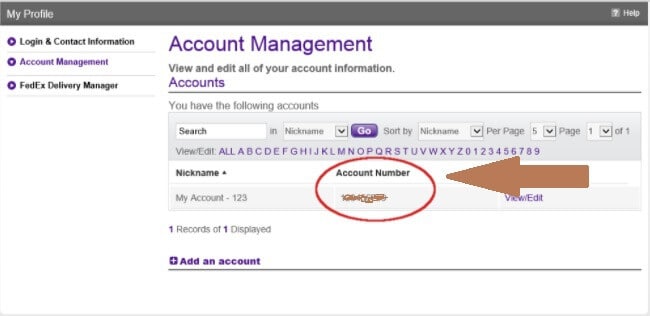 My account address will be pre-populated in the section named Pickup Address. I will have to take a glance over to ensure whether it is correct and fill out some missing information. I can even use a different pick-up address simply by clicking the link of Change pickup address at the top-most section.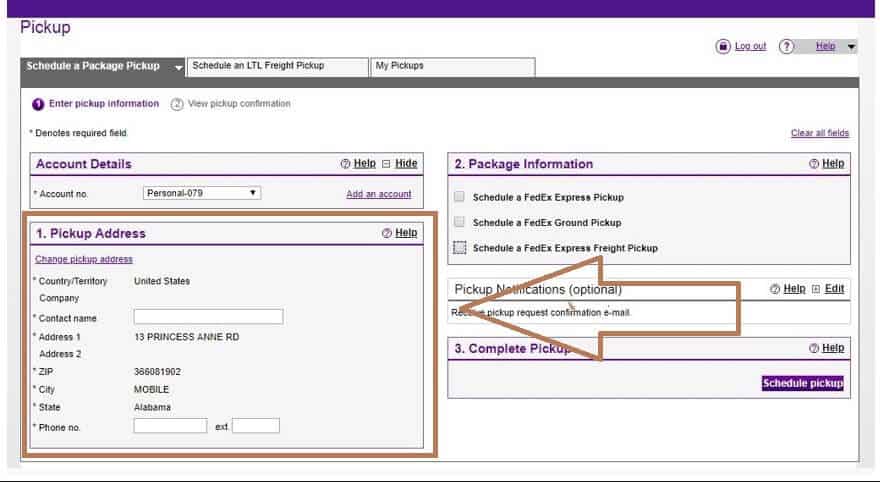 After that I will have to mention my pickup details properly like ready time, the number of packages, or special guidelines in the Package Information section.
If in case I want to set up notifications I can easily do that by entering my email address in the optional section of Email Notifications.
Once I will be ready and well-set, I have to click Schedule pickup to submit my complete information.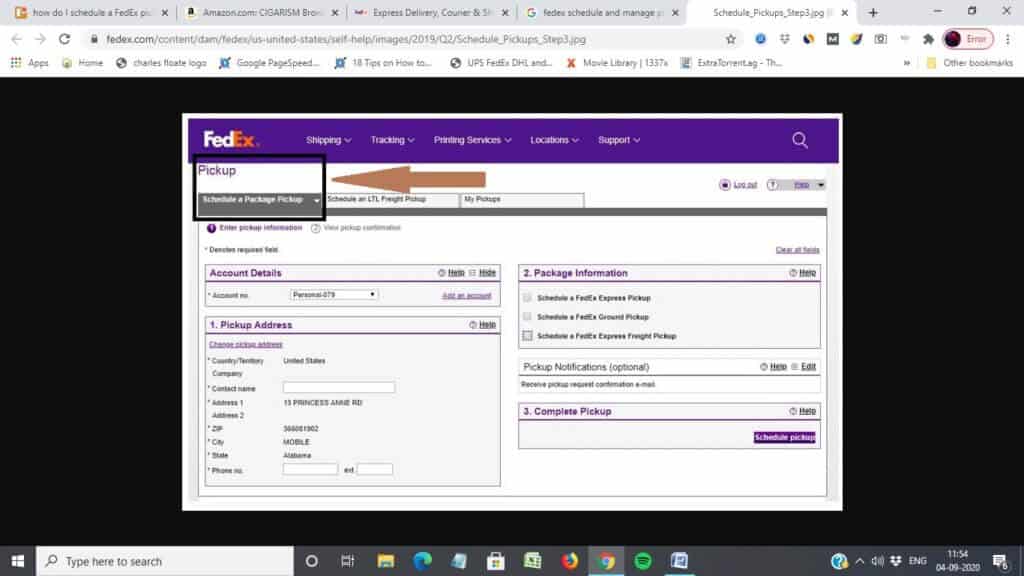 Now, I am all set! I can even manage my scheduled pickups in the tab- My Pickups on the same page. Now I can easily check, view, amend, or cancel my pickups in one place.
How to change my scheduled pickup?
If I would like to cancel or change a scheduled pickup, I need to follow the steps below:
First, go to the tab with the "Ship" menu and click on "Schedule and Manage Pickups"
After that, I will have to log in  in FedEx account
Choose the tab called "My Pickups" and proceed to change or cancel a future Pickup
What to know before scheduling my PickUp?
One must know if the package weighs more than 150 pounds it will fall under FedEx Express Freight. In that case, I can easily arrange a freight pickup online only on the same day.
I can request a one-time pickup when I create the Bill of Lading or my shipping label.
For FedEx Express® Freight, I need to check the optional section "Pickup or Drop off. Then after that click on "Edit "& then choose "Schedule a pickup."
For LTL freight, check the "Schedule Pickup" section and then add the pickup information.
For LTL freight, I can easily schedule up to ten working days in advance. The general cut-off time to request for scheduling is 3:00 p.m.
Various options and features for FedEx Pickup
Apart from the three kinds of FedEx Pickup options, there are few more terms I should know. 
FedEx Door Tags
Status Door Tags
FedEx Saturday Pickup
FedEx Ground Alternate Address Pickup
FedEx Inside Pickup
FedEx Liftgate Pickup
With the aid of WooCommerce FedEx Shipping plugin, I can effortlessly schedule a pickup. This feature has been integrated with FedEx services and functions which is great for any business. Here I can find a separate section to discusses the Pickup. All the necessary options available here. If I have received a fresh order, I can directly visit the WooCommerce Orders page. There, I have to click on a specific order to check and choose the Request FedEx Pickup option. After that, I have to click on the Apply button.
Few Things you need to know with FedEx Pickup – FAQs
What are the kinds of FedEx options for owners?
There are three kinds of FedEx Pickup options. Based on my comfort and requirements, I can choose any one of the three.
• Recurring FedEx Pickup
• One-time Pickup
• Dropoff at a FedEx Location
What is the FedEx One-time Pickup option?
I can plan a pickup schedule while using a 3rd-party e-commerce solution or forming a shipping label in FedEx Ship Manager. The schedule for a one-time pick up from my location is available for FedEx Ground, FedEx Express Freight & FedEx Express shipments.
What is the Recurring FedEx Pickup option?
If I am running a business that necessitates deliveries each day then this service is simply for businessmen like me. I can simplify my intricate shipping routine & plan for frequent delivery needs.
What is Dropoff at a FedEx location?
The Dropoff option is a solution through which I can drop my package to any FedEx Pickup nationwide site. FedEx will take my shipments thereon and I do not need to worry any longer.
Is there any restriction when it comes to scheduling FedEx pickups?
Yes, FedEx has few restrictions when it comes to FedEx pickup scheduling. For example, FedEx will only pickup the shipments billed to a particular FedEx account number. Hence, it is crucial to get me an account on FedEx before I proceed.
What is the Payment Process in FedEx?
The payment process is very easy as I can either select to pay by credit card, check, or cash. A government-issued photo ID is required.
How can I be eligible for pickup?
I have to connect with my FedEx account executive. We can see whether I am qualified for a FedEx Ground Automated Pickup or regular scheduled pickup.
FedEx and its partners are taking some effective steps to professionally decrease the spread of COVID-19. Even, in this pandemic they have changed some FedEx store hours. They are driven to create breakthrough delivery solutions for valued customers like me. They completely value people and promote safety, diversity, and quality in stores.