Many times when using the courier services of FedEx, I have come across a status in their tracking info, which reads "scheduled delivery pending." In the beginning, it made me worry as to the implication of this statement. let's find out what it means. 
---
FedEx Scheduled Delivery Pending: What Does it Mean? 
The term or status "schedule delivery pending" signifies that your package is not ready to be shipped yet; it is in the pending stage.
Pending shipping indicates that your order has been completed and that your product is in warehousing, tagged. The order status changes to "shipped" once it is scanned. 

So, It simply implies that it is awaiting shipment. It's possible that they're still being processed and waiting to be dispatched.

It's a common status message to get while using scheduled delivery, so it's nothing to be concerned about if you can afford a delayed shipment. If not, contact FedEx customer care as soon as possible.
---
Other Reasons
I tried to get in touch with the helpline numbers. Most of my initial attempts went in vain as I could not interact with their customer care personnel. After several attempts, at last, I got through.
I was informed that if it encounters a delay, they may not be able to inform me of the exact date when I can expect to receive It. I was informed that many efforts were being taken to execute the order fast.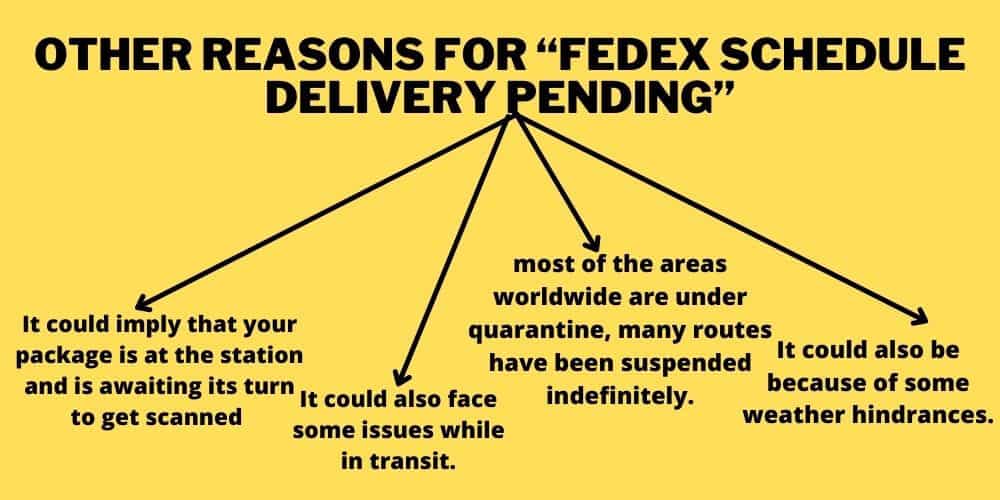 Let's look at the other reasons.
It is to be kept in mind that the FedEx tracking system is automated. So when the shipment misses the estimated time, it is automatically changed to 'pending.' FedEx is under no legal obligation to meet its promised date.
---
How Long Will My FedEx Package be Pending?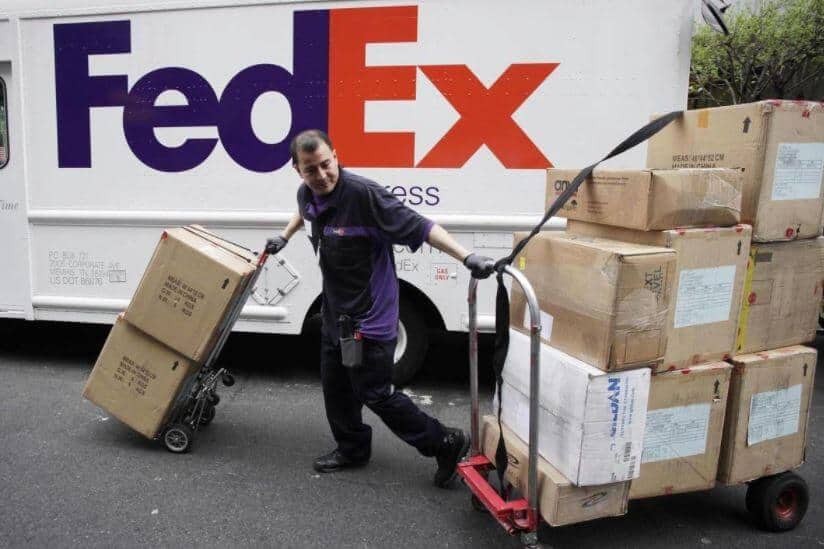 A Pending Shipment is delivery information that has been stored for later processing. This allows the user to set your shipment information in advance and print labels when your shipments are ready to ship.

Pending Shipments end 10 days after they are created, or on the date, you specified when they were created. Generally, FedEx holds your shipments for up to 10 days with FedEx Ground® residential deliveries as well as five days for FedEx Express® service before returning it to the sender.
---
Where is Your Package?
The good thing is your package is almost at its destination, but on the flip side, it is not yet dispatched.

The package is in the safety of a warehouse, with proper labeling, and set to be dispatched. Once it is scanned, the order status will be changed to shipped.
---
Is FedEx Scheduled Delivery Time Accurate?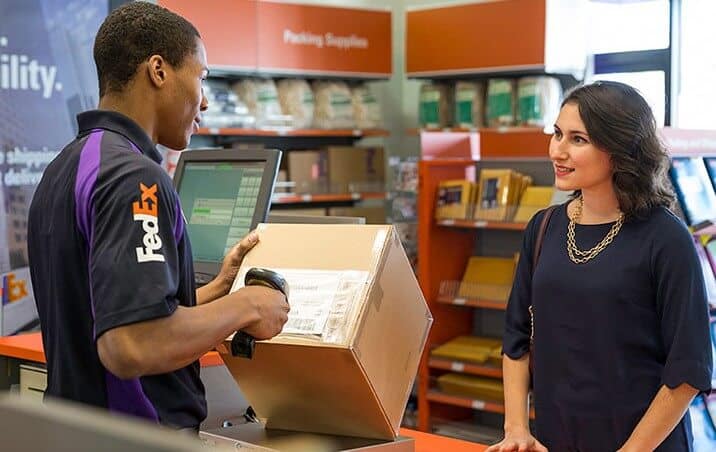 Yes for most of the time. But recently there has been a downfall in the accuracy according to some of the users. Now, as you already know that the deliveries are usually made by trucks which can undergo a breakdown in the middle of the way, which can affect the time of delivery. 

Moreover, different drivers take different routes and have completely different styles of driving which also determines the time of delivery.

All these factors can significantly impact the scheduled delivery time and can cause a delay. But in most situations, FedEx tries to maintain its accuracy by delivering the parcel on the estimated day if not early.
---
If it says FedEx Scheduled Delivery is Pending, Can You do Anything? 

There is not much you can actually do about it. The only thing you can do is have patience and wait for the next update. You know that your package is in safe hands and so there is no need to panic.

However, if even after waiting for a long time the package still has the same status then you should try to contact FedEx Customer Care and ask them about your package.

Nothing to worry about as we already know that FedEx is quite reputed because of its safe and secure delivery process. So your package is not going anywhere and it will reach your place sooner or later.

For further assistance, you can always contact customer care for reliable information about your package.

---
What Happens if FedEx doesn't Deliver On a Scheduled Date?
FedEx Express is a service provided by FedEx Corporation (U.S.) Every shipment in the United States comes with a money-back guarantee. If we miss our published (or quoted, in the case of FedEx SameDay®) delivery schedule by even 60 seconds, you may request a refund or credit for your shipping charges.
---
How to Cancel Pending Shipments?
When Fedex is showing the status of pending shipments, you can cancel your shipment on their website or mobile app. 

Just select the row of your shipments that you want to cancel. And then tap on delete.
This way you can cancel one or multiple shipments. If you want to cancel the entire row of shipments, you need to select all shipments with the checked header shown in the checkbox column and click delete. This way all your pending shipments will be canceled. 
---
How do I Know If FedEx Lost My Package?
FedEx has a range of shipping options to suit any company's needs, but how long does it take for a box to be considered lost? According to FedEx, the answer varies depending on the sort of delivery service ordered, but generally speaking, an item is deemed lost after 60 days.
---
What Happens If FedEx Misplaces Your Package?
If you find that FedEx lost your package you can file a claim for your express or ground or freight services. But remember it should be filed within nine months from the date of shipment.
If you find any missing content and receive a damaged package you can also file a money-back claim. If the delivery is late, then also FedEx is responsible to refund your shipping charges.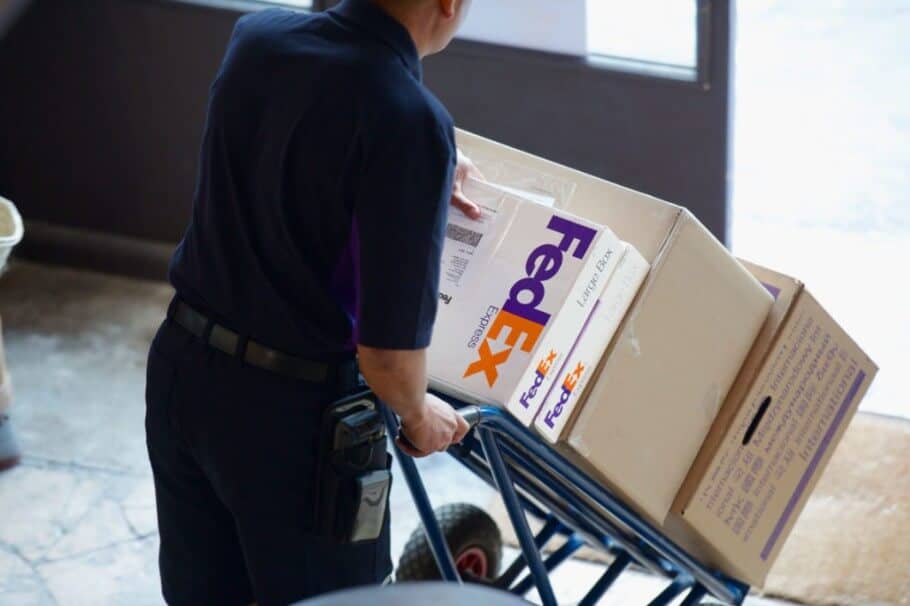 To claim online, you need to put your tracking number and all related documents on their claims website and follow the procedures.
---
Customers' Experience: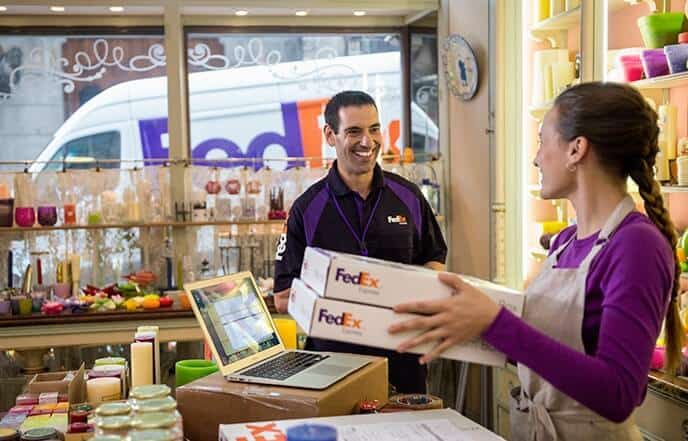 Customers have often been found to have put forward their grievances of not getting their packages on the due time. They complain about the fact that all of a sudden it changes from shipped to scheduled delivery pending.

In such cases, when they try to reach the helpline numbers, they are mostly met with even more dissatisfaction. 

Mostly the response that they receive is quite vague, which includes the explanation of the packages not being ready for shipping. Though they promise to quickly provide accurate dates, this is hardly ever met.

---
Guide for Tracking & Managing Deliveries – FedEx
Tracking
Tracking is made easy with FedEx with the following steps:
Package Management
If you are expecting deliveries at your home, you can now manage them effectively, thanks to the FedEx Delivery Manager. Using this service, you can check for upcoming deliveries to your address, get notified, change the recipient's address, reschedule the delivery, and do a lot more. 
The delivery manager offers the following services for free:
---
Custom Clearance Process for Scheduled Delivery Packages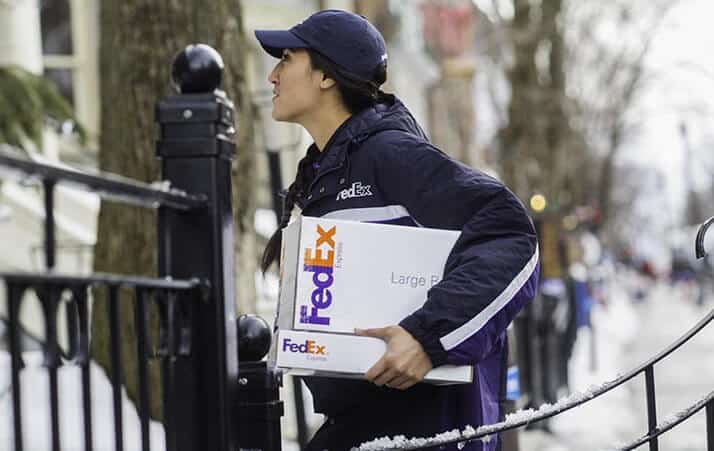 Mostly while shipping with FedEx Express services, customs clearance is included, and FedEx clears the shipment. However, when the shipment has certain goods, it needs special clearance.

Thus you need to ask for special processing from a FedEx customs broker. FedEx then applies the services and bills the charges incurred. In some countries, there is a fee for standard custom clearance.

The same applies to certain FedEx subsidiaries as well. An ancillary clearance service fee also applies to some international shipments to be served towards FedEx destinations.

All the ancillary free and custom charges incurred are listed under separate items in the tax invoice.
---
FedEx Delivery Statuses and Their Meaning
Of course, there is a slew of different FedEx tracking status updates to keep an eye out for besides "delivery pending", all of which provide information about where your items are, how far away they are, and when they are most likely to be directly delivered to their final destination.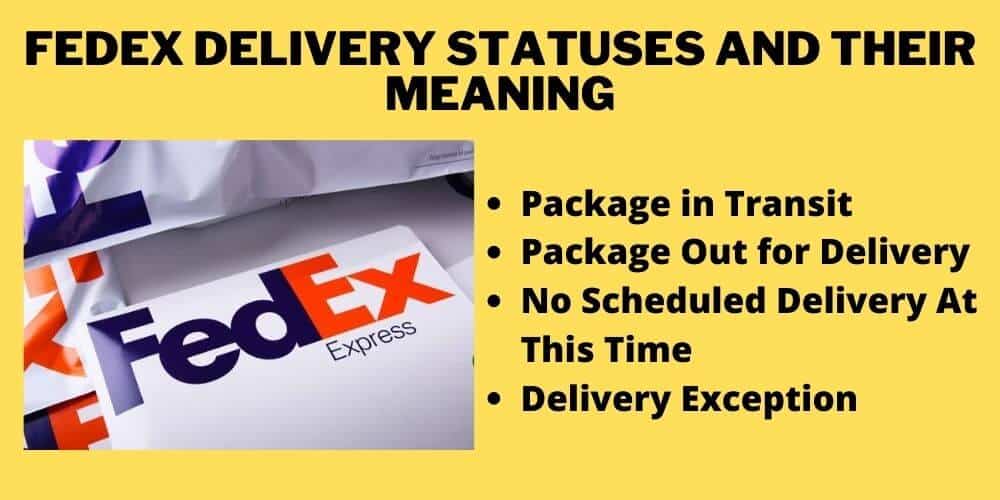 Some of these messages will be more helpful than others, but they will all provide you with a clear picture of what's going on with your FedEx delivery times.
Package in Transit
When you get a package update that says your delivery is "In Transit," it signifies it's on its way to the next FedEx destination, which could be its ultimate FedEx delivery destination or merely another delivery hub.

Many individuals interpret this notification to suggest that their packages are physically moving (being shipped by truck or plane) right now, but this isn't always the case.

Your parcel may have just been screened via a facility and is now waiting to be loaded and delivered to the next stop on the way (along with many other packages).

Generally, this status indicates that your package is being delivered by FedEx. It's especially sweet to have this kind of message if your parcel hasn't seen much activity in the last several days.
Package Out for Delivery
It's the news that everyone loves to hear, the news that your FedEx box has been loaded onto a delivery van, delivered to your door, and then marked "Delivered" by the FedEx person who made the actual delivery.

This notification will typically begin to update about 7:30 a.m. to 8 a.m. (local time), though FedEx officials may scan parcels and start loading them into delivery vans before 7 a.m.

Whatever the case may be, this status indicates that your package has reached the end of its voyage and is on its way to its ultimate destination in the next few hours.
No Scheduled Delivery At This Time
This type of FedEx status update is frequently seen sooner in the tracking process, specifically when a shipment hasn't started moving through the FedEx logistic network.

The status usually only informs you that FedEx does not currently have an anticipated or scheduled delivery time to present you with.

FedEx usually performs a good job of forecasting when your shipment will reach based on statistics from other boxes that have traveled through the FedEx system in a similar (or identical) manner.

FedEx, on the other hand, has additional data – data about poor weather, data about slowing or stopping certain facilities, and so on – that tells them internally that this historical chronology isn't always correct in this case. This status update generally indicates that more data is provided before a delivery estimate can be made.

Check back later that day (and over the next several days) for an update on your arrival estimate, as FedEx gains a clearer understanding of when your shipment will arrive.
Delivery Exception
When it comes to FedEx tracking details, the "Out for Delivery" statement is one that everyone wants to see, but the "Delivery Exception" notification is one that no one wants to see.

This warning indicates that something unusual has happened, and your FedEx item will be delayed beyond the estimated arrival date.

Adverse weather, as well as severe storms, can always start chucking into the delivery timelines of companies like FedEx. 

By signing up for the (completely free) FedEx Delivery Manager program, you may learn more about the specifics of your Delivery Exception. Just keep in mind that FedEx has a 98 percent on-time delivery rate and that this type of status change is extremely uncommon.

If your shipment's delivery status has changed to "currently pending," it signifies that delivery promises have been revised due to a delay, and FedEx is working to eliminate that delay.

After that, you'll be able to select the most suitable delivery option for your shipment. Your package's status can be tracked online. When you create a FedEx account, you'll get exclusive rewards.
---
FAQs
1. What does it mean that "Pending Shipment" and through FedEx?
This means that if your delivery misses the date, the status is changed to "delayed".
2. What is the reason that a FedEx package did not arrive on the estimated date and now says no estimated date available and the status is still not clear?
This means that the Scheduled for your package is not yet ready, and it is pending.
3. Why is my FedEx shipment stuck at "In Transit" even after the expected date?
This means that the package is no more showing any enhancement towards its destination. It is either kept in the courier company's depots or stuck in customs.
4. How accurate is FedEx's scheduled delivery time?
The answer to this question has mixed responses. While the FedEx delivery time has been accurate for some, for others, the experience was bad. 
As per many, FedEx is often unable to deliver in the scheduled time, and the situation gets worse during the holiday rush. Priority shipping customers also face the issue. Additionally, the driver's route also has a part to play in determining the delivery time.
5. Is scheduled delivery guaranteed?
This again has mixed reviews. While for some, the scheduled delivery was on time, others did not enjoy the same benefits. 
When you receive a notification on Scheduled Delivery, it means FedEx is doing everything in its power to get your package delivered. Mostly the estimated time of delivery is between 1-3 days; however, there might be some delays.
6. Why is FedEx taking so long to deliver?
Apart from internal issues (driver routes, heavy internal traffic), multiple other reasons can delay your package. Bad weather conditions, holiday rush, poor carrier performance, incomplete documentation, and incorrect address are a few reasons for a delayed package.
---
Conclusion
I have been taking the FedEx courier's services for quite some time now and have come to endure certain circumstances that have added much to my misery.
Hence, whenever I see the status is being changed from scheduled to delivery pending, I try to track my package's status online using the tracking number. But, If you don't have a tracking number to check the status of your package then you can check this guide.
This helps in accessing the shipment's most up-to-date information. Moreover, one can't do much in such situations except wait.