DHL is the top international express courier for eCommerce that delivers packages to over 220 countries. The leading shipping express is known for its reliable and timely deliveries. Depending on your preferred delivery option, DHL does same-day deliveries, which generally might take a week or so. Usually, it delivers on weekdays between 8 am to 6 pm, and on weekends for certain special cases.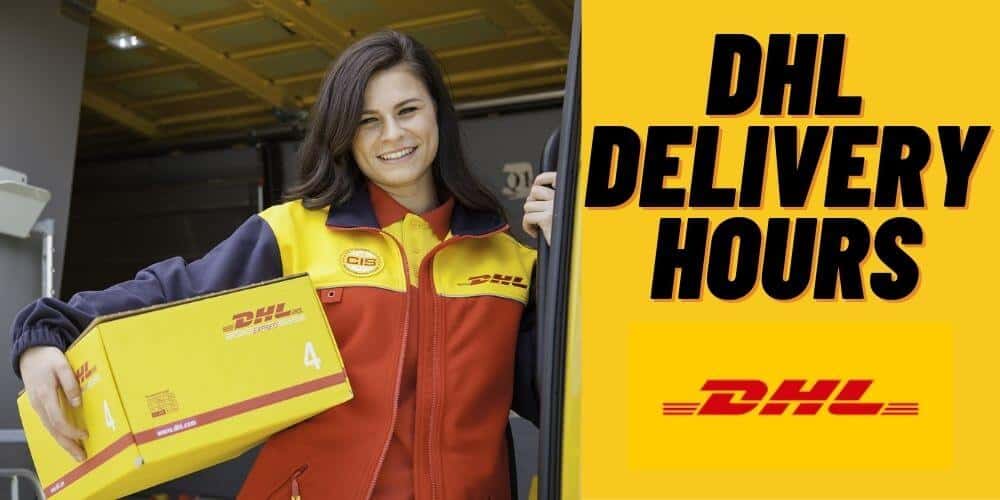 However, certain factors influence DHL delivery hours like:
So, as you can see, many factors impact the DHL delivery hours and have a role to play in determining the DHL delivery time and speed.
Have a look at this article to know everything about it as we go through them one by one. Let's hop into it!
---
DHL Delivery Hours for Different Countries
DHL delivery hours vary depending on the country which is using its services.
DHL serves the US on weekdays Monday through Friday from 8 am to 6 pm. Weekend or holiday deliveries aren't usually offered in the US unless you are ready to pay a little extra and make the necessary arrangements.
DHL service point locations are open from 9 am to 6 pm for international shipments. The delivery hours are the same: Monday to Friday, 8 am to 6 pm.
Europe and Non-US Countries
The standard DHL delivery hour for Europe and non-US countries is Monday through Saturday, 8 am to 6 pm. Moreover, weekends deliveries are also available here. It covers several extensive delivery options throughout the weekends for countries in which it's available. However, delivery services are closed on all national holidays.
---
Factors Influencing DHL Delivery Hours
Several factors impact the speed of delivery and hence influence the DHL Delivery Hours. Below is a list of certain important factors that determine the DHL delivery time: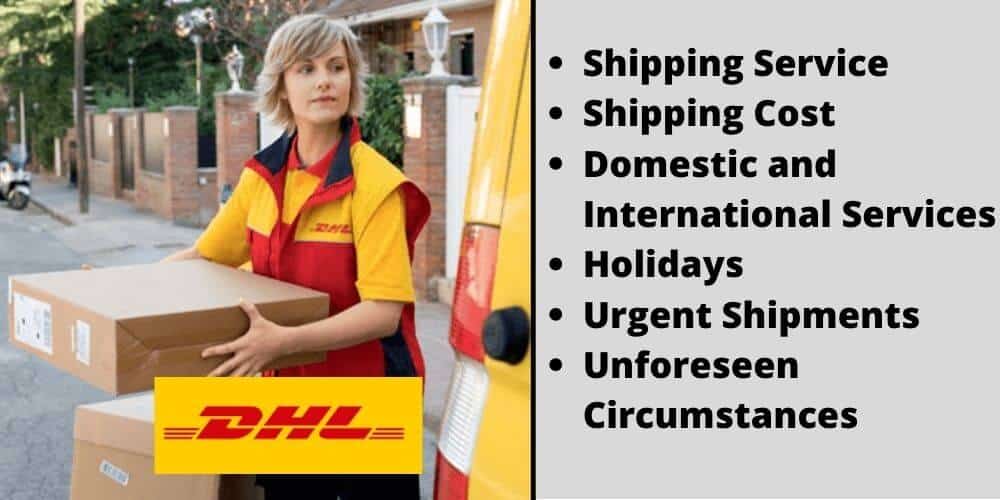 Shipping Service
DHL delivery time and speed depend on the shipping service chosen by the customer. DHL offers two such shipping services for the customers to choose from:

1. DHL e-commerce allowing merchants to send parcels internationally at a cheaper rate.
2. DHL Express Worldwide offering expedited and guaranteed delivery of international packages with some added cost.  

For instance, if a package is shipped with DHL Express Worldwide, it would take about 1-3 days to reach its destination. But if the same package is ordered through DHL e-commerce, the delivery time increases to 9-11 days.

So, the customer must be careful which DHL service to choose for shipping their package to reach its destination faster and in the shortest time possible.
Shipping Cost
The shipping cost also determines the speed of a DHL delivery. Higher shipping charge determines faster delivery service.

For instance, DHL Express Worldwide will charge you more if you wish to ship your parcel using its service that will deliver it within 1-3 days.

Comparatively, you pay very little for shipping your packing using DHL e-commerce for a delivery that takes 9-11 days to complete.

So, it is up to the customers to decide which service they prefer to use. If you choose faster DHL services, then they will be far expensive than the slower ones.

But then it will reduce the number of delivery days by a huge percentage. You can always compare the rates and delivery time as offered in various DHL service and choose the one that fits your budget and timeline.
Domestic and International Services
DHL delivery hours are also determined by the fact whether DHL is serving its domestic or international customers. Factually, domestic services take far less time than international services.

DHL takes about 1-4 business days to complete its delivery; whereas, it might take about 4-20 business days to fulfil its delivery promise for international services.

However, the type of shipping service you choose and the amount of shipping charge you pay will determine your exact delivery time, whether you choose its domestic or international services.
Holidays
Needless to say, holidays are a major factor in determining DHL delivery hours. A few hours of delay isn't uncommon during the DHL holidays.

For one thing, DHL delivery services are closed during certain important holidays, which might delay the shipment by one or two days. Plus, the holiday seasons are a really busy time for DHL, with its customers on a shopping spree at various e-commerce sites covered by them.

So, while shipping with DHL during a holiday season, the customers ought to be a little considerate, expecting minor delays from DHL.
Urgent Shipments
DHL understands that at times there might be certain urgent shipments that require immediate delivery. Its services are flexible enough to fit in those delivery hours that require immediate action.

DHL does offer immediate pick-up and door-to-door delivery services for urgent shipments within the shortest time.

The customer can easily get in touch with a DHL team if they have any urgent shipment waiting to be delivered within a particular timeframe.
Unforeseen Circumstances
Certain unforeseen circumstances play a role in determining the DHL delivery hours. Despite their best attempts, your DHL delivery might be late by a few hours due to some unprecedented events like traffic jams, bad weather conditions, congestion at the airport, custom delays, failed delivery attempts or any other unpredictable events, including those created from the impacts of the very recent COVID19 pandemic.
---
Rescheduling DHL Delivery Hours
Sometimes it may so happen that the scheduled DHL delivery hour doesn't match with your convenient hour for the day. DHL services have the solution for such cases too, where the customer can reschedule their DHL delivery hour to suit their timeframe.

Here are the steps to do it:

Step 1: Open your My DHL app.
Step 2: Check the various upcoming deliveries which are pinned to your home address.
Step 3: Choose your preferred date and time when you want your package to arrive.
Step 4: Change the scheduled delivery hour for the day.
 
The multinational postal service leads the market for its proficient delivery services and reliable delivery hours. Several factors go into consideration when it comes to determining the speed and time of delivery. With DHL's shipment services and customer preferences, one can easily determine the DHL delivery hour.

---
DHL is known as a company that always caters to their customer's needs, devising methods for them to have comfortable shipping and delivery services.
One such policy is to allow its customer to choose their preferred delivery hour and reschedule them as per their convenience. The DHL website even has a calculator that helps the customer determine which packaging plan suits them the best.
So, if a customer is fully aware of all the policies and services that DHL offers, they can easily use them to their advantage to get the best out of DHL and even set their preferred delivery hour.
And if they look past the delays caused by unforeseen circumstances or due to the rush in the holiday season, they will find that DHL deliveries are often right on time.