Seeking a good job, you would surely want to know, which ones are great and which are the ones that are less than stellar?
People who have their career with FedEx, will at least won't have this confusion, as they know that they have one of the best jobs, considering the working environment and the opportunities it holds.
FedEx is a company based out of Memphis, Tennessee, but has numerous offices and warehouses worldwide.
With its plethora of workplaces, they have plenty of opportunities too. FedEx believes in employee work ethics and stresses that with quality training and excellent treatment of employees, they can create outstanding customer service.
FedEx Employee Benefits:
FedEx is a company that rarely lays off any of its employees. Having a job itself in such kind of uncertain times is in itself a dream come true for any employee.
Work-Life Balance:
FedEx has a strong belief that there is more in life than just work. Taking care of life priorities, providing more time for fun and entertainment and social engagement provides a sense of balance in life.
The company provides the staff with paid benefits to take care of all life issues and needs like reallocation, child education, hospitalization, and medical needs, and more.
Reimbursement of tuition fees of wards:
This is a special program by the company for all its permanent staff (package handler employees), once they have completed 1 year of employment with the company.
An upper limit has capped at $15000 per employee for legitimate expenses. This facility is not for the temporary staff (seasonal package handlers).
Paid leave:
This one is for all FedEx employees (permanent and seasonal). Every employee is entitled to vacation and pay along with it. From the day they are hired, accumulating vacation time and pay begins. The facility can be availed after six months of continuous service. 
Paid holidays:
Every permanent employee working for the company is eligible for a paid leave of 11 days a year. 
Employee healthcare:
As a norm, FedEx takes care of the medical needs and emergency of its people. A group insurance or benefit program is offered by FedEx Ground and 100% of its premium is paid by the company.
On completion of 90 days of successful service with the company, an employee is eligible to opt for an extended dental and overall health coverage along with getting benefits of the EAP – Extended Assistance Program.
Reasonable accommodation:
This is an exclusive facility or benefits extended to disabled staff working for the company.
The requisition of the same could be extended by the qualified employee through an application process.
Other employee benefits and discounts:
All employee of FedEx are entitled to special discounts and benefits under various employee schemes like:
a) FedEx employee shipping discounts
b) FedEx employees discounts at FedEx office
c) Other discounts through the program via LifeWorks.
d) Purchase of FedEx Common stocks. The facility to deduct from employee payroll is possible. This benefit is only available after the successful completion of 3 months of continuous service by an employee.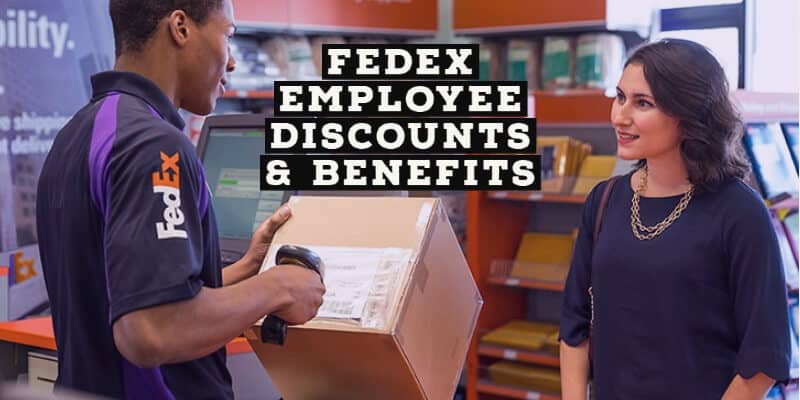 Fedex Employee Discounts
All FedEx employees along with their family and close ones are entitled to numerous and unmatched employee discounts, special pricing, and other benefits on a variety of products and services used in everyday life like entertainment (movies, parks, etc), shopping, insurance, cell phones, travel and more.
Insurance:
A wide array of discount benefits are extended to the employees on a variety of insurance products like Health, Vehicle, Life, Home, General, Medical, and Property.
Health and Medical:
Special discounts and promotions are specially designed for all FedEx employees on health and medical facilities.
These are discounts on medical facilities available in hospitals and clinics, medical and healthcare products like medicines, equipment, and other aids, health and medical insurances, doctor's visit and consultation, check-ups and pathology, eye testing, and related products, medicines and supplements and more.
Travel and Vacation:
Travel and vacation discounts entail the employees of FedEx to gain benefits on a variety of travel and vacation products like airline tickets, train tickets, hotel stays, car rentals, cruises and camps, travel insurances and alike.
 Entertainment:
Fun and entertainment is an intricate part of human life and at FedEx, all efforts are being made to ensure that every employee of the company enjoys a good time relaxing with his friends and family.
Special discounts on movies, malls, sports zones, golf clubs, amusement parks, magazines and newspapers, and events and concerts allow every employee to enjoy their life to the fullest.
Car and Vehicles:
Shopping for car insurance, auto loans on new and used vehicles, service, spare parts, roadside assistance, tires, and batteries is made easy with outstanding discounts and offers on these products exclusive for FedEx employees.
Financial discounts:
FedEx provides unmatched discounts for its employees on financial products. These products range anything and everything from credit cards to home loans and personal loans.
Get special and exclusive offers being a FedEx employee on other financial products like investments, shares, bonds, credit repair, credit monitoring, and mutual fund investments?
Home utilities and services:
At the home front, FedEx ensures that all its employees enjoy the same advantages as they do on all other fronts.
Special packages and discounts on simple things at home like internet and cable subscriptions, newspaper and magazine subscriptions, kitchen and houseware products and services, garden and gardening products, home cleaning and maintenance products and services make life easier and enjoyable.
Other Unique Discounts:
There are a lot of things and aspects in life that we hardly think of, but are important and make a huge difference in making our lives easy and engrossing.
FedEx provides its employees special discounts and offers on an entire range of these unique yet critical products and services.
These are kid's school supplies, pet care products, gifts and flowers, baby clothes and supplies, jewelry and watches, and similar products.
FedEx works with the policy of inclusions in every life of an employee. It makes employee life quality better. Such a culture promotes better employee engagement, higher levels of productivity, assurance of quality, increased profitability, room for creativity, and innovations. 
How to use FedEx employee discounts?
If you are a FedEx employee and have been issued your Employee ID Card, then you are eligible for great discounts on multiple products and services. To use your FedEx employee discount, all you need is your FedEx Employee ID.
So, this is how it works:
Visit the place where you want to exercise your FedEx employee discount.
Produce your FedEx ID card. Some places even accept FedEx employee badges or payslips as proof of employment. However, your FedEx Employee ID card serves as the most solid proof.
Once verified, you can pick up the item you want to purchase, and in the invoice, you can see the Employee Pricing, served with the special discount.
All the application rebates or incentives (if any) will be applied to this price after that.
So, whether you are planning to buy a car, cell phone, electronic device, or household appliances or watch a movie, visit a concert, book a hotel, etc., you can apply this method anywhere and get your FedEx Employee discount.
FedEx Ground Level Employee Discount
Even the ground-level employees at FedEx are liable for discounts on some special products and services. Plus, they get Healthcare benefits and perks like paid time off and paid holidays so they can have a work-life balance.
However, the discount amount is lower than that of the other employees. Also, the ground-level employees can only avail of the discount on only a few limited goods and services. 
But then, the Ground Level employees have the chance to secure a raise. All the employees get a small raise within a month of their joining. Then, they get a raise after 3 months and then every 6 months. Sometimes, this raise includes a raise in the discount percentage as well.
Who can use FedEx Employee Discount?
Not only are current, ex or retired FedEx employees eligible for discounts, but their friends, family, and neighbors can also avail some special pricing, perks and discounts on various products and services. 
Most of these discounts are on vacation packages and travel products like cruises, travel insurance, hotel stay, car rentals, plane or train tickets, etc. All they need to do is to have the FedEx Employee ID while making the deal. 
How much discounts can a FedEx Employee Get?
The discount percentage for FedEx Employees can vary from person to person, depending on various factors. But it usually starts with 5-8% and can rise to a 25-30% discount over time. 
Plus, the friends and family members of the FedEx employees can also get up to 10-15% discount on various products and services.
Apart from these, the employees can get up to 90% off on food at over 18,000 locations.
Do FedEx Employees get Discounts on Hotels?
FedEx Employees are also liable to get special discounts on hotels worldwide. All they need to do is to check in with their FedEx employee ID. 
There is one condition, though. To get good discount rates, the employee has to make the hotel reservations in advance. At least a few months' advanced reservations are required for the employees to avail of the FedEx Employee Discounts on hotels. 
Also, the employee needs to book directly with the hotels to avail of their employee discount. If they go via any third-party services, then chances are that they might not be able to use their employee discount to their highest benefits.
Another thing to remember while using Employee Discount on hotels is that the hotels determine the discount rate. This is because there are several factors that the hotels need to consider before offering a discount on their rates to stay in business.
FAQS on FedEx benefits and benefits for employees
Do all FedEx employees get discounts and other benefits?
 All permanent FedEx employees (permanent and probation) are entitled for discounts and employee benefits. However, certain facilities on the said subjects are enlisted only for permanent employees who have completed a certain period of service, in separate cases as decided by the company.
For e.g. – Reimbursement of tuition fees of employee wards are a benefit for permanent staff on completing 1 year of continuous service and extended medical benefits.
All discounts in various segments are almost for all employees.
How soon the medical benefit facilities can be availed by FedEx employees?
All FedEx employees are entitled for medical benefits provided by the company. The basic entitlement starts as soon as an employee joins the company, but the extended benefits are available optionally only after 90 days of continuous service with the company.
What other benefits and discounts FedEx offers to its part-time employees?
As a part of the commitment and for a conducive work environment for all employees, FedEx Ground first offers the group benefit program on health and wellness, where 100% of the premium on behalf of the employee is paid by FedEx. Employees are provided with Employee Assistance Program (EAP) for a wide range of benefits and discounts.