Canada Post always tries to keep its customers satisfied with their timely deliveries. However, several obstacles hinder their delivery procedure at times, resulting in mild delays.
So, sometimes you might get a message like: Canada Post delayed. Stay tuned for updates. There is nothing much to worry about if you do, but you must know why it happens and how to deal with it.
And that is why we are here with this article to deliver all the important information regarding Canada Post's delayed deliveries. 
So, let's dive right in!
---
Canada Post Item Delayed Stay Tuned: What Does It Mean?
Canada Post allows you to track your package and know its exact location, and it also informs you about the exact date when the parcel will be delivered. However, the tracking status might sometimes show you the message: "Item Delayed." 
This means that Canada Post has encountered an unforeseen event during the transition, which might result in delayed delivery. In that case, the item will be arriving at a later date than what was earlier predicted. 
What Canada Post means by "Stay Tuned for Updates" is that you need to keep checking the tracking status for further information on the delivery. Once the delivery barrier clears, you will be informed about the current location of your parcel and the new delivery date expected. You just need to stay tuned to receive any further updates from them.
---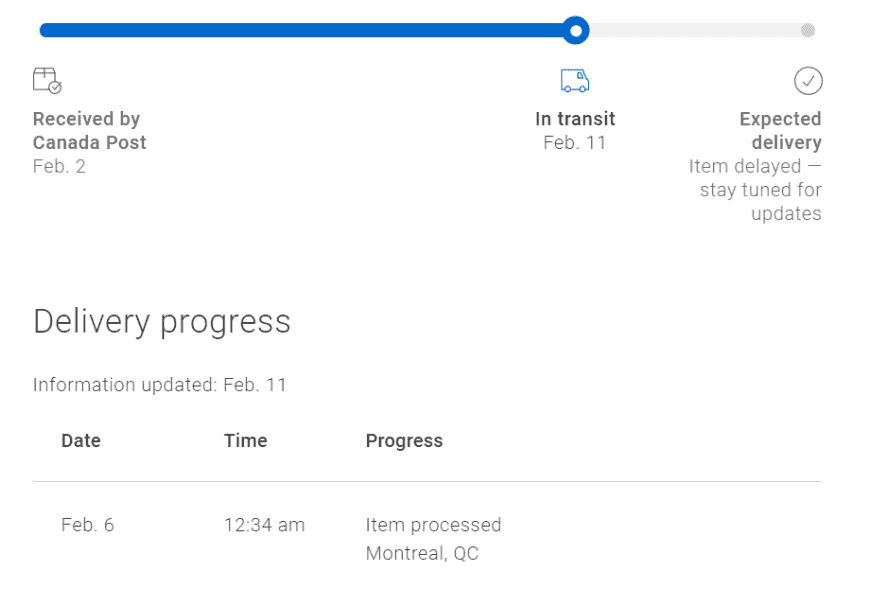 Why Delivery Gets Delayed with the Canada Post?
There can be many reasons why delivery gets delayed with the Canada Post. Here are a few probable ones: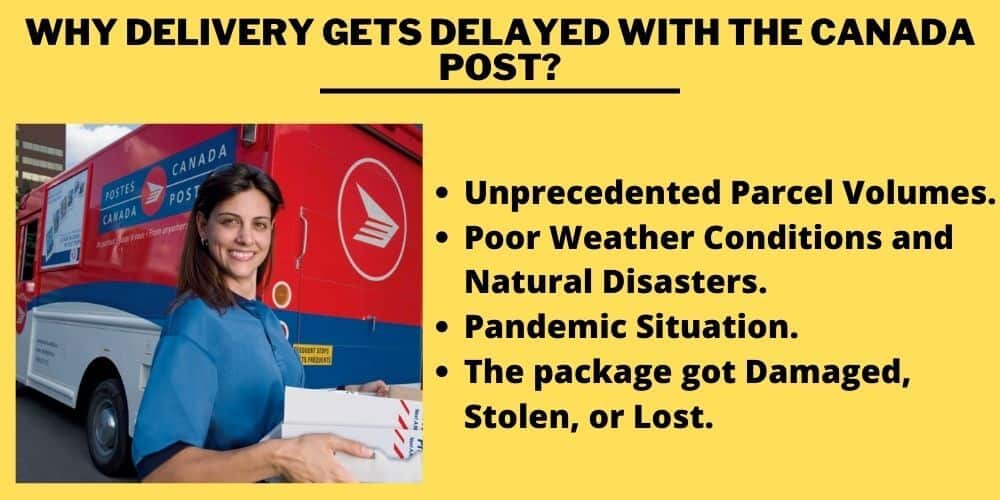 Unprecedented Parcel Volumes
Many people worldwide use the services of the Canada Post. Hence, sometimes the company may be swamped with orders.

This mainly happens during the peak time, such as the holiday seasons, when they are overloaded with packages and have a shortage of workers, which can cause a little delay in delivering the orders.

Poor Weather Conditions and Natural Disasters
Poor weather condition is another cause that hampers the smooth transition of packages. Rain, snowstorm, cyclone, etc., are responsible for delayed deliveries. Sometimes natural calamities like earthquakes, floods, landslides, etc., can also cause delivery delays. 

Canada Post allows you to check whether the mail delivery around your neighborhood will be affected by the weather and if there will be any changes in delivery.

They give you a red alert to inform you that the delivery has been suspended due to bad weather. Their yellow alert warns you that your package might suffer a delay, but they try their best to avoid it.
The current COVID19 pandemic situation is another reason why parcels are delayed. The new safety protocols and pandemic measures that are being adopted worldwide are slowing down the delivery process. And so, Canada Post parcels are arriving at later dates than expected.
The package got Damaged, Stolen, or Lost
On certain rare occasions, your item is suffering a delayed delivery because it was either stolen or was damaged, or got lost in transit. In such a case, there is a high chance that you might never see the face of the parcel anymore.

However, if you had insured your shipment beforehand, there is a slight possibility of a refund on the postage cost.  
P.S.
Most of the time, delays occur with Canada Post because they want to ensure the safety of their employees and safeguard the packages they are carrying.

In case of bad weather conditions, natural disasters, or pandemics, items should get delayed than losing the parcels forever, or worse, risking the lives of their employees.
So, they suspend all deliveries when they encounter risky situations and resume them again when it's completely safe to deliver.
---
What to do When your Canada Post Item is Delayed?
Instead of worrying your head off when your Canada Post item is delayed, do the following: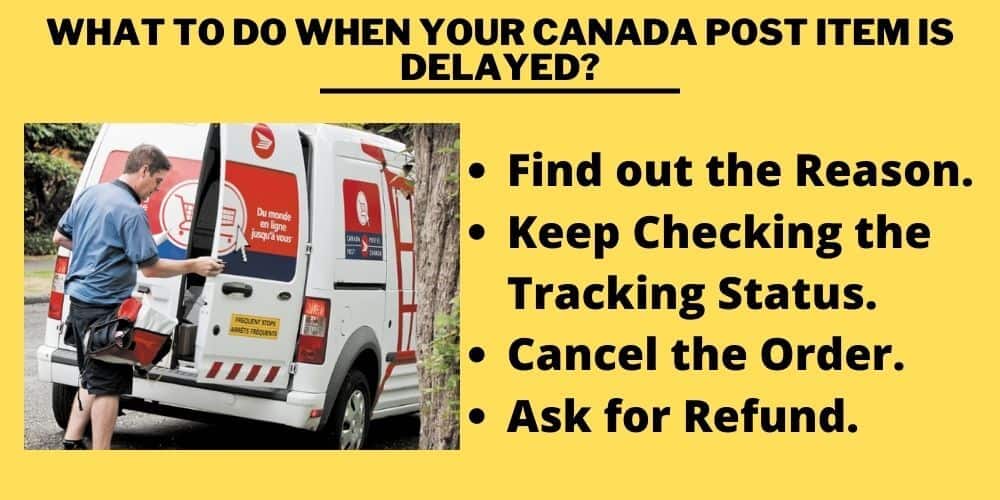 Finding out why the parcel is being delayed will certainly relieve you of your concerns.
If you can know whether it's due to overload, bad weather, or the pandemic, you can patiently wait for the predicament to pass and the order to get delivered. You can find out the reason by emailing them at their official email ID or contacting them via their Customer Care number.
Keep Checking the Tracking Status
If you don't want to go through the trouble of emailing or calling them yet, consider checking your tracking status more often. As they mention, staying tuned for updates is one way to deal with the situation. So, check their website often to see if the tracking status changes from "Canada Post Item Delayed" to "Out for Delivery."
You can cancel the order if you think it's taking too long to get delivered or you no longer feel the need to use the item. If you ordered an item you needed urgently, but it got delayed, there is no point in wasting time and money waiting for the package to arrive.

You can simply cancel the order. You will either be offered a refund or a replacement service if you decide to cancel the delivery and order again.
If you were guaranteed on-time delivery and yet the item got delayed, you can ask for a refund from Canada Post. However, certain conditions are attached to this regarding who can ask for the refund and under what situations. So, make sure that you know all the clauses before demanding a refund.
---
Requesting Refund with Canada Post for Delayed Delivery
Canada Post allows you to request a refund if your item was delayed. However, the following conditions apply: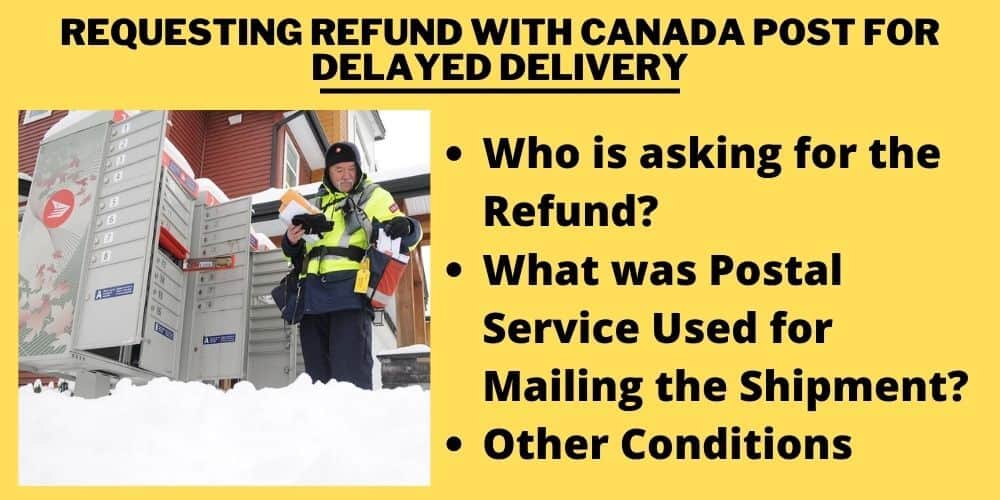 Who is asking for the Refund?
 The person asking for the refund must be the sender who was promised on-time delivery. Hence, you must have a copy of the mailing receipt as proof for the same.
What was Postal Service Used for Mailing the Shipment?
The Postal Service used to mail an item is also a vital factor. For, only the packages shipped with the following services are eligible for refunds:
☑️Priority Shipping.
☑️Xpresspost.
☑️Expedited Parcel.
☑️Priority Worldwide.
☑️Xpresspost International.
Apart from these, other conditions which need to be fulfilled for your shipment to qualify for a refund are:
☑️The package must arrive at a later date than the guaranteed delivery date.
☑️The parcel didn't have restrictions that caused it to be held at the customs resulting in the delay.
☑️The delay wasn't caused by missed delivery or the wrong address.
☑️The claim for refund was submitted within 30 business days of the delivery date that was guaranteed.

If all these conditions are met, can you request a refund with the Canada Post? Once the request is made, the company will verify all the documents and check if your parcel qualifies for the claim. If it does, you will get a refund. 
---
Frequently Asked Questions (FAQs)
Have a look at these frequently asked questions regarding Canada Post item delayed to clear your doubts further:
Q: For how long can the packages be delayed?
A: It's hard to say exactly how long a package will be delayed. It can take a few weeks to even a few months or get wrapped up within a few days.
It depends on the type of problem causing the delay. It won't take more than a few days if it's due to overload. It might take longer if poor weather conditions or natural disasters cause. The current pandemic situation has caused far greater delays than expected.
Q: Why does a package get stuck in transit?
A: Sometimes, your package gets stuck in transit, and you don't know if it's delayed or not. It happens mainly because of any sudden mishap that couldn't be predicted before.
It can be as simple as the carrier being stuck in traffic or as serious as an accident or a bizarre. Anything that slows down or stops the movement of the courier vehicle is responsible for your package being stuck in transit.  
Q: Why can't you view your tracking information?
A: Unavailability of tracking information doesn't necessarily mean that your item wasn't shipped or got lost, damaged, or stolen in transit. It simply means that there has been a temporary error while scanning your package, so the information could not be updated. It might again be available if you check back at a later time.
You May Also Find Useful: Does Canada Post Deliver Twice a Day
Conclusion:
Canada Post is an efficient and reliable mail delivery service. However, like any other postal company, it also encounters certain circumstances that delay your shipment delivery.
When you find yourself in such a situation, the crucial thing to do is to keep calm and decide fast on the best solution. We hope that this article will give you all the clarity you need to act fast and quickly resolve your problem.