Like any other reputed postal service company, Canada Post too provides tracking services to their customers. It allows you to track your parcel and know its exact location while they are still in transit.
But what if the tracker doesn't work? At once, panic strikes the customers! But don't worry. Not being able to track your package doesn't mean that your package is lost. There can be several reasons why the Canada Post tracker fails to work. 
In this article, we will address the issue of Canada Post tracking not working and what you can do in such a situation. But first, allow us to walk you through a brief introduction to the Canada Post tracking services.
So, let's go!
---
Canada Post Tracking Service
With every parcel that you ship via Canada Post, even for international destinations, the company provides you with its tracking service. Following are the steps to use the Canada Post tracking service:
Just in these few steps, you can track your package with Canada Post.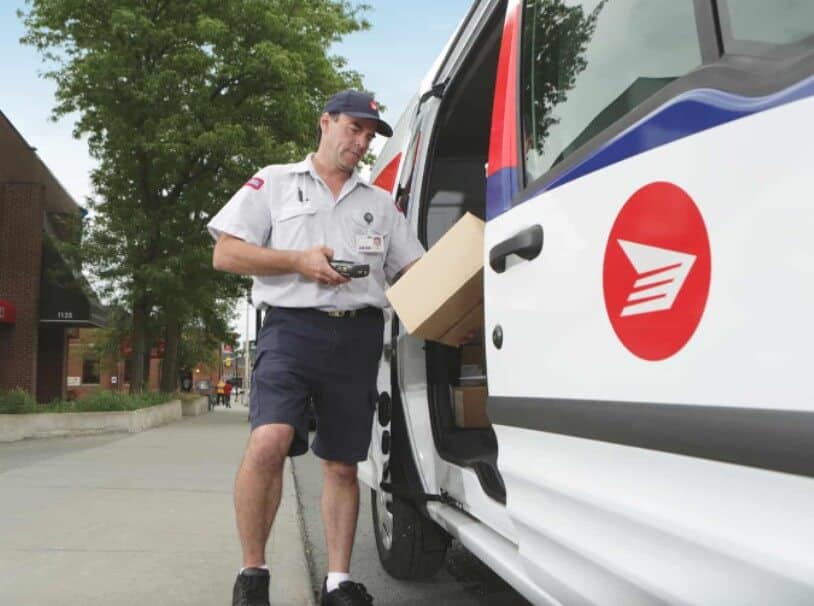 ---
Canada Post Tracker Not Working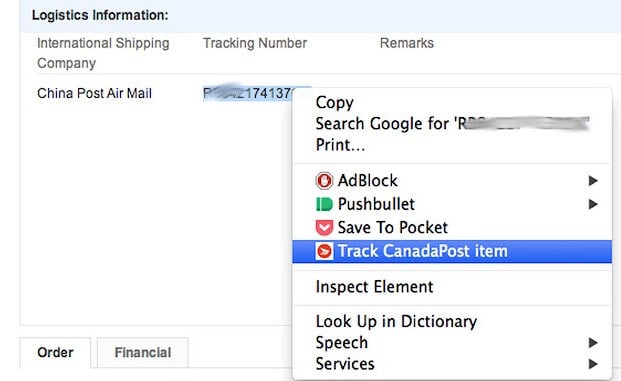 But what if the above steps don't work? What to do if Canada Post Tracker is not working?
Well, the first thing to do is not to worry about it. There is no reason to believe that your package is lost, stolen, damaged, or hasn't been mailed at all just because you failed to track it.
Usually, it takes some business days for the Canada Post tracking to update. While at times, there are other reasons too that hinder its progress.
---
Why is Canada Post Tracker Not Working?
Let us now look at a few probable reasons why the Canada Post tracker is not working: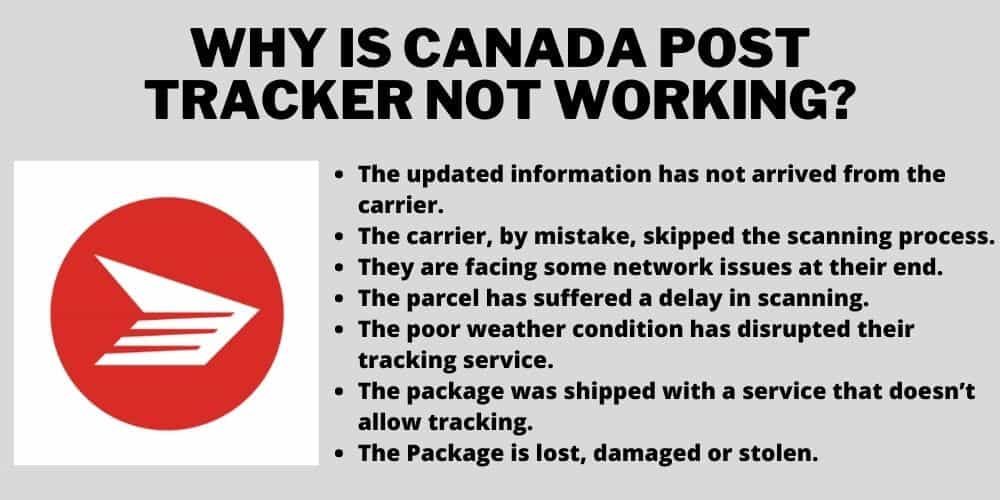 The updated information has not arrived from the carrier
Sometimes, it may so happen that the tracking information is not available yet to the Canada Post. It happened when the carrier used to ship the parcel and hadn't updated the postal company with the tracking information. It's a temporary error.

And you will receive the tracking details and alphanumeric characters as tracking number once Canada post collects the information about your parcel from the carrier handling your shipment.
The carrier, by mistake, skipped the scanning process
At times, when the carrier is loaded with tons of packages to deliver, they might, by mistake, skip the scanning process at a particular stop. It usually happens during the rush hours, parcel tracking gets resolved once the package reaches another location and is scanned.
They are facing some network issues at their end
Sometimes network issues can cause a delay in updating the tracking information. The tracker starts working again when the issue is sorted.
The parcel has suffered a delay in scanning
A delay between the time a package was scanned and the time of online availability of tracking information may lead you to believe that the Canada Post tracker is not working.

However, if you check back later, you may find your updated tracking information right there. This usually happens for an international parcel.
The poor weather condition has disrupted their tracking service
Poor weather conditions can cause severe network issues, which can disrupt the standard Canada Post tracking service. Also, bad weather can hamper the movement of your package.

It can slow down the carrier, who might take a few extra hours to deliver your parcel from one stop to another. And hence, prevent you from receiving your Canada Post tracking information for a while.
The package was shipped with a service that doesn't allow tracking
Another reason why you might feel that the Canada Post tracker is not working is that you don't have access to that service. Perhaps your package was shipped using a service that didn't allow tracking. Services like Small Packet, Light Package, and Letter Post don't have tracking facilities available to them.

So, you won't receive any tracking update if your postal operator uses any of these services.
The Package is lost, damaged or stolen
On one of those rarest occasions when the tracker is not working for you for several days, it can mean that the package is lost, damaged, stolen or the shipping label is unreadable. This issue can be solved by prompt action. And if you have insured your parcel with Canada Post, you would even be liable to receive a refund.
---
What to do if Canada Post Tracker is Not Working?
Here are a few things to do if you find the Canada post tracker is not working: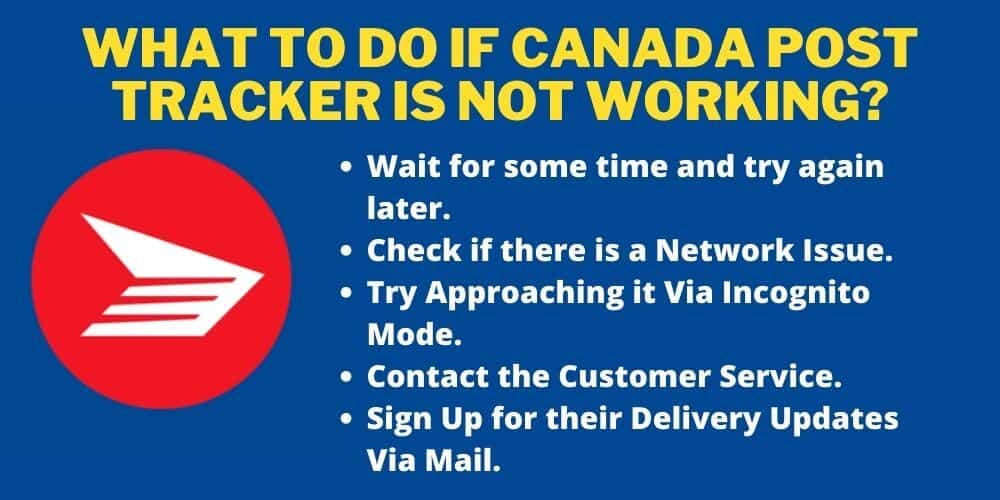 Wait for some time and try again later
This is the best thing to do if the Canada Post tracker is not working. In most cases, it's a temporary problem that gets resolved on its own. Check back later to see if the tracker starts working again. But make sure you don't wait too long and contact the Canada Post or go to the post office if more than a week elapses without any tracking update.
Check if there is a Network Issue
Usually, if it's a network issue, then many of the customers will face the same problem at the same time. There are different ways to find out if everyone is facing the same issue with Canada post. If they are, then there is nothing much to worry about as the tracking information will be updated as soon as the issue gets cleared.
Try Approaching it Via Incognito Mode
Opening the tracker from incognito mode may work for some people at times. It gives the page a fresh start without any cache piling up, which works to help the tracker start working again. So, you may as well try this process as well.
Contact the Customer Service
If none of the above techniques works, then as a last resort, contact the Canada Post customer service via email or call. The customer care professionals at the other end can try and fetch your tracking information or can at least inform you as to why you aren't receiving any tracking updates. You can also contact local postal administration.
Sign Up for their Delivery Updates Via Mail
Lastly, you can consider signing up for their delivery updates via mail from the Canada Post website. It will relieve you of your constant tiff with the Canada Post tracker.

You will no longer have to keep checking the tracker continuously. You can just wait and relax while receiving the automatic delivery updates via a Canada post account.
---
How to Receive Canada Post Delivery confirmation Notification to your E-mail or Mobile Device?
Canada Post allows you to receive your tracking updates and delivery notifications via your email or even on your mobile device. Just follow the simple steps to get started.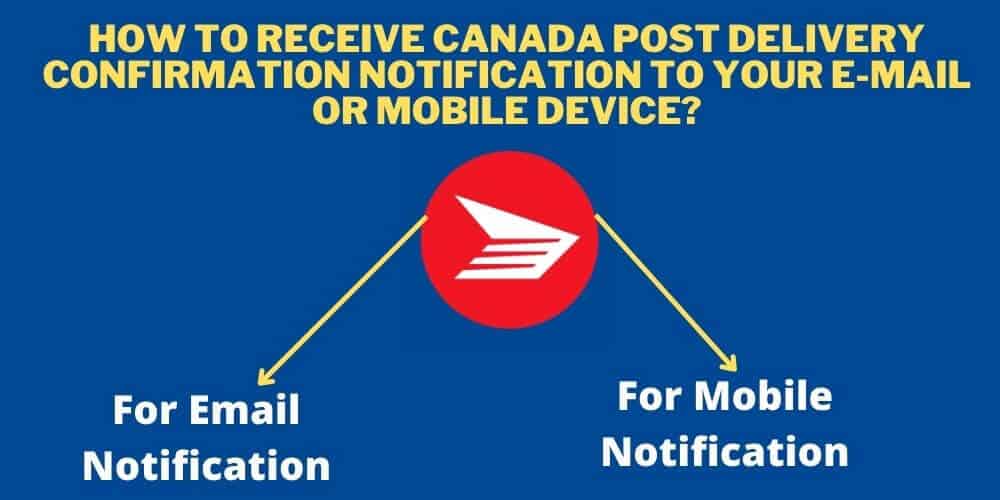 📧 For Email Notification
Here are the steps to get email notifications regarding your package delivery with Canada Post:
Also, you can choose to receive 3 different types of delivery updates as follows:
📱 For Mobile Notification
Here are the steps to receive mobile notifications about your delivery:
If you had downloaded the app earlier but skipped the step of turning on the notification, there is a way to fix that:
---
Conclusion:
Canada Post tracker not working is generally a temporary error that gets resolved on its own. There is no reason to assume that something bad has happened to your package. Checking back in a few hours or days will perhaps ensure that the tracker is working again. 
Knowing the reasons why it happens and taking the appropriate steps will help you deal with it. Otherwise, you can totally avoid the process by enabling the tracking notification on your email or mobile phone. 
Whatever you do, measure your steps and choose your options carefully. And don't forget to have a happy tracking!