No matter how disturbing it sounds, it's true that packages get stolen. And sometimes, they get stolen right from your doorstep. It's no doubt frustrating to find that the parcel you had been waiting for so long got stolen from your front steps.
And if it's happening to you for the first time, you might be confused about the next steps. While it's very unfortunate to have your package stolen,, the world's best postal company, USPS, has a few steps up its sleeve to help you cope with it.
So, instead of panicking about your stolen package, follow this guide and know what you need to do next.
---
What to do if your USPS Package gets Stolen?
If you are sure that your USPS package was stolen, then here are a few things you can do next:
Contact the Delivery Carrier:
After discovering that your USPS package has been stolen, the first thing to do is contact the delivery carrier. They would be able to give you more information about your package that you can use to find it or claim a refund.
Tell them what happened and why you think your package was stolen, and they will assist you.
Also, see if you have the tracking number or if they can provide it. You can then use it to check the route the package has taken and see its current shipping status.
If you see that it says delivered and you have not received it, then it's time to start investigating.
Contact the Sender:
The next point of contact would be the sender from whom you have ordered your package. Stolen or not, you must contact them and tell them that the parcel hasn't been delivered.
Companies often have certain policies for missing or stolen packages to handle such situations.
Following the report, they might offer you a replacement or a refund on the cost. It usually depends on the particular company and their policies and what steps they take in such cases, but it's best to contact their customer service department once.
But before you contact them, ensure that you have evidence to support your claim. It can be:
Order confirmation, tracking, order number, or any other detail that can identify your package and help them track the order.
Delivery notice that says where the package was delivered and a snap of the location to prove that it wasn't.
Delivery number (if any) so the company can reach out to the carrier and collect available information.
Not all companies have refund or replacement policies, but holding on to your evidence might urge them to make an exception and assist you in the best way possible.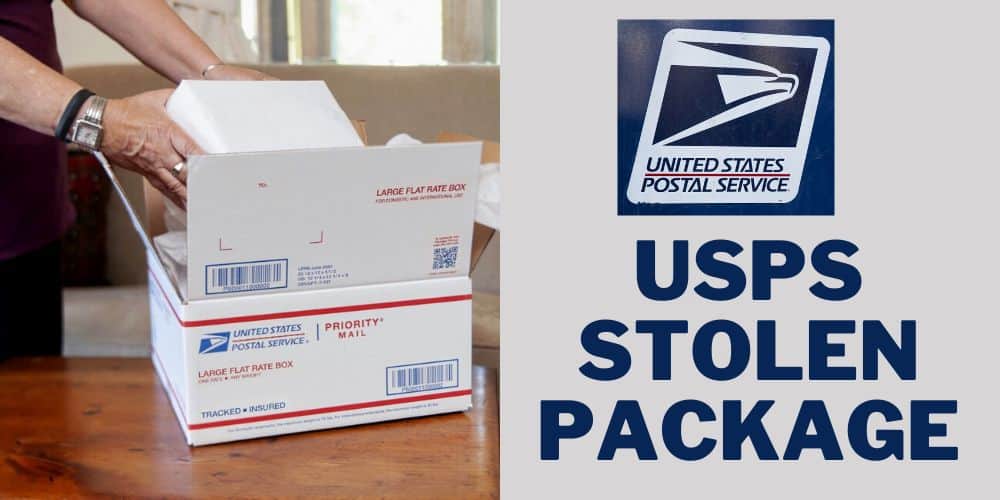 File a Police Report:
If you suspect your package was stolen, it's best to file a police report. They might not be able to do much without clear evidence or a proper witness, but they will keep a note of the incident.
And if they register similar reports from others in your neighborhood, they will investigate the matter and catch the culprits.
So, ensure that you give them every detail about the stolen package, like where it was supposed to be delivered, when the courier service said it was delivered when you discovered it's missing, etc.
Also, if you have any evidence, like camera footage or a neighbor who saw someone lurking around, make sure you share that information too.
Whether they are successful in finding your package and catching the culprits or not, filing a police report will certainly come in handy while making an insurance claim for the stolen package.
Contact USPS:
The next best thing to do in case of a stolen package is to contact USPS directly. The company has clear protocols for missing, stolen, or damaged packages, and they try their best to provide the customers with some damage control.
But before you contact them, ensure that you have the following important documents with you:
Tracking number
Delivery notice
Proof of Insurance (if any)
Proof of the item's value
Information regarding the package contents, mailing details, delivery date and time, etc.
Photo evidence of stolen package (if any)
The next step depends on whether your USPS package was insured or not. If it was not insured, you will only be able to initiate a missing mail search where the company will search for your package.
If it was insured, you would be able to file a claim with USPS and retrieve a certain amount of money.
File a Claim with USPS:
USPS allows you to file a claim for missing, lost, or stolen packages. If your package was insured, the claim will cover the entire shipping cost and the package value up to a certain specified amount.
The claim will only cover the shipping charges if the package wasn't insured. The sender and the recipient can file the claim if they have all the required documents.
However, before you proceed with any of these above steps, ensure that your USPS package has been stolen and is not:
Left with the neighbors
Kept at a safe place nearby
Just being delayed on the way
Received by someone in your house
How to Search Your Stolen Package with USPS?
USPS allows its customers to initiate a missing mail search for lost or stolen packages. You will just have to follow a few simple steps as given below:
Step 1: Track your Package to Check its Current Status
The first thing to do will be to visit the USPS official website and track the package using the unique tracking number to check its current status. It will ensure whether your package is lost or stolen or just being delayed in transit.
Step 2: Submit an Online Help Request Form
Once you are sure your USPS package is lost, fill out their help request form online before starting the missing mail search. It's advisable to submit the form using a desktop computer.
Once USPS receives your request form, they will forward it to the local post office for them to search and locate any missing package that might belong to you.
Step 3: Submit a Missing Mail Search Request
If more than 7 business days traverse from submitting your help request form and you still don't receive your package, submit a missing mail search request form.
For that, you need to visit the official website of USPS, create an account if you don't already have one, and provide them with the following details:
Mailing address of both the sender and the recipient
Size and type of container or envelop used for shipping
Tracking number, mailing date, label receipt, and anything else that can serve to identify the missing package
Description of the content like item, model, brand, size, color, or anything else that's applicable.
Pictures (if any) will help them identify the package or recognize the contents as yours.
Step 4: Wait while the Search
The next step will be to patiently wait as USPS searches for your missing parcel. USPS will send a confirmation mail upon receiving your Missing Mail Search request.
After that, they will employ their investigating team to search for your lost package and send you periodic updates about the search.
Step 5: Obtain the Result of the Search
Next, you will receive the search result for the missing parcel. USPS will either find or not find your package.
If they find it, they will send it to your address. If they fail to find it, they will inform you about the same, and you can then request a refund or file a claim with USPS. 
How to File a Claim with USPS?
USPS allows both the sender and the recipient of a parcel to file a claim for their lost package if they have the following information:
Original mailing receipt
Proof of Insurance
Proof of Value
Proof of damage
Following are the steps to file a claim with USPS:
Step 1: Determine your Filing Period
Each USPS mail service has a different filing period. It depends on the mailing date, the type of service used for shipping, and whether it's a case of damaged content or a lost package.
So, the first thing you must do is determine the filing period applicable to your package.
Step 2: Gather Your Documents
USPS will require the right documentation to approve your claim as quickly as possible. So, you must gather all the following documents and keep them safe until your claim is resolved:
Tracking Number or Label Number found on the mailing receipt, package label, or order confirmation mail.
Evidence of Insurance like original mailing receipt, packing label that shows the article to be insured, label or application printout that proves the purchase of the insurance, etc.
Proof of Value, that is, the cost or value of the purchase item evident from the sales receipt, paid invoice, billing statement, printouts of online transaction, etc.
Proof of damage can include any photographs that prove the harm your package encountered.
Step 3: File Your Claim
Once you have collected all your documents, the next step is to file your claim with USPS. You can either file the claim online through the USPS official website, or you can file the claim through the mail. Filing online is the fastest and the easiest.
To file your claim online, all you need to do is:
Visit the official website of USPS
Log in to your account or create one if you don't have any
Fill the form with all the required details
Save it for later if you are unable to complete it in one sitting
Once finished, submit the form and check it in your Claim History
To file your claim via mail, you need to:
Contact the USPS National Materials Customer Service and request them to have a Domestic Claim Form mailed to you.
Fill out the form with all the required details.
Attach all the necessary documents as per the requirement.
Mail it to the address provided on the form.
Step 4: Wait for Claim Decision
After filing your claim with USPS, the next thing to do is to wait for their claim decision. USPS can either approve or decline your claim, depending on various factors.
Your claim can either be completely approved or approved in parts. You will receive the claim amount within 7-10 business days after its approval. USPS will decide the claim amount, and it can't be higher than the actual price of the article.
Your claim can be partially or completely denied. In either case, you will receive a decision letter listing all the reasons USPS denied your claim.
Step 5: File an Appeal
You could file an appeal only if your claim was completely denied or partially approved. It must be filed within 30 days of receiving your claim decision. You will be given two chances to file an appeal.
While submitting your first appeal, the same you submitted your claim, focus on why your claims were denied. You may also provide additional documents to support your claim.
You can submit another appeal within 30 days of receiving the denial if your appeal is denied. The decision taken in the second appeal will be final.
How to Prevent Packages from being Stolen?
You shouldn't have to go through this entire process if your parcel was never stolen. Hence, you must take a few precautions to save your package from the eyes of thieves and pirates. Here are a few:
Catch them on Security Camera:
Have a security camera installed that can constantly record videos. So, if you receive an alert that your package was delivered and can't find it when you return, you can always watch the video footage to find out exactly what happened there.
If you spot anything, use it as evidence of theft when you file a police report. Else, if you find that no carrier has arrived, use it as evidence to get a refund from the sender or the courier company for the missing package.
Shine a Porch Light on the Situation:
Installing a porch light will prevent the culprits from lurking in the shadow. And if a motion-detected porch light can't send the thieves scurrying away, they can at least catch them in the act and provide clear evidence.
Schedule an In-person Delivery:
The best thing to avoid a stolen package is to schedule an in-person delivery. Inform USPS that you need a signature for delivery so that your package gets delivered to an address where someone can be present to receive it.
Use a Virtual Mailbox:
Sign up for a Virtual MailBox service with USPS. It will ensure that your package always arrives at an address where it will be safely retained till you decide what you want to do with it.
Conclusion:
As unfortunate as that sounds, porch pirates are a reality today. There are several reports of usps stolen packages ruining the peace of the customers as well as the courier service. Thankfully, there are ways to cope with such misfortunes and even prevent package theft if handled carefully.