To ensure USPS personnel's proper safety and security, The United States Postal Service has declared certain items as banned and some as restricted during shipment. There is Not only USPS shipping restrictions, but these restrictions also protect customers and business owners. Though the service delivers a lot of flexibility in their shipping, it also provides specific rules that should be followed strictly. 
Are you new to eCommerce? Then it is important to understand thoroughly the guidelines of what you "can" and what you "cannot" ship through USPS.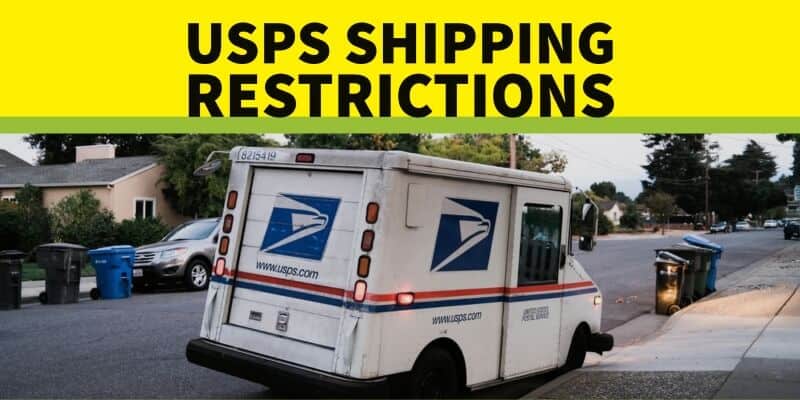 What is USPS Publication 52?
Publication 52 details all the substances and articles that you can send and receive through USPS. It also delivers a detailed description of the conditions under which some commodities can be shipped. The rules are the same for both international and domestic shipping. Below are listed all the details about prohibited, restricted, and perishable items, as mentioned in USPS's publication 52.
USPS Shipping Restrictions: Prohibited and Restricted Items
First, you need to understand the fundamental difference between prohibited and restricted shipping. In the case of prohibited items, you are not allowed having to carry those under any circumstances. For restricted items, you can ship certain items only under some rules and limitations.
Under any occurrences, you are not able to ship the below-mentioned items both domestically and internationally. It is important to be aware of the fact while you are planning for USPS shipping.
Prohibited International Items:
Aerosols
Alcoholic Beverage
Ammunition
Air Bags
Cigarettes
Explosive
Dry Ice
Gasoline
Fresh Fruit and Vegetables
Hand Sanitizers
Nail Polish
Perfume
Mouthwash
Poison
Most of the items mentioned above can bring a serious threat to the passengers on the same voyages. Other products like Alcohol cannot be shipped due to strict international shipping regulations by the US government.
Prohibited Domestic Items:
Alcoholic Beverage
Ammunition
Gasoline
Air Bags
Fresh Fruits
Aerosols
Explosives
These products are possible to pose a significant risk to the other member carrying the parcel. Hence they are also strictly prohibited from shipping in the United States Postal Service.
RESTRICTED ITEMS IN USPS
This means you can transport certain items maintaining the rule of USPS shipping restrictions. Let's have a look at all of them.
Intoxication Liquors
Firearms
Odor-Producing Materials
Drugs
Sharp Instruments and Knives
Locksmiths Devices
Unsolicited Promotional Samples
Building Construction Materials
Cigarettes
Animal-Fighting Ventures
You can send educational and media materials (Books, Video or Sound Recordings, Educational Charts, Computer Readable Media, and Medical Loose Leaf Pages) through Media Mail. This also has certain restricted items. Another thing about USPS shipping restrictions is that it does not allow media mail to include items like video games, computer drives and digital drives.
Domestic USPS Shipping Restrictions
Envelops: You can use a maximum envelope size of 15 X012 X 0.75 inches.
Parcels: The item must have at least 3 X 6 X 0.14 inches.
Restriction to Priority Mail: USPS promises to deliver priority mail between one to three business days. No parcel that estimates more than 70 pounds is allowed in this mailing system.
Restrictions for First-Class Mail: The most affordable way to send lightweight parcels is via "First Class Mail." USPS allows the shipment of large envelopes and parcels, having a maximum weight of 13 oz. 
Restrictions for Flat Rate Mail: The Flat Rate Mailing has minimal restrictions rather than other USPS restrictions. It does not require any weight calculation as long as your parcel is weighing under 70 pounds.
Restrictions for Liquids: USPS states that non-hazardous liquids can be parceled if packaged properly. Packaging requires strong and sealed outer packaging. Liquids that are restricted are corrosive, explosive, combustible, and other hazardous. They need special requirements for shipping via USPS.
Restriction for APO: If you are shipping to any military base, you have to opt for a special Priority Mail APO/FPO large flat box. You can send items having a maximum weight of 70 pounds.
International USPS Restrictions
USPS will only deliver to the nations that are sanctioned by OFAC. Here is the weight restriction that you should always follow for international priority mail.
| | |
| --- | --- |
|   Services | Maximum Weight |
| Priority Mail International |  70lb |
|  Priority Mail International Flat Rate Envelope |  20lb |
| Priority Mail International Large Flat Rate Box |  64oz |
|   Priority Mail International Small Flat Rate Box |  41lb |
| First-Class Package International Service | 20lbs |
USPS gives all the effort to let both the customers and business owners get all updates about the restrictions and prohibitions. It is your responsibility to keep updated with USPS's policy and know how to get the best solution off your eCommerce platform. You can now do your homework thoroughly as you know what you can and cannot ship through USPS. You can discover all the information regarding USPS's latest updates on their official page also.
USPS Shipping Restrictions FAQs:

What items are never allowed in USPS?
USPS never allows for shipments are handguns, firearms, alcohols, tobacco products, gasoline, explosive, liquid cell batteries; any items containing mercury, legal narcotics, hydrogen peroxide, and live mammals are not allowed under any circumstances.
What are common household items strongly prohibited in USPS?
Household items like nail polish, aerosols, and fresh fruits as prohibited in USPS. These items possibly pose a significant risk to the people attending them.
Can prescription drugs be mailed through USPS?
Suppose you want to mail prescription drugs, then at first. In that case, you have to know about the federal and state laws about shipping these items before trying to ship them with the USPS after proper validation. Prescription drugs are only allowed to be sent via USPS under certain circumstances.
To Wrap Up
United States Postal Service is one of the main shipping service providers in the US. Whether you are shipping within the nation or outside, there are certain USPS shipping restrictions you have to follow, as mentioned above, should be followed.
Ready for shipment? Make sure to pack the boxes well so that they won't break. It is always recommended to get your package insured at first. This will help you know about every single detail of your package. Every shipping service starting from FedEx, UPS, to USPS has certain restrictions associated with the parcels. I hope these details will help get the right eCommerce platform depending on your service's products.
Pay attention and follow all the USPS rules and regulations issued by them. This will ensure you to provide a reliable shipment and get your products delivered safely to your customer. 
Happy Shipping!