USPS or United States Postal Service is the federal government postal service in the United States of America. Founded on 1st July 1971 in Washington, it has a workforce of 633108 people. They offer various kinds of postal services to American citizens, one of which is the USPS Parcel Select Ground. 
This particular service is meant for shipping heavy packages and parcels to their destination place. The rates are quite low, and it depends on various factors. The service nearly takes 2 to 8 days to deliver your parcel, and the maximum weight limit is 70 lbs.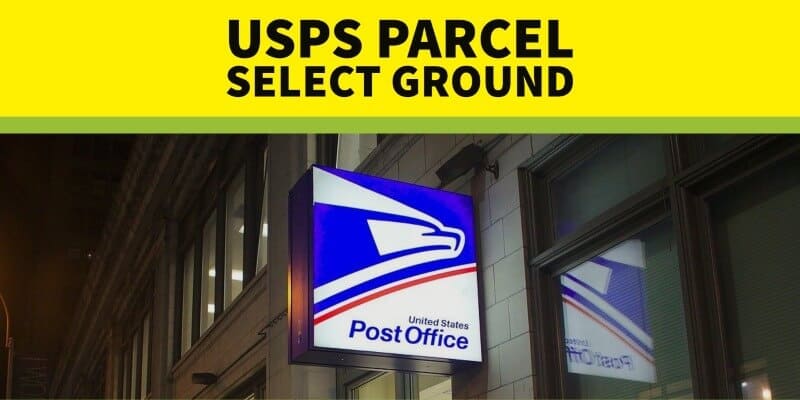 However, that's not all. There are some other facts that you need to know about this service. Let's check them out in this article.
How Did USPS Parcel Select Ground Start?
The USA's federal government replaced the Parcel Post Service with the USPS Parcel Select Ground to provide its citizens with a much cheaper postal service for bulky orders. Before this, postal services were quite costly. 
After launching such an easy option for the shipment of bulky packages, courier service companies like DHL and FedEx have lost their monopoly in the postal service market in the United States. The purpose behind starting this service was to give reasonable shipping options for the Americans.
How Does USPS Calculate the Shipping Rate for Parcel Select Ground Service?
USPS calculates the rate for its shipments via Parcel Select Ground service based on some factors. These factors are-
Distance
The first thing that matters in USPS Parcel Select Ground service is the distance of the destination from where the parcel has been sent. This is one of the primary factors behind the Parcel Select Ground rates. 
Weight
The maximum weight limit for Parcel Select Ground is 70 lbs. Now USPS calculates the rate of shipping for the Parcel Select Ground service based on the weight of the parcel. 
Dimension
The maximum length and girth of any parcel that you want to send via Parcel Select Ground service should not cross 130".  
Restrictions in USPS Parcel Select Ground Service
This service is strictly meant for domestic shipments. 
You cannot send any parcel containing cigarettes, tobacco, or any narcotic products. 
The weight limit should be followed rigorously. 
You have to book a shipment online.
No shipment of any hazardous will be made via this service.
Where to Drop Your Package for Parcel Select Ground Service? 
You can drop your parcel at three centers that are attached with Parcel Select Ground service. They are 1) Destination Bulk Mail Center, 2) Destination Sectional Center Facility, and 3) Destination Delivery Unit. 
All these are the business partners of the USPS Parcel Select Ground service. 
Why Should You Use This Service?
You do not have to pay to avail of your parcel's online tracking option when you use the Parcel Select Ground service.
A signature confirmation option is available in this service.
You get a freehold option at the post office for valuable parcels. 
They charge quite less than other courier services like DHL.
Who Should Use This Service?
This service is best for the merchants who need to mail products in a huge amount. You need to send a parcel of at least 50 packages at once to get a cheaper rate. Booking a shipment through this service is quite easy. 
If you are not in a hurry and have to send a huge and bulky parcel, you can find this service quite convenient. You can modify your shipment options when you book shipping online. 
Timing for USPS Parcel Select Ground Shipment
The timing for shipment via Parcel Select Ground service simply depends on the distance of the place. The maximum time for shipment is eight days, whereas the minimum time is two days. You will surely get your parcel within two to eight business days. 
You don't need to worry at all regarding the delivery time. In case of any delay in shipment, you can file a complaint at the USPS website.
FAQs:
What if the mailing address is wrong?
It is advised by the USPS to kindly check the mailing address more than once while dropping your parcel at the post office. In case the mailing address is wrong, then USPS would send the parcel back to the sender. If there is no address of the sender, USPS will send the parcel to the post office or mail recovery center. There is no chance of losing your parcel once you drop it at any USPS service post office.
How to contact any human executive at the USPS post office?
There are mainly two ways of connecting to a human executive at the USPS service. The first one is to call the number 1-800-ASK-USPS (1-800-275-8777). You will be connected to a Consumer Affairs Representative and can ask your queries. The other way is to go to the post office directly and ask for help from any executive. 
How to return a misdelivered mail to Parcel Select Ground?
It is very unfortunate if you get the wrong mail from the USPS despite their great efforts. You are advised not to erase any mark or tamper with any address tag. You can return this parcel back to the mail person. In case the mail is received at the previous address of the person, then write " Not at this address" on the parcel, and then return the mail back to the mail person.
What if it shows that the mail has delivered and I haven't received it yet?
If you have not received the mail, but it shows that the mail is already delivered to your address, you are advised to check the other places. The mail person might have left the mail at a safer place in your absence. You can check the garage or porch. 
Also can ask other members of your house if they have received it or not. The other possibility can be that you will get your mail delivered in the upcoming 24 hours.
Wrapping Up 
Getting your mail delivered at the right place and time could be a problem. However, this is not the case with the USPS Parcel Select Ground service. It is very rare with USPS service that you face any issues while getting your mail delivered. 
So, you can trust them with your parcel. We assure you that they will be careful with your parcel every time you buy a service from them.