USPS being the United States of America's official government postal service offers various kinds of shipments to its customers. One of such shipments is the USPS First Class Package International Service. While private courier companies like UPS and FedEx charge a lot for international shipments, USPS First Class Package International Service is a much more pocket-friendly option for the American citizens.
USPS offers many international services such as the Priority Mail Express International Service, Priority Mail International Service, Global Express Guaranteed Service, etc. This particular First Class Package International Service is way more popular than the other international shipment services. You can avail of this service in 190 countries to send your package within 11 to 20 business days.
This article will leave no stone unturned to give you a complete guide on how to deliver your package outside the US using this USPS service. After going through this entire article, you will have everything at your fingertip's knowledge regarding this USPS international service.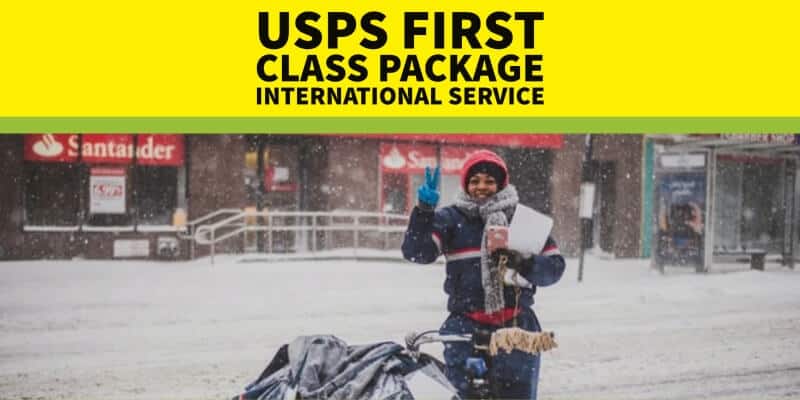 Advantages of USPS first class package international service
The shipping rate is quite lower than most other international shipping services.
They give much care while sending your mail from the US postal office to any other country.
You can track your shipment when you use this service. 
Disadvantages of USPS first class package international service
It takes a longer time for shipment in distant countries.
The maximum weight limit for your package is only 4 lbs. You cannot send a package weighing more than that via this service. 
How to Make Your Package
Since your package is going to be delivered in some other country by the correspondent of that country's courier service, the packaging of your mail demands extra care and attention. Here in this section, we will give some tips on how to pack your mailing product. We will break this section into a few steps for the easy understanding of our readers.
Step 1
Since you need to deliver your product, it is advised to choose a spacious box. It will accommodate your product and the required packaging material. Then put enough foam thermocol or bubble wrap creating thick padding on all the sides.
This will protect your product from any breakage. While packing your product, you have to maintain the maximum weight limit, which is 4 lbs, including the packing box and other accessories. 
Step 2 
If you have more than one item, pack them separately using foam pad or bubble wrap. While wrapping your product, check whether it's sealed in an air-tight manner or not. This will protect the products from the decay caused by the weather change.
Since it is an international shipment, the climate will change drastically. Such a sudden change in the climate may trigger decay if the mailing product is weather sensitive. 
Step 3 
Then the final step is to attach the USPS shipping label. This label is basically the custom form. Here you need to choose between two kinds of forms.
One is the PS Form 2976, and the other one is the PS Form 2976-A. While the former can be directly attached to your package, the latter needs to be accompanied by the Custom Declaration Envelope. This is also called the PS Form 2976-E.  
USPS takes different rates for this service depending on the distance of the destination country. For example, if you want to send a parcel from Los Angeles to London city, USPS will charge $21.63. This service is mainly targeted at those who want to deliver small packages to foreign countries at a cheaper rate.
This is not meant for merchants who deal with heavy packages. Moreover, USPS does not charge extra dollars for tracking your shipment, even in some foreign lands. This is totally free with the USPS First Class Package International Service. 
However, there might be some prohibition on certain types of product delivery in certain countries. For example, Canada does not allow wine delivery from any other country to make sure that their local industries don't get hampered. So, before you send any parcel to any country, do good research on the prohibited items.   
How Does the USPS Tracking Works?
USPS offers different kinds of tracking options for their international services. It totally depends on the mail class that you are using. The tracking service is enabled as soon as the sender drops the package at the USPS postal office. You can electronically track your package via the official USPS website. The tracking number usually looks like this- LZ 000 000 000 US. 
FAQs  
Now it's time for some frequently asked questions to give answers to all your probable queries. 
What to do if there is any delay in mailing the packages? 
USPS tries their best to deliver your packages at the right destination and at the right time. If there is any delay in mailing, that is unfortunate. In such circumstances, you may directly contact USPS's postal office or check your package via the tracking ID no. The best way is to check the delivery standard at the USPS tracking page and then contact the shipper.
How to contact the USPS shipper? 
If you do not have any tracking number on the label, you can directly write to the USPS official Email Id. USPS usually takes 24 hours to reply to their customers. It is one of the most convenient ways of directly communicating to a human executive at the USPS postal office. 
What if my mail is missing?
Such issues are quite rare with the USPS First Class Package International service. In case you feel that your package is missing, there are several ways of finding your mail. The first and easiest one is to submit a search request for the missing mail at the MissingMail.USPS.com. You can also ask for assistance at the local USPS postal office. By calling this number 1-800-275-8777 (1-800-ASK-USPS), you can directly talk to a Customer Affairs executive at USPS. 
Throughout this article, we have tried to give you a complete guide regarding the USPS First Class Package International Service. We have simply left no apple of discord regarding this service so that you can deliver your mail to its foreign destination at the right time. For further queries, you can visit the official USPS website.