We are living in the digital age currently. Thus all aspects of our lives are impacted by digital innovation. Even for daily communication, we resort to WhatsApp, emails, and many other digital platforms, however, not all communication can happen only through digital means. 
There are some situations where sending a letter is still important. For instance, legal documents are usually sent via mail. Some companies too even prefer the mailing services to send bills and invoices, mainly if they are situated in areas that do not have great connectivity. 
This is where USPS certified mail service comes in. But before getting to know the reasons to opt for the same, let's first understand: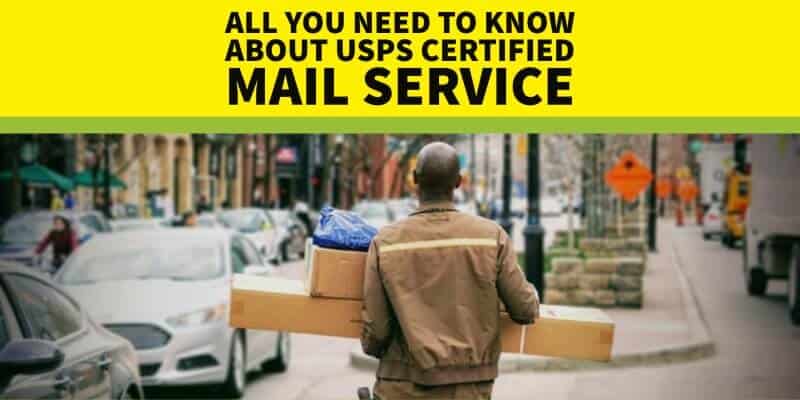 What is USPS certified mail service? 
The certified USPS mail service is a special kind of service offered by the USPS which provides proof of the mail by providing a receipt to the sender. 
This particular service makes use of an electronic tracking system that notifies the sender once the mail is delivered or if an attempt to deliver was made. This is a useful feature and can come in very handy if you are sending an important document via post. 
Not only that, the USPS certified mail service offers other useful features like a return receipt, evidence of delivery signed by the recipient, and even an e-mail of the delivery notification. 
The entire segment of the USPS certified mail service has been set up to ensure that your important mail reaches its destination without any glitch. 
So, if you have any important documents to be sent out, opting for this service is a must.
But how do you do it? We have got that covered too. 
Things required to send a certified letter
Materials required:
To send a mail via the USPS certified mail service, you need to get hold of a package, money, or fee required for the postage and the USPS 3800 postage form. 
Once you have all of these materials with you, you need to select the type of certified mail you want to send. You will have two options to choose from:
Certified mail 
Certified mail with return receipt
If you choose the first option, you get access to the electronic verification when the mail is delivered. 
But if you want a physical or a digital document of the delivery, you can opt for the second option. 
Form completion:
Once you have the 3800 USPS form or the green cards of the post office, you need to fill it. There is nothing much to it, but make sure you have put in the correct name and address of the recipient.
Barcode application:
Next, get hold of the top part of the form that has the barcode on it and place it on the top of the letter. You can apply the same at the end or even in the middle. Just ensure it is visible.
Payment:
Now, all is set. You just need to make the payment for your package, and it will be on its way. Please note that certified mail services cost more. Additionally, there might be a bit of delay if the recipient does not come to the post office right away. 
Great! So now you are ready to send your USPS certified mail, but the question is, do you need to? 
Is the certified mail service for anyone to use? 
Though anyone can use it, it's not required for everyone to do so. These sorts of emails are ideal for people who want physical or digital proof that their letter has been delivered. 
To that end, this service is ideal for:
Legal services
Small to medium-sized business
Individuals sending confidential documents
Benefits of USPS certified mail services:
So far, you have understood that this special service brings in a world of benefit, especially if you want to send something important and stay worry-free! 
To that end, here are the top benefits of availing this service:
Proof:
It's always advisable to have proof that an important document was delivered and accepted. This can come in handy for future reference, especially if you are sending a legal notice. 
This is one of the reasons to avail the USPS certified mail service because they provide proof of delivery with a date and time stamp. 
Records:
Since this service provides tracking information and mailing proof, it can be recorded for future use. In some cases, it's very important to have proof of delivery. For instance, a customer can never complain about a change in policy if you have proof that the customer was notified of the same. 
That can save you quite a sum of dollars and a possible lawsuit. 
The best part about the USPS certified mail service is that the company retains the proof of delivery for nearly two years! So, you can access them whenever the need arises. The records also contain return receipts, proof of delivery, and supplements of records. 
Proof of delivery and tracking:
In addition to the proof that your letter was sent, the certified letter service is also going to provide you with proof of the delivery. 
This is automatic since the service requires the recipient to sign on delivery. The benefit of this feature is sure to manifest itself when required.
On-time delivery:
Of course, the standard means of sending a letter takes more time. A certified mail service, on the other hand, is quicker. Though the difference between the two services may not be great, if you are sending an important document, knowing that your letter has priority over the rest is comforting. 
Protection:
This is another reason why companies choose to avail of this service. Since the package is being monitored at all times, getting lost or mixed up is not in question.
The barcode right on top of the package lets everyone know that it's certified and that it is being tracked. Naturally, people are very careful about handling such letters. 
It cannot be even stolen from a mailbox since it will require the signature of the recipient. 
Ensured delivery to all places:
Be it any type of address, with the USPS, certified mail service, you can send letters anywhere you want. This is an issue with private delivery services as well as courier services since they do not deliver to certain P. O boxes. 
On the other hand, the USPS handles the certified delivery services, and thus they have no issue in delivering to P.O boxes. The recipient can just sign the letter normally from thereon. 
FAQ:
What happens if a certified mail package is not delivered?
USPS will keep the letter in the local postal office for 15 days before they mark the letter Unclaimed and then return the same to the sender. This entire process can take about four weeks.
How long does a USPS certified letter take to get delivered?
It takes about 2-3 days to reach its destination. If it's a first-class delivery, it takes about 2-5 days whereas a priority delivery takes around 2-3 days. 
How to check the status of the certified mail? 
The easiest way to track certified mail is by dropping the tracking number on the USPS website. The shipment can be monitored using other devices and postal services as well. 
Conclusion:
Sending a letter need not be a hassle anymore. You need not stay in the dark about the delivery status of your letter. With the USPS certified delivery, your package will reach its destination safely.