Looking back at history, it is recorded that the oldest mail service in the US is dated back to 1775. In the year 1792, the first post office was founded in the United States. It was named United States Postal Services (USPS), which you are familiar with during 1971. Now, US Postal Services is regarded as one of the largest computer networks with the largest employees worldwide. 
A recent report states that The U.S. Postal Services reaches about 160 million recipients. Their main aim is to provide an end to end solution for both letters and packages in the US and abroad. The USPS offers an array of services for versatile purposes, starting from the quick domestic services to first-class package services. With more than 35000 retail locations all across the US, the postal service reaches every corner within the stipulated time. 
As calculated in a report, the USPS has an annual revenue of more than $71 billion. It has also been summed that USPS delivers about 48% of the world's mail. 
What USPS Mainly Deals With? 
USPS offers an array of services for both domestic and international consumers. If you are from the US and plan to get similar services, then look at the services they provide.
Domestic Mailing and Shipping Facility
Postal Money Orders
International Mailing and Shipping Facility
Varied Business Transactions
Track Shipping
Priority Mail Services
Holiday Mail Delivery Service
Special Mail and Signature Confirmation
Personalized Stamped Envelopes
Passport Applications (Newly added)
Now, the most common question that individuals have is about the timing of postal services. This article has all the detailed information about the timings of the services. This will help you to manage and coordinate your timing accordingly.
In general, the office timing is from 8.30 am to 5.00 pm. The timing varies from state to state. It completely depends on the geographical location and demand of individuals. For instance, office timing for places with a high population will be longer than that with a lower population. But mostly the offices remain open for 9 hours/ day. Some offices are closed, and some are opened on Saturday too. 
Does USPS Remain Open On Sundays?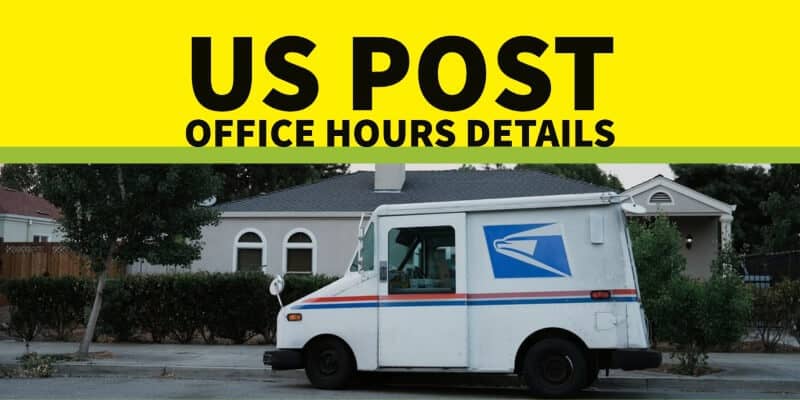 Most of the post office remains closed on Sundays. USPS only delivers Amazon Packages, and Priority Mail Packages these days. Depending on certain factors like "volume of mail" and "distance of the destination," the postal service works on Sunday, or else, it remains closed.
US Post Office Timings In Details
If you are planning to avail of any of the services mentioned above, you should also be aware of their allocated timings. Each post office has varied lobby hours, retail hours, and so on. All of these factors are described below. 
● Retail Hours
Retail service hours for the postal services is nearly about 9 hours or more. It is scheduled to meet local postal customers' needs, such as buying stamps and sending military money. However, timing varies every weekend, depending on the situation and workload.  
● Bulk Mail Accepting Timing
The timing is much shorter when compared to retail hours. It starts a bit later and ends earlier. This fluctuation is due to operate the other postal processes smoothly. 
● Lobby Hours
Lobby hours are the timing when you can have access to your PO Boxes. Some postal services continue to get access to their lobbies for 24 hours. On the other hand, some lobbies remain open when someone is on duty. 
● Last Collection Hours
The last collection hours are primarily done when the offices are shutting down. Suppose you are dropping your parcel on Friday Last Collection Hours, then will not be marked until Monday. 
● PO Box Delivery Time
These services are not available on the weekends. In a fixed timing, the boxes of packaging and mailing are done within the post office. 
● Self Service Kiosks
This can be accessed by anyone and regulated by someone anytime (24hr). They mainly carry out actions like mailing, stamping, and more. The Automated Postal Center (Self-service kiosks) are positioned in the lobbies that deliver the customer with a wide range of postal services and information. 
● Passport Services
These services are convenient almost at every post office. Every post office has varied timing for password services. However, only the first passport appointment scheduling service is offered through USPS Retail Customer Appointment Scheduler. There are services such as Photo Passport that can be well managed by the customers. People who walk in also make proper use of the specific time slot.
● Pick-up Services
Pick up services is an easy and effective procedure where you can send packages. Though they are not available on weekends or holidays, this service is only open for those who have the PO Box in any United States Post Service Center. 
How to Find US Post Office Hours Of Your Nearest Office? 
As you know now that the US Postal Services offers several services and also about their timings. But how to know the exact timing details that your nearby office provides. Few tools such as USPS Mobile or Post Office Locator will help you to determine the location, timing, and all other information about all the post offices in the US. Download them and take all the advantages of all these tools for free. 
What is the timing for the PO Box Service?
PO Box Service is available almost in every prominent post office's lobbies. You will also get 24/7 access to the PO Boxes. This service is a premium service offered by the US Postal Services for a fee to anyone who requires more than free home or general delivery.
What are the hours of the postal carrier?
Depending on the route and locations, the US Postal Services determines the postal timings. In general, it works for 5-6 days a week. In some cases, it may exceed accordingly. However, mostly the working days are from Monday to Saturday.
What are the USPS Sunday hours?
Sundays are only for priority mail express services. USPS generally delivers by 10.30 am. They mainly have an overnight schedule that helps the parcel to reach in time.
What is the overall time that the USPS works in a day?
USPS operates customer service for 24/7 hours, depending on the service that you choose. Generally, the office remains open for 9 hours a day.
The Bottom Line
Now you are clear of the fact that the business hours of all the postal offices are varied. Using the methods (mentioned above), you can easily track all the details that you may need. USPS provides exceptional services within the budget. They reach millions of customers all across the US and abroad to enhance their organization status. Hope all these details will help you to know about the US Post Office Hours.
Happy shipping!