American Messenger Company was founded by James E. Casey along with Claude Ryan, on 28th August 1907. Primarily focusing on delivering packages to various retail stores, the American Messenger Company managed to deliver a special mail to US Post Services, which was its then-largest client. later when eCommerce business started taking pace, UPS weekend service became important like never before, let's discuss more about it in the below sections.
Along with the UPS weekend service, UPS has been providing several other services which include UPS Airlines providing cargo airline services, UPS Freight for trucking operation based on freight, UPS Flight Forward which provides delivery drone airline and UPS first-class package international service.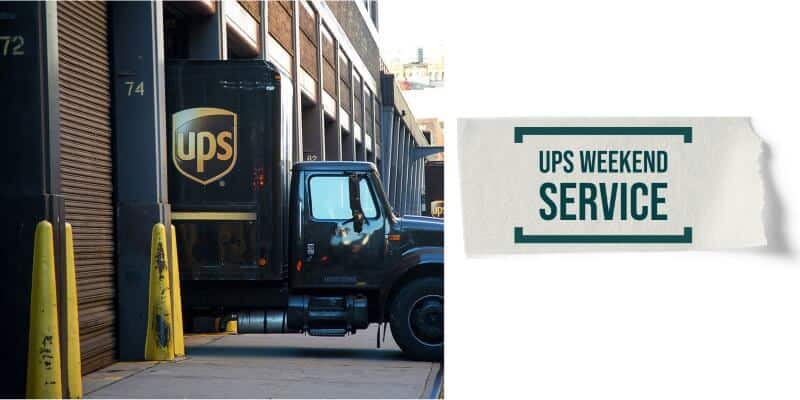 UPS Weekend Service: Building on an expanded relationship
As mentioned by UPS Chief Marketing Officer in a statement that "Building on an expanded relationship with the Postal Services to help deliver seven-day service to our customer makes good business sense".
Previously UPS did not provide weekend service. With the rising demands and facing heavy competition from other delivery companies like Amazon and FedEx, UPS started it's weekend services.
This article provides detail on how the UPS weekend service operates and its usefulness.
How is UPS weekend service useful?
With the flourishing of the e-commerce business delivery companies is becoming high in demand. Some online shopping companies have started their own delivery business like Amazon.com Inc. To keep up with the competition and high demand, UPS has also introduced its weekend services in more than 100US metro areas.
Thus, now customers can receive their orders almost two days prior. The weekend delivery is also absolutely free. Thus your business remains unstoppable even on weekends.
The business continues on both sides as both delivery and pickup services can be received on weekends. Even with the increase in one day of service, UPS can cover 85% of demand and delivery on Sundays can cover up to 69% of demand.
Do UPS provide pickup service on weekends?
Yes, UPS does provide pickup service on weekends. It is the only carrier providing pickup services on weekends so that the customers of the business are able to receive their delivery in the same week. Once applied for pickup service, the truck will come on Saturday, and the delivery will reach by Monday; thus, it will help you take up more orders. Also, check Can you Pick up a Package from Ups before Delivery?
Products delivered on weekends
Commercial deliveries are available on only Saturdays. Residential services are available both on Saturday and Sunday. With the help of USPS (United States Postal Services), UPS is able to render efficient service on weekends as well even on Sunday and deliver goods two days ahead.
How to avail of a weekend pickup service?
Weekend pickup services are very useful for the business to grow. With the fast pacing world consumer behaviour, it is expected to provide the fastest order-to-delivery possible for maximum consumer satisfaction.
To avail weekend pickup service:
Log in to the account of UPS.
On opening the Payment Options Page, choose the account which seems most appropriate and selects the 'Edit' option thereon.
As the preceding screen appears, expand the 'Pickup Options' section.
Scroll down to select the option of 'Request a Saturday driver pickup.'  
How to avail weekend delivery services?
To avail weekend delivery services you need to:
Go to UPS.com.
Once the delivery options page opens, enter the location where you need the shipping to happen, on the delivery date and service option.  
If the location qualifies in the proximity of the UPS weekend delivery, you will receive your delivery even on weekends.
Effect of CoronaVirus pandemic on UPS weekend delivery
The global effect of the coronavirus has affected the UPS services because of the lockdown and cancellation of international and domestic airline measures taken by the government. Though at the beginning of this year a contract was approved to extend the delivery and pickup services on weekends as well with the pandemic situation it became impossible to provide service.
UPS Weekend Service FAQs
Why do UPS trucks have their door open?
UPS has been rendering quality and efficient service to its customers for years. UPS has been evolving itself with the increase in e-commerce business. Hundreds of delivery and pick-up occur in a single day, thus to provide the fastest service possible UPS took the initiative to remove the doors of the truck so that no time is wasted in opening and closing the door in every stop it makes.
It is evaluated that just one minute per driver per day over the course of year can add up to 14.5 million US dollars which could be earned by removing the door.
Does UPS provide service on Labor Day?
No, services are available on major national holidays. UPS also has its delivery and pickup services closed on national holidays such as the labour say. Only UPS Express Critical services are available.
How will weekend services help shippers and consumers?
With the evolving and fast-growing e-commerce market, prompt services have become essential. Delivering only from Monday to Friday and not on weekends can slow the services. Thus this help UPS to cope up its competitors and also helps to turn inventory faster for its customers.
As more and more business-to-consumer business is flourishing, it is expected that the carrier services will also be rendered on weekends by UPS. This will help to dispatch all the deliveries from the dock by Saturday, which will help more orders to come in.
Where will UPS weekend delivery services be available?
Since UPS has been in the delivery business for a very long tenure, they are well accustomed to their customers and the buyers.
They have been trying to cover most of the U.S and also uplift their quality and service so that customers can rely on it. UPS has been focusing on those areas from where a maximum number of customers can sell and grow their business to the areas with the maximum buyer's demand.
Not only ground services UPS Air services have also been extended to Saturday so that both domestic and international services are being made faster. 
What is the delivery time of UPS?
Once dispatched, the delivery can reach between 9 am-7 pm or later for residential deliveries. For commercial deliveries, UPS delivers during business hours.
UPS is one of the oldest and fastest-growing multinational package delivery and supply chain management; it is extremely useful to keep yourself updated with its advanced delivery service.
I hope this article has been useful for you to learn regarding UPS services in detail.