The United Parcel Service (UPS) is renowned for providing an array of services all across 220 countries. One among them is the "Tracking System". It is an online system that allows customers and business owners to track the status of a shipment.
You will just have to acquire a tracking number available with every shipment. This will guide you with the proper delivery status of the commodities.  
It often happens while tracking your shipment; you will see a "UPS Tracking is Not Updating" message. What does it mean? This demonstrates that the location of your shipment has either changed recently or is unknown. Due to certain unpredictable circumstances, such problems may occur when shipping heading to a holdup in delivery.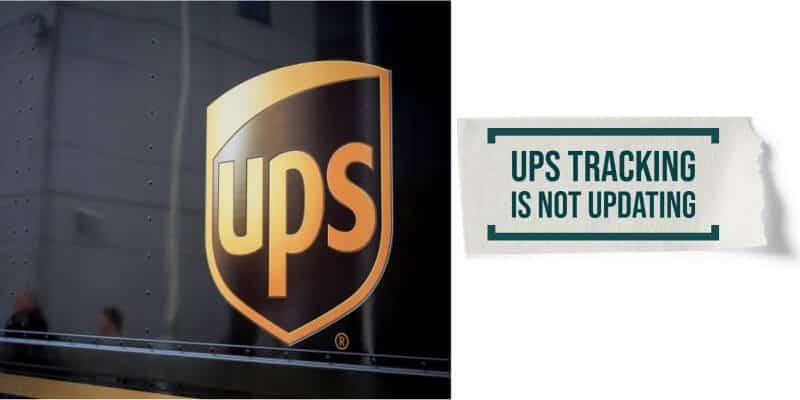 Let's dig deeper into the topic!
Where Do I Track My UPS Shipment?
You can track the UPS Shipment simply from your phone or desktop. Whether you are shipping single or multiple packages, UPS Tracking is available for both nationally and internationally. Look, everybody will have some peace of mind by getting every up-to-date information about the shipment. The question now arises is how to track the shipping?
UPS provides an 18 digit tracking number as soon as an order is placed. The tracking number will start with "IZ" followed by another 16 numbers. Once you receive the tracking number you will be able to keep an eye on every moment of the shipments. 
UPS website:
UPS allows you to enter 10 trackings number to get their status
Enter the 18 digit tracking number to the UPS chatbot from UPS help centre
UPS Phone Number:
Domestic Helpline Number: 1-888-742-5877
International Helpline Number: 1-866-782-7892
UPS My Choice:
UPS My Choice needs a valid account to provide shipping details.  When the shipping is started UPS will automatically send an alert along with the delivery map and all other details. You can also try for the premium service that comes with more tracking options. 
SMS Tracking:
You can sign up for the account and receive SMS alerts about every detail of your shipments. You have to add your number to get alerts.
Which UPS services offer tracking?
Some of the most common used UPS services that come with tracking facilities are: 
UPS Express Plus: Delivers within 1-3 business days
UPS Express: Delivers within 1-3 business days
UPS Ground: Delivers within 1-5 business days
UPS Worldwide Express Freight: Delivers within 1-5 business days
UPS Express Saver: Delivers within 2-5 business days
UPS Expedited: Delivers within 3-6 business days
UPS Worldwide Express Freight: Delivers within 1-5 business days
How Long Does It Take for UPS to Update Tracking?
UPS Generally provides tracking on time. They scan the barcode provided with the package labels at every location. This lets customers know where their packages exactly are?  But for certain circumstances, if the worker forgets to scan the barcode then this will cause a "not updating" problem. Whenever you face such a situation, it is recommended to call the UPS Support System. They will be happy to help you out with proper details. 
UPS Tracking is Not Updating? What Are The Reasons
Several reasons may be accountable for not showing the updated information. The main reason is when the worker forgets to scan the parcel. UPS waits for 14 hours to get scanning updates. After 14 hours if scanning is still not done then UPS sends an automated message to the users and business owners. There is a great possibility that the package is on the route itself. Customers should halt for 24 hours before making any claim.  
Here are some fundamental reasons for not updating UPS Trackings. 
A situation like a broken truck or punctured tires may cause a delay in delivery and scanning too.
Weather conditions like heavy thunderstorms or rainfall may be a big problem that causes delays in scanning.
During travel between two destinations when it is needed to get scanned, the worker, for unknown circumstances, forgets to scan the products and therefore not to show you any updated information.
A damaged barcode can also be a reason for providing such information to the users.
UPS Tracking is not updating: What Happens If My Package Doesn't Arrive?
Now you know why UPS sometimes faces problems with updates? Follow the steps mentioned below to resolve the issue:
Step 1: Wait for 24 hours from the delivery time provided to you
Step 2: If it doesn't reach the destination after 24 hours then report about the missing parcel
Step 3: UPS will note your claim and search for the package that may take 10 days
Step 4: Once UPS finds the package it will send it immediately to the customer
Step 5: If UPS fails to find then they will ask both customers and business owners about every detail of the package
Step 6: After verification UPS either will ask for a replacement or pay for the loss
UPS Tracking is not updating: FAQs
How many numerals are there in a UPS tracking number?
 UPS provides you with an 18 digit code that starts with "IZ". It is followed by 6 other numbers and letters, 2 digital service indicators, and 8 digits. 
Why is my UPS tracking number not functioning correctly?
UPS numbers do not work properly when the carrier has not picked the parcel yet. Or when the bar code of the package is not scanned properly. 
How much does a UPS tracking cost?
UPS Tracking is fully free of cost. You have not to pay even a single penny individually for this service. 
UPS Tracking is not updating: Keep Updated About Your Shipments
Tracking options are the best way for the eCommerce business owners and customers to keep a record of the shipments. You can opt for UPS tracking phone numbers to monitor the parcel or go for the online UPS shipping tracking options. It arrives with various statuses like an unforeseen event, shipment returned to the shipper, initially scheduled delivery date and time, whether it has already been delivered, and more.