If you plan to use ground service anytime soon, one question has surely crossed your mind, who offers the best ground service, UPS or USPS?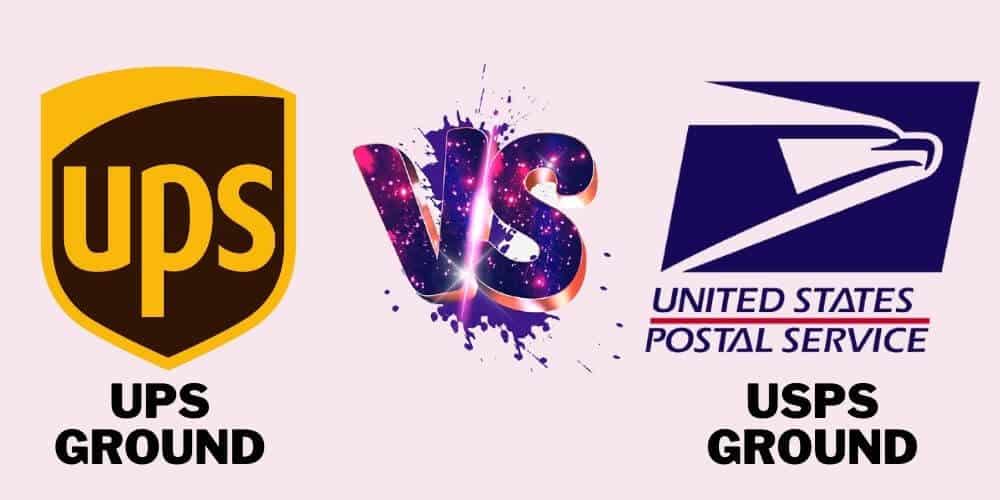 This guide will help you solve that confusion and promises to select the best of the two after providing a detailed comparison of all points. 
---
What is Ground shipment?
To better understand which ( UPS or USPS) offers the best ground service, it's essential to know what this service is. Simply put, ground service refers to the parcel delivery option that reaches its destination through ground transportation. Such parcels don't travel by air. 

People often use ground-based services since it's a lot cheaper than the other options. As these parcels are never in the air, transporting them is affordable. But, it takes relatively longer to send ground parcels than the air-based options, depending on where it's being delivered. Surprisingly, boats also come underground transportation.
---
When is Ground Shipment Used? 
Though most people prefer air service for its quick delivery time, there is no other option than ground shipment. This happens primarily when hazardous materials are transferred from one place to another.
As air carriers don't allow the transportation of flammable liquids or other hazardous materials, there is no other option than ground shipments. Individuals also use ground shipments when they buy online postage or in-person from a Post Office. 
---
Pros and Cons of Ground Shipment
Ground shipment is most often preferred for its affordable price. However, it does have a few other advantages making it popular.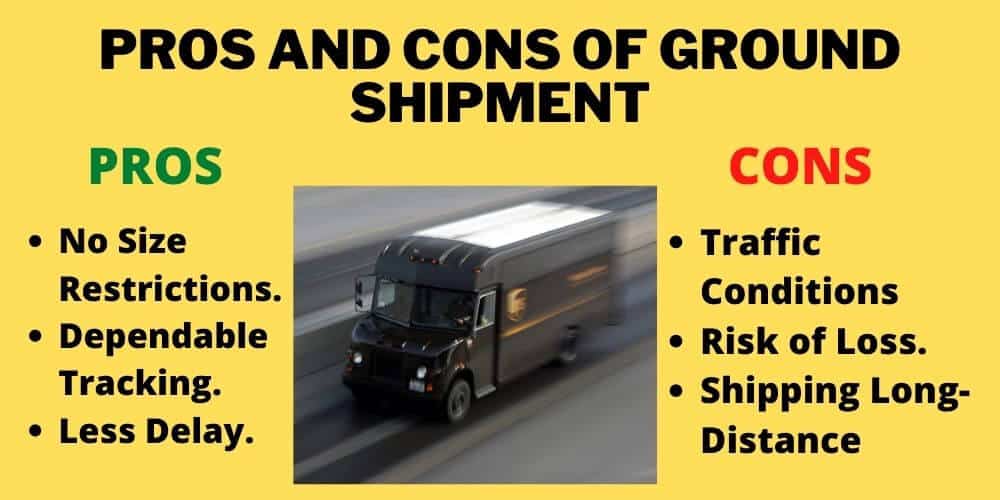 No Size Restrictions
Since there are no size restrictions, one can send anything as long as it's legal using the ground services. From a massive piano to a small card, ground services can send it all; weight is not a factor.
Dependable Tracking
Another advantage of ground shipment is that delays are almost negligible. Most delivery truck drivers are seasoned and can determine the exact time required to reach the destination. However, if there is any delay, ground shipments offer excellent tracking features, most often, real-time tracking.
Less Delay
Weather conditions rarely affect ground delivery, unlike air and water transport, and thus this mode of delivery has very few delays. Though it does take some time to carry cross-country shipping, it's easier to anticipate the delivery date with ground shipments.
Traffic Conditions
While weather conditions do not affect ground shipments, traffic conditions and road closures can lengthen the delivery time. In the worst-case scenario, parcels can take days and weeks to get delivered owing to poor traffic and road conditions.
Risk of Loss
There is a greater chance of package loss in ground shipment. Besides, your package may have been tampered with. This happens as ground shipments have fewer security checkpoints, and there is less surveillance on the way. Besides, the packages sit in the truck unattended while the delivery person makes the deliveries.
Shipping Long-Distance
Long-distance shipping takes days and weeks with the ground shipment; air transport is often favored in such cases. 

Like every other mode of delivery, ground shipments have their own set of pros and cons. However, if you have to select this mode, it's essential to know which courier offers the best service. 

We have selected the two prominent names in the industry, UPS and USPS. In this segment, we will look at the service details of both. 
---
UPS Ground vs USPS Ground: Comparison
UPS Ground Service
UPS offers the following facilities with its ground service:

🡆 Delivery time is within 6 days.
🡆 The option is available in all the 50 U.S. states.
🡆 The weight limit is 150 pounds.
🡆 The service delivers through the week, Monday-Friday.
🡆 Weekend delivery not available.
🡆 Guaranteed delivery promised.
🡆 Does not have pickup service.
🡆 $100 insurance provided.
🡆 It makes up to three delivery attempts.

However, the service does not deliver to P.O. boxes, has no scheduled deliveries or pickup services, and does not import tax handling. 
USPS Ground Service
USPS ground delivery includes the following features:

🡆 Weight restrictions up to 108 inches or less than 20 pounds.
🡆 An economical option for sending small and large gifts to multiple U.S. destinations.
🡆 Delivers to P.O. boxes, addresses, and military locations.
🡆 Delivers on Saturdays with no additional charges.
🡆 Service is available at the local post office.
---
UPS vs USPS: Comparison
While both the services are equally comparative, users opine that UPS is better, and there are some strong reasons to support this claim. 
UPS Ground is Faster and Cheaper
Cost and delivery speed are the two things to keep on top of while picking up a delivery service. Though the cost depends on the weight & size of the package and its destination, UPS ground is typically cheaper. In terms of speed of delivery too, UPS is faster. 

For instance, UPS Ground takes 1-5 business days to deliver, while USPS Ground takes about 2-8 business days!
UPS Gives Built-in Insurance
This is one thing that USPS Ground does not offer, insurance. UPS offers $100 insurance that one will receive automatically if the package is lost or damaged in transit. 

USPS does not offer any such facility for its ground service, which is a point lost. Though one can purchase additional insurance at the top of postage cost with USPS, the in-built facility is unavailable. It's, however, available for Priority Mail and Priority Mail Express.
---
Which is the best?
Based on the immediate difference between the two services, it seems UPS Ground trumps USPS. Not only is UPS faster, but it's also a cheaper option and does offer in-built insurance. However, having said that, UPS does not provide P.O. deliveries which USPS does. Thus, it's safe to say that the choice between the two will heavily depend on your preference. 

We hope you find all the information provided here helpful, aiding you to make a more informed choice before your next shipment.