The American package delivery company, UPS, which stands for United Parcel Service, is a multinational supply chain management. When it started in Seattle, Washington, in 1907, it was named The American Messenger Company.
UPS's operation is divided into three parts – U.S Domestic Package Operations, Supply Chain and Freight Operations, and International Package Operations. Needless to say, its time-definite delivery service has benefited many people with sending or receiving urgent parcels. But, sometimes, UPS delivers your package to the wrong address. Read this article further to know what you should do if UPS delivers to a wrong address.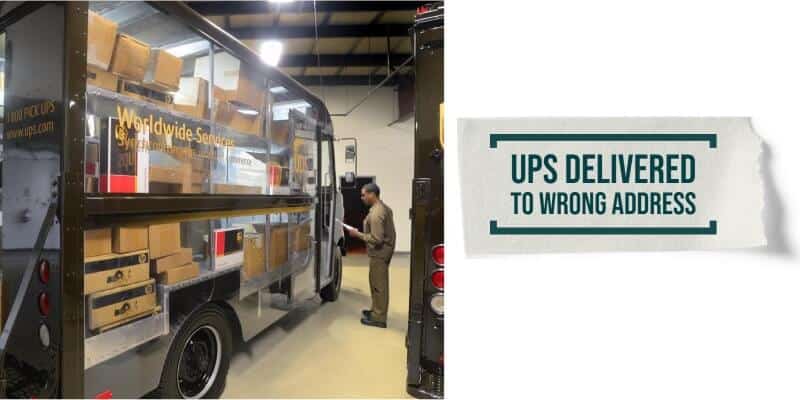 UPS Delivered to Wrong Address: What You Need To Do
Check Delivery Status to be sure if UPS delivered to Wrong Address
When the driver completes the delivery, you get a UPS InfoNotice. This is a delivery notice which is automatically generated once your shipment is delivered. It gives you information on where and when the package is delivered. If you do not get it, you can also check the tracking status of your parcel. 
To receive the delivery, the recipient has to provide a signature. If your package has been delivered to wrong address, chances are any of your neighbors have received it after signing up. So, you should check your neighborhood in search of your parcel. 
Check different places in the house. 
Some of the shipments do not require any signature. If that's the case, delivery persons leave your packages at a safe place. These places could be the back or front porch, garage area, or the side door of your house. 
It is always best to search your area first before heading out to inquire about your neighbors about your package. If the package needed to be signed at the delivery time and delivered to the incorrect address, probably someone in your locality or one of your neighbors might have received it. 
If you still could not find your package, you need to contact the sender to initiate the UPS trace process. 
Missing Delivery 
The UPS InfoNotice will provide you all the details about where the package is delivered, the delivery time, who signed it, and so on. But sometimes, you may not get any UPS InfoNotice. 
If you do not get any InfoNotice, it indicates that your parcel has been either misplaced or hasn't been delivered. 
In the case of a missing delivery or if UPS delivered to Wrong Address, you should consider doing the following steps –
You need to consider contacting the shipper if the status of your package shows missing delivery. 
After you have contacted the shipper, UPS starts to work with them. 
After that, you will need to cooperate with the shipper throughout the process. You will have to determine if you will get a refund or if a replacement will happen. 
Sometimes, drivers can not deliver your parcel because of specific issues. Such as, he might feel that there was no safe place to deliver your shipment. If this is the case, you will get notified. 
Most of the time, the undelivered package gets directed to another UPS Access Point from which you're able to collect it. 
What a Shipper needs to do if UPS delivered to Wrong Address
UPS always prefers to contact the shipper in case of lost, missing, or stolen delivery. So, if you are the shipper, be rest assured and know about the following steps to do what is required from your side. 
Report Missing Parcel
In case of missing or lost packages, you need to contact UPS immediately. 
You need to wait for approximately 24 hours after the delivery window. 
After your report is received, a package search will be performed by UPS. These searches require upto 10 business days, so you have to wait.
Authorization of the Claim by UPS
If UPS fails to search your package, a letter claiming the loss or damage of your parcel will be sent to the shipper, that is, in this case, you. 
If the package search becomes a successful operation, UPS will cancel your claim or the missing report of your parcel and will reschedule the delivery. 
Document Verification
If the package is lost, the shipper will have to send documents to UPS, which can determine how valuable your package is. Such as purchase order, invoice, any proof of mailing, etc. 
UPS has many guidelines regarding the shipment. With the documents, it will check if your parcel falls within the recommended guidelines. 
UPS pays the Claim
After the approval of document verification, UPS will make the payment to the shipper. So, you will get either the purchase cost or the replacement cost of your package. 
If your claim of a missing package gets refused by UPS, you will be contacted too. 
UPS delivered to Wrong Address: Fixing a Wrong Address
If you have made a mistake while providing an address or if UPS finds an undeliverable address, here's what you can do –
Find the Tracking Tab on the official page. 
Provide your Tracking Number. It will direct you to the Tracking Details page. 
You will find a Correct My Address section. 
You will see an Address Modification window. From there, you have to select New Delivery Address.
Then enter your new address or do if anything needs to be corrected. 
Press Next, and review your updated or new address. 
Then finally, press Update. 
Frequently Asked Questions
How long will it take for my package to be delivered?
You need to visit the website ups.com and go to the Calculate Time And Cost section if you want to know how much time it would take to deliver your shipment. 
How do I void a shipment?
At first, you need to log in to the website. 
Then, select Shipping. 
A window of existing shipment will be opened; select Void Shipment. 
Select whatever package you need to void. 
Then select Void Shipment. 
How much does it cost to ship a parcel?
The cost of shipping depends on various factors, like destination, package weight, origin, service, and many more. You need to go to the Calculate Time And Cost section for your queries related to the shipment's cost or time. 
Conclusion
The whole process of delivery replacement is not very smooth. If you are the recipient of a package and UPS delivered to Wrong Address, you will need to contact the shipper as UPS mainly deals with shippers. It is always best to be sanguine about missing or lost packages as many a time the shipment gets collected by your neighbors. Otherwise, contact UPS to initiate your claim.