I am unable to find my tracking Id from FedEx, how will I track my Package? How do You Track a FedEx Package Without a Tracking Number? These questions are quite worrying for you as a customer. A tracking number allows you to follow a delivery of the parcel once it's being shipped. There is an online reference number available for you based on your shipment. You can use FedEx insight to track your respective parcel. 
If you are in a situation dealing with losing your tracking ID- you can track your package without hesitation. You can alternatively call at 03456 07 08 09; timings- 7:30 am – 7:30 pm from Monday – Friday – to speak to the customer care service agents for your package. Visiting the website of FedEx will direct you swiftly. 
Different Ways to Track Your Packages:
Track the incoming shipment without tracking ID
The FedEx delivery manager is the one who can help you to track your package. This is a long term solution for you to know where and when your parcel is arriving exactly. The manager can track it and alert you with the scheduled arrival of your package. While the delivery alerts can also let you manage your deliveries as per your convenience. If you wish that your parcel should be delivered at your doorstep. These can be done in the few following ways;
Receive an alert from FedEx
You can sign up with FedEx and you will keep receiving alert based on your package status. You can even view the dates and take control of the flexible delivery options as well. 
Sign up for packages
If you can sign up with FedEx or download the app on your mobile for easy access, you can get quick delivery details. Authorizing your delivery online is easy with FedEx. You can even avoid an option of redelivery of your package on some other day. 
Obtain proof of delivery
Once you have received a delivery confirmation, you can further include a recipient signature. This can be done through fax or online letter to FedEx. 
Track by using the Email ID
Once you have opted for the package delivery and you don't have the tracking ID, you can track the status through email. A confirmation email is always sent from FedEx to your registered email ID. You can even track the status from FedEx Shipments or FedEx Office orders if you request by emailing them.
Tracking Outgoing shipment without tracking ID
If you are running a business, you will surely wish to overview the ongoing process. It is not always possible to keep FedEx tracking ID if you're sharing multiple of your products from one place to another. In such a situation, FedEx Insights helps track the package and its delivery times. Having an account with FedEx will make things easier. You can connect to the customer care swiftly. 
FedEx insight provided timely notification of the respective delivery and delay of any parcel. You have the opportunity to view your parcel as well. If you have lost the tracking ID, you can still input the package details you provided through email and track your status. Exporting data is easy through the FedEx insight option. 
Save your FedEx tracking results
A user or a customer like you can save up to 30 tracking numbers. You need to click on the 'checkbox' located next to the 'Save Tracking Results.' As a result, the tracking details will be saved based on the tracking number to the section 'My Shipments 'module. 
All the shipments will be visible to you under the category of the 'Track My Shipment' section. The browser cookies will also be saved for up to 15 days until you finally clear it. Once you have logged in to the FedEx website, you will be requested to add all the tracking results to your ID. You can access them for 60 days. You will also get information based on the shipment related issue like delays, encountered exceptions, delivering related stuff, and many more. 
To take advantage of every service, it is better to get associated by signing up with the FedEx delivery manager. If you use these ways, then tracking Id is not a matter to track your packages online.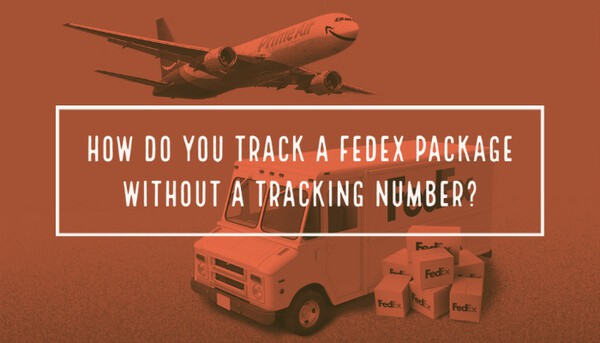 Check: Is FedEx So Bad? – Our Thoughts
FAQs on Tracking FedEx Packages without a Tracking number:
Can I track my package without an address?
Registering with the FedEx delivery manager, you can find out the upcoming deliverables with ease. There is no requirement of address and tracking Id in this case.
How soon will I be able to track my package?
You can track your package information until 90 days after the delivery is made successful. Using the FedEx express prefight, FedEx Express, FedEx Custom critical tracking becomes easy.
How accurate is FedEx tracking?
Using FedEx ground delivery estimates are exact and accurate. If it is an international delivery, there is no control over the carrier, but FedEx will make sure they offer reliable and accurate results.
Does FedEx have a live tracking feature?
FedEx packages monitor live tracking inside and outside the country. If it is an international delivery, then parcel monitor is the best medium for an all-in-one tracking solution. You need to sync with the tracking number to get shipment information on time.
Final Thoughts
FedEx is one of the most trusted courier services made easily accessible for all. They can find you the shipment tracking Id on request. You will face no problem in tracking down the shipment details. There are some associated shipment login sites from FedEx, which is mentioned in the article will guide you through. Emailing FedEx directly will guide you to grab the idea on where and when your parcel will arrive.
A little digging up the information among millions of packages submitting every day may seem impossible, but FedEx is always available to help you. Read on the details to grab a better understanding of the tracking details. Check out the FedEx website.