Reusing packaging is a great way to contribute to the environment as it allows for zero waste shipping, reducing the carbon footprints. Besides, it also saves time, money, and energy. And it's a myth that reusing packing boxes isn't allowed. You can always reuse the packaging if you follow certain important instructions.
Even though USPS doesn't recommend packaging reuse, technically, there are no strict rules or regulations to prohibit one from reusing shipping packages. However, the company does provide some instructions that you need to follow if you want to reuse packaging. 
Plus, there are also certain other essential things that you should be aware of to properly reuse a packing box for shipping. It is to ensure that your shipment has successful delivery and you stay out of any trouble in the process.
So, let us now discuss how to reuse packaging to ship with USPS in detail.
---
How to Reuse Packaging to Ship with USPS?
Note down the following instructions set by USPS to properly reuse packaging to ship with them:
---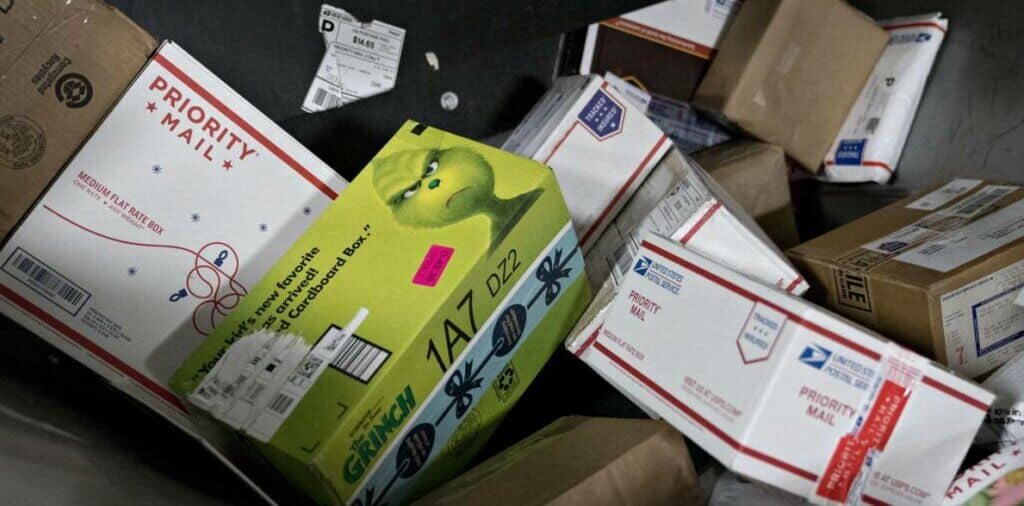 Some Additional Tips to Help Reuse Packaging Properly
Besides all the important USPS instructions to reuse packaging, there are a few additional tips that you can use to ensure that you reuse them properly without getting into any trouble.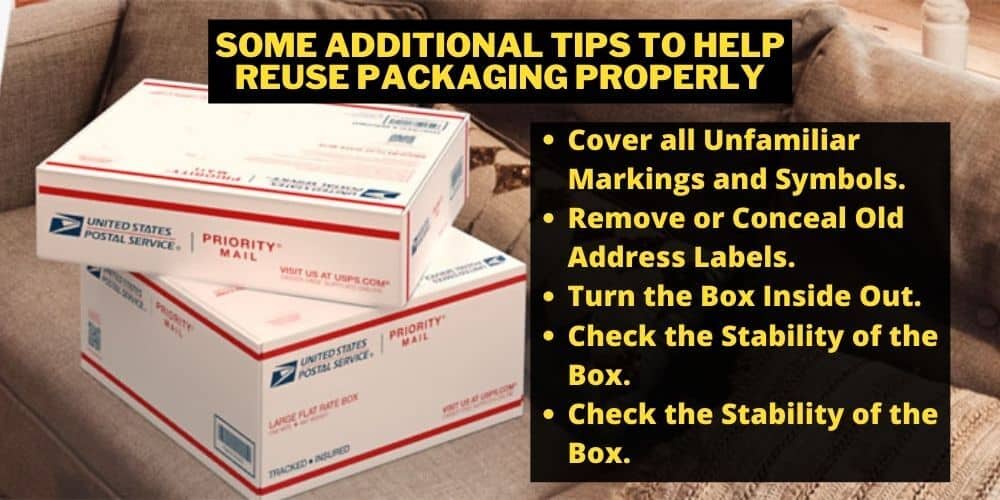 Cover all Unfamiliar Markings and Symbols
It is of utmost importance that you cover all the unfamiliar markings or symbols that you see printed on the box. 

Those markings or symbols are sometimes used to indicate hazardous or prohibited materials. So, you might get in trouble if you ship your package without removing those symbols, even if the items shipped are completely harmless.

You see, there are certain rules for shipping certain hazardous, prohibited, or restricted items. So, your package might not get very far before being held hostage for trying to ship them using the normal procedure. 

The shipping company wouldn't know what exactly your package contains; they will just judge it by the markings on the cover!
Remove or Conceal Old Address Labels
Make sure you either remove or conceal any old address labels that might be attached to the boxes before reusing them.

Use a straightedge razor blade to peel off the address labels completely, and ensure that there isn't even any small piece sticking to it.

Alternately, use a permanent marker (black or any other dark color) to blackout any labels or barcodes attached to the box. And then, attach your new label exactly over the old, blacked-out label to conceal it completely. 

This is an important step to ensure that the shipment reaches its intended destination without causing any unnecessary trouble.
Turn the Box Inside Out
Consider turning the box inside out only if you are sure that you can pull off such a feat.

Search for the seam area in the box where the factory glue sealed it. If you can't find it, then look for the most vulnerable side of the box, which can be used to open it. 

Pull off the glued seam or use scissors to cut open the box. Then, fold the box in the opposite way to turn it inside out. Now, seal the box's seams together with strong packing tape or glue. 

Also, tape the bottom and other sides of the package to don't give way during the shipping. You can use both the glue and tape inside and outside to secure it properly. 

Attach your labels to the blank outside of the box.
Note that this method is only applicable if you reuse the packaging from any other branded company to ship with USPS.

Do not try this while using USPS Priority Mail or Priority Mail Express packages to ship with some other class of mail under USPS. You may end up paying extra as USPS will charge you the amount appropriate for the Priority Mail or Priority Mail Express box, even though the box is turned inside out.
Check the Stability of the Box
Checking the stability of the box that you want to reuse is of utmost importance if you wish to have successful shipping.

So, make sure that the box hasn't lost its sturdiness before you decide to reuse it. Check for any holes or deformities or any other weak ends that the box might have and secure it with tape or glue. Discard the package altogether if you feel too weak to last its journey.
How it Looks
Last but not least, the impression that you make on your customers will determine whether they will return to do business with you. So, ensure that you make a great one.
If you plan to reuse boxes to ship them to your customers, make sure that you only use those packages that look truly professional.

Also, they must still have the strength to endure the journey and protect the items inside. You don't want to disappoint your customers with damaged goods popping out of their professional-looking packages!
---
Conclusion:
Reusing shipping boxes is a great idea if you are smart about it. And although USPS doesn't highly recommend it, the company still allows you the room for reusing packages to ship with them.
You just need to follow certain instructions they need you to observe. Plus, if you can just add the additional tips from this article, you won't find it difficult to reuse packaging to ship with USPS. And you won't fall into any trouble!