Thanksgiving marks the beginning of the festive season and is one of the most famous holidays on the western calendar. Schools, colleges, stores, offices, companies, and businesses are close to celebrating the occasion with friends and family.
This brings us to the question—Is the Post Office open on Thanksgiving 2023? Well, the festive season brings the ritual of buying gifts for our dear ones and ourselves. But how will the presents reach their destination without the postal services? 
Hence, people often wonder whether the Post Office will open on their favorite Thanksgiving Day. So, we are here to divulge that information and explore a little into the topic.
Without further ado, let's go!
Is the Post Office Open on Thanksgiving 2023?
Coming back to our question of whether the Post Office will open on Thanksgiving 2023, we have to say NO. 
Even if that sounds a little disappointing, there is no denying the truth that Thanksgiving is a federal holiday. Hence, the Post Office and all other courier companies are allowed to completely shut down their services to celebrate this important day.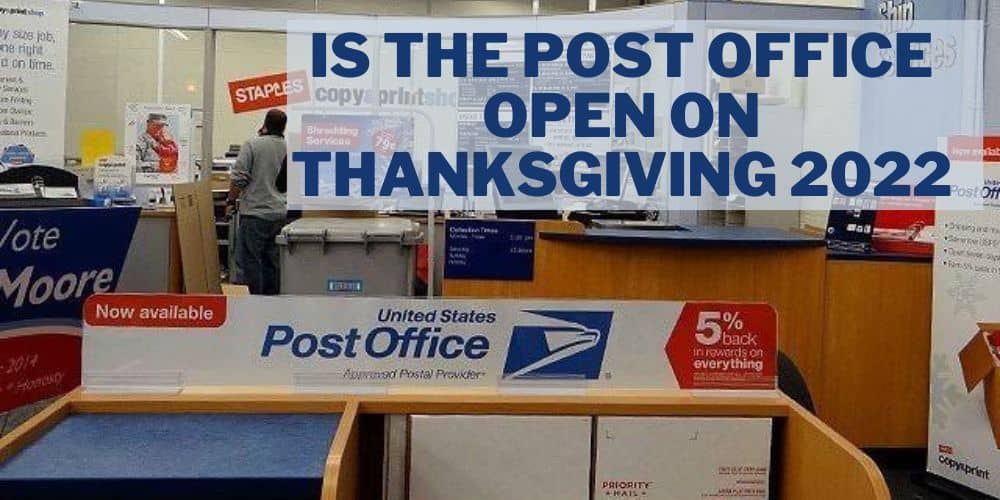 The closure comes with no conditions applied or modified working hours. It entails a complete shutdown where no work will be done, no deliveries, and no services will be provided.
It doesn't matter if the workload increases and everyone has to work a little harder the next few days to cope with the backlog; the Post Office won't be open on Thanksgiving. 
Work will only be resumed the next day after Thanksgiving, popularly known as Black Friday.  
Holidays Observed by the Post Office Every Year
Most reputed courier companies observe the ten most important holidays every year when they shut the doors of services and allow their employees to enjoy the holidays themselves.
Here is a list of Holidays that USPS adheres to every year, so their employees get to celebrate these special occasions with their loved ones. 
| | |
| --- | --- |
| Holiday | Date |
| New Years' Day | 1st January |
| Martin Luther King Jr. Day | Third Monday of January |
| President's Day | Third Monday of February |
| Memorial Day | Last Monday of May |
| Independence Day | 4th July |
| Labour Day | First Monday of September |
| Columbus Day | Second Monday of October |
| Veterans Day | 11th November |
| Thanksgiving Day | Fourth Thursday of November |
| Christmas Day | 25th December |
It's advisable to mark these days on your calendars, especially if you are in the habit of using the services of the Post Office too often. It will help you prepare beforehand if you need to send a parcel somewhere that needs to be reached before any of these holidays set in.
P.S.: As you can see, Thanksgiving Day is one of the holidays on this list; hence, no postal services are available on this day.
Are UPS and FedEx Closed on Thanksgiving 2023?
Now that we know that USPS will remain closed on Thanksgiving, it might raise the question of whether other courier companies like UPS and FedEx will also be closed on this day. 
Well, let's find out.
UPS:
UPS store locations will be shut down on Thanksgiving Day. Its pickup and drop-off services, and all other delivery services, will also be closed on this day.
However, the UPS Express Critical Service will remain open even on Thanksgiving as it's committed to offering 24×7 services to all its customers. So, only this service of the UPS will be open on Thanksgiving Day and work just like it does 24 hours a day, 7 days a week, and 365 days a year.
FedEx:
FedEx closes most of its services and deliveries on Thanksgiving, sparing a few exceptions.
The following FedEx services are closed on Thanksgiving Day:
FedEx Express
FedEx Freight 
FedEx Ground
FedEx Office
FedEx Home Delivery
FedEx Trade Networks
FedEx SmartPost
Besides these, FedEx offers several other services on normal days, either closed on Thanksgiving or working on a modified schedule. 
However, the FedEx service that operates even on Thanksgiving is FedEx Custom Critical Service which is committed to serving the customers 24×7, including Federal holidays.
What Else is Closed on Thanksgiving 2023?
So, it's certain that most postal services are closed on Thanksgiving. And that might make you wonder what else is closed on this day. Let's explore…
Here are the places that remain closed on Thanksgiving Day:
Schools and colleges 
Government offices 
Some private companies
Banks
Some of the Large Stores 
Plus, public transport like buses and taxis will be run on a reduced scale with a modified schedule. So, if you are planning to travel somewhere using public transport, it will do you good if you can double-check the time and availability beforehand.
Also, if you are planning to visit some of the biggest stores in your country to perform a little festive shopping on Thanksgiving, make sure you check first if they are open for the day.
Thanksgiving is a nice family holiday that everyone wants to celebrate. Hence, along with the school kids or office goers, the employees of the Post Office and certain businesses deserve the break to enjoy with their families.
How to Send Items for Thanksgiving 2023?
Since all the postal services will be closed on Thanksgiving, the only way you will be able to send your thanksgiving wishes to your loved ones is if you plan.
Thanksgiving doesn't come until the fourth Thursday of November, so you have the entire month to plan, purchase and send your friends and family their presents. Schedule your orders and emails, so they reach their destination before Thanksgiving.
They don't necessarily need to get it on Thanksgiving itself!
And even if you fail to schedule your parcels before Thanksgiving, use the holiday to keep your stamps, boxes, and shipping labels ready so that you can run to the Post Office as soon as it opens and mail your parcel with them at once.
Are there any Special Deals on Thanksgiving 2023?
Thanksgiving is when most people like to do a little holiday shopping. Hence, even though postal services and stores, and businesses close down on this particular day, several doors open to special offers, deals, and discounts.
Some retailers that offer good deals for the holiday season are Amazon, Samsung, Lenovo, Flipkart, Walmart, and several others of this kind. Besides, several offline stores have great discounts and offer running for this festive season.
All you need to do is to browse and find the one deal that's right for you!
A Few Important FAQs Regarding Mail Delivery on Thanksgiving 2022
Now, before you go to make arrangements to get your packages delivered before Thanksgiving, have a look at these frequently asked questions:
Will mail be received on Thanksgiving Day?
No, you won't be receiving any emails on Thanksgiving Day. It is because the Post Office will be closed for orders and deliveries on this day. Hence, neither you will be able to send a mail nor receive one on Thanksgiving.
And, if a package is scheduled to be delivered on Thanksgiving, chances are that you will receive it a day before Thanksgiving or on the next day, that is, on Black Friday.
The postal companies don't usually promise to deliver a shipment on Thanksgiving Day. But still, if they do, they ensure that it reaches you before or after the holiday.
Can mail get delayed for Thanksgiving?
Since the postal service shuts down completely on Thanksgiving, the next day greets them with huge work pressure and volumes of packages to be shipped and delivered. 
And in this workload, it might happen that some shipments fail to secure the treatment they do on most normal days. As a result, some packages might suffer a delay in delivery.
The postal company usually lets you know if there is any such change in delivery date and time. If the delay exceeds 2-3 days beyond the expected delivery date, you can contact them directly and enquire about your order.
However, the delivery delays caused by increased workload after Thanksgiving Day don't extend beyond a few hours. Usually, they are delivered by the end of Black Friday or just a day after.
Conclusion:
Thanksgiving Day is the time to offer gratitude and have a great feast surrounded by friends and family. So, while you want to send your festive care packages to those far off via the Post Office on Thanksgiving, you shouldn't forget that the employees at the postal service want to enjoy the day.