Black Friday, the day right after Thanksgiving, is a much-celebrated holiday in many countries.
So, even though it's not a national holiday, many stores, offices, shops, and businesses prefer to remain closed on this day.
This might raise the question—Is the Post Office open on Black Friday? It is a genuine concern for the ones who want to use the holiday to send gifts or shop online for the upcoming festive season.
So that is the reason why we want to address this issue in our article at the earliest so that no matter what, shipping doesn't stop.
Now, let's dive right in!
Is the Post Office Open on Black Friday?
No matter how much you love to enjoy a nice holiday on Black Friday, the truth is that it's just an unofficial holiday.
And, since it's not a federal holiday, the Post Office and all other courier companies usually remain open on Black Friday.
So, if you are awaiting a package on a date that falls on Black Friday, it's likely to get delivered as promised.
Moreover, if your parcel was due on Thanksgiving, it will also arrive on Black Friday since Thanksgiving Day is observed as a federal holiday.
In most cases, the delivery time or working hours remain the same on Black Friday. There might, however, be a subtle change in the work schedule, a variation in the delivery time, or even a modification in the conditions of the shipping services.
It depends on several factors, though; the most important ones being workload, delivery destination, availability of workers, the shipping company opted, etc.
For instance, long working hours or small delivery delays can be observed at certain locations where the workload is too high, coupled with a low workforce.
Or, perhaps some shipping services can't be made available or might change the timing on this particular day.
Hence, it's always advisable to consult the local post office directly to know what changes (if any) will be applied to your area on Black Friday.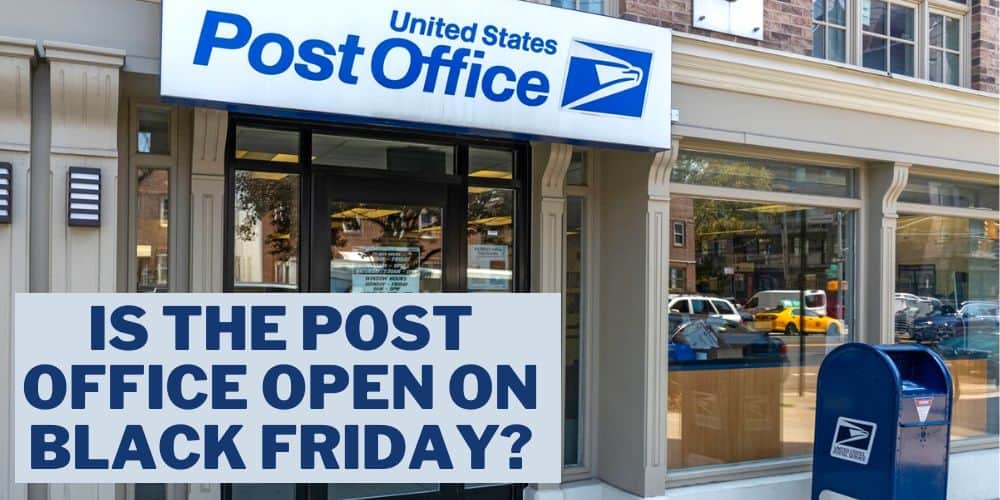 Does Mail Run on Black Friday?
As already said, most of the reputed courier companies and almost all the Post Offices are open for work on Black Friday. Hence, there are no restrictions for mail to run on Black Friday.
All the shipping companies observe only a few particular holidays (apart from Sundays) when they close down completely and do not provide any services to their customers.
Below is the list of such holidays which the postal companies usually observe:
New Year's Day
Martin Luther King Jr. Day
President's Day
Memorial Day
Independence Day
Labour Day
Columbus Day
Veterans Day
Christmas Day
These are the holidays the Post Office observes when it remains closed, and emails do not run at all.
Keep a note of these days so that you prepare beforehand and do not place any urgent orders on these days when emails aren't delivered.
P.S.: As you can see, Black Friday does not feature in this list. So, if your parcel is due on this day, it's expected to reach you soon. 
Working Hours of the Post Office on Black Friday
Since Black Friday is not an official holiday for the Post Office, the working hours usually stay the same as the regular office hours.
This comes with certain exceptions, though. The usual working hours of the Post Office are from 9:00 am to 8:00 pm. However, on Black Friday, this may vary for certain locations under certain situations.
Situation 1: High Workload, Low Workforce
It might so happen that the Post Office has a high volume of parcels to deliver for a certain location but runs low on employees (as most of them decided to take the day off to celebrate Black Friday). 
In that case, the Post Office might change its working hours, opening as early as 8:00 am and working beyond the closing time of 8:00 pm. 
Situation 2: Low Workload, Sufficient Workforce
Conversely, certain locations might run low on workloads that can easily be handled by the employees available and working on Black Friday.
In that case, the Post Office can end up completing all its deliverables for the day before time. Then, it might close up as early as 4:30 pm and let the employees take the rest of the day off to enjoy it with their families.
Does UPS Deliver on Black Friday?
UPS closes its services on Thanksgiving Day but resumes it the next day, i.e., on Black Friday. So, it's safe to say that UPS does deliver on Black Friday.
However, due to the holiday on the previous day, work pressure slightly increases on Black Friday.
And to top that, it might have a low workforce if some of its employees decide to stay back at home to enjoy a day off with family. And this might lead to little delays in its services.
So, to cope with this situation, UPS adjusted the pickup and delivery times for its Air and Ground services.
This might delay the delivery time for its services, like Next Day Air Early and Worldwide Express Plus, by 90 minutes, on this particular day.
Plus, the delivery time for domestic and international shipments for Black Friday might also get altered, with the parcels being delivered at the end of the day.
Moreover, the shipping charges or service fees might increase due to the heavy workload and fewer employees.
So, completing your holiday shopping before Black Friday is advisable and getting your items shipped before peak time begins. 
Does FedEx Deliver on Black Friday?
FedEx to remain operational on Black Friday. But like other shipping companies, its services come with a few conditions on this particular day.
Firstly, FedEx Freight services are closed today, and FedEx Express operates under a modified schedule. 
Secondly, most FedEx offices adjust their working hours to suit the day's needs. 
Thirdly, the closing time of its pickup and drop-off services, as well as its early on-call services, get altered. 
And lastly, some other FedEx services besides these might also get affected by the state's laws for Black Friday.
Some Important FAQs Regarding Delivery on Black Friday
Now, before you run to place and wait for your order delivery on Black Friday, have a look at these frequently asked questions to know a little more about this topic:
Does regular mail get delivered on Black Friday?
Yes, regular mail does get delivered on Black Friday since it's not an official holiday. 
Even though the shipping companies are swamped with volumes of shipments due to holiday shopping and online sales, they still manage the time to provide regular mail deliveries on Black Friday. 
However, the delivery time might get extended a little due to the increased workload.
Which courier companies remain open on Black Friday?
Almost all the reputed courier companies are open on Black Friday. USPS, UPS, FedEx, DHL, and others work on Black Friday to serve all their loyal customers worldwide.
However, certain conditions might be attached to the services they provide or a few alterations with the working and delivery hours. Other than that, all of them work just fine.
Does it take longer for items to get shipped on Black Friday?
It depends on the retailer that sells the items. It might not take long to ship if they are well prepared to cope with the surge of orders received on Black Friday. 
However, logistics complications are common during this peak, so it's not unusual for the shipping to get delayed by a couple of days.
Does mail get delayed on Black Friday?
Yes, there is a high chance that the delivery time might get prolonged on Black Friday due to the volumes of shipments crying for attention. 
However, if a shipping company has promised to deliver a package on Black Friday, it's likely to reach its destination by the end of the day.
How to purchase from a store that does not offer delivery on Black Friday?
If you want to purchase something from a store that does not deliver on Black Friday, the best thing you can do is to book the parcel with a shipping company that offers Express Courier service and delivers on Black Friday. 
Make all the proper arrangements for the courier to pick up your item from the desired store and transport it safely to you on Black Friday.
Conclusion:
Black Friday is regarded as one of the most famous holidays in many western countries. However, that doesn't make it an official or federal holiday. Hence, there is no break for the Post Offices that remain open on Black Friday to serve their customers. 
So, trust the postal companies when they promise that your precious parcel will reach you on Black Friday even as you relax at home and enjoy the day with your family.