Black Friday is a very important holiday on the western calendar, so many businesses remain closed that day. The workers either get a holiday or take a day off to celebrate with friends and family. 
Hence, it naturally raises a question about what happens to mail delivery on Black Friday. It is a very important query which needs to be addressed for you to have smooth shipping and delivery.
So, we are here to explore more about the mail delivery services on Black Friday and find out how it works. Let's go!
How is Mail Delivered on Black Friday?
Black Friday is an unofficial holiday and not a federal one. Most mail delivery companies are allowed a break only on federal holidays. So, they can't officially remain closed on a Black Friday.
However, the employees working at courier companies may take the day off to celebrate Black Friday with their close ones. Hence, the delivery services might not be as quick and smooth as on other days.
Moreover, certain differences can be noticed on this day about the time of delivery, available delivery services, discount rates, etc. Also, since the mail delivery process involves collaboration with several other procedures involving different vendors, a change in one can cause a ripple effect in the others.  
A few exceptions with the courier services can also be observed today. For instance, FedEx Freight remains closed, and FedEx Express operates with a modified schedule on a Black Friday; UPS modifies its working hours on this day; USPS and DHL also modify their time and services according to their workload. Also, the shipping companies might close their delivery service for certain locations for the day.
Hence, you need to contact the local post office to know the exact details of how mail delivery service on Black Friday will work in your locality for the particular courier company you are opting for.
Mail Delivery Services by Different Courier Companies on Black Friday
The courier companies usually modify their mail delivery conditions during Black Friday to accommodate the huge workload while coping with the low employee count.
Let us now see how some of the reputed courier companies of the world serve on Black Friday and how their mail delivery service varies for the special occasion.
FedEx:
FedEx modifies its working hours and offers certain modified services during this period. Moreover, FedEx Freight stays closed on Black Friday while FedEx Express modifies its work schedule. It also adjusts its on-call services and pick-up and drop-off services as per its daily convenience. 
UPS:
UPS tends to provide normal delivery services on Black Friday. However, their schedule may vary for some courier services or certain locations, depending on workload and the availability of workers. For instance, it extends certain services like Worldwide Express Plus and Next Day Air Early by 90 minutes. It also modifies its Air Services and Ground Services at times. 
USPS:
USPS tries to provide flexible delivery times and longer opening hours for certain locations, depending on their workload and the customers they need to serve. Thus, at certain locations, it closes at 4:30 pm on this day, while it remains open beyond 8:00 pm at others.
DHL:
DHL usually provides its normal shipping services even on Black Friday to cope with the hike in shipping demands during this period.
The customer care services for all the courier companies preferably remain open per their usual schedule.
P.S.: The customer can contact the local branch of their preferred courier company to know how they will work in their location on Black Friday. 
Are Businesses open for Mail Delivery on Black Friday?
A courier company can only deliver your package if the retailer you are ordering from is open for business on that particular day. If the retailer is closed for business, there is no way the shipping company can deliver your orders even if they are still operating.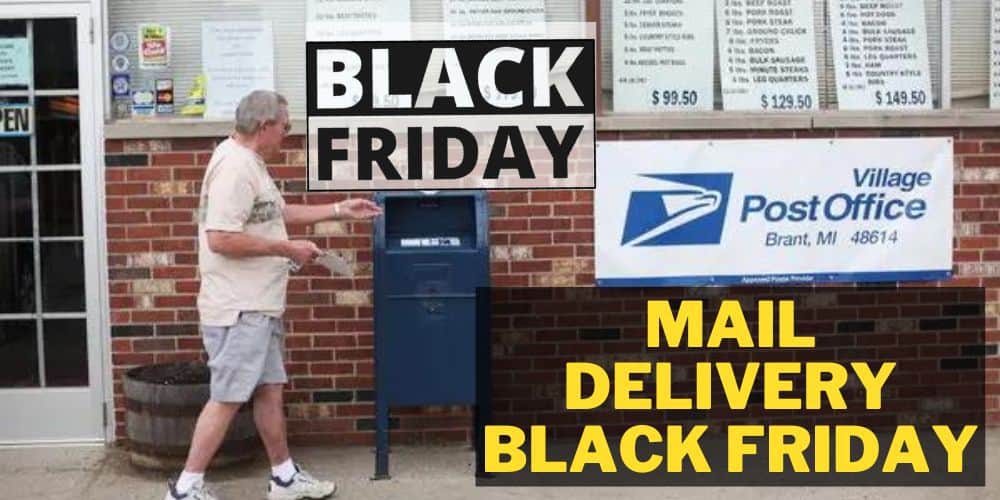 While some retailers remain closed, most businesses stay open on Black Friday. Not only that, they often offer huge discounts and tempting deals on several items.
Businesses prefer to stay open on Black Friday mainly because most people tend to complete their holiday shopping during this period. And, with the special deals and discounts, they can hardly resist the offer. Hence, it's a time for retailers to make a good deal of money. For the same reason, several service-based businesses prefer to remain open on Black Friday.
Discounts and Deals on Black Friday:
Black Friday is one of the biggest shopping days of the year. It marks the beginning of the holiday season, so the holiday shopping rush sets in. 
So, most businesses worldwide open their doors to deals and discounts for their customers to grab the opportunity and strike off all the items from their wish lists. 
For the retailers, it serves the dual function of keeping the customers happy and satisfied while pocketing a few extra bucks with the hike in sales. Some stores even keep the discounted prices long after Black Friday is over to encourage their customers to continue shopping.
Many big and small retailers like Amazon, Walmart, Samsung, Kohl's, Wayfair, etc., offer big discounts and deals up to 80% off on several items like electronics, furniture, toys, clothes, household goods, beauty products, etc., for the Black Friday sales.
Some Important FAQs Regarding Mail Delivery on Black Friday
Before you place an order on a Black Friday or eagerly wait for a crucial delivery for the day, have a look at these frequently asked questions regarding mail delivery services on Black Friday:
Why do mail deliveries suffer a delay on Black Friday?
The most obvious reason for delivery delays on Black Friday is the huge workload due to the spike in shopping and the unavailability of workers on a holiday break. 
Black Friday is designated as one of the busiest days for retailers and shipping companies since they have to handle an enormous amount of orders from their customers in a short time. And to top it all, they run a little low on the workforce as some of their employees might enjoy this special holiday with their families.  
How to avoid shipping delays on Black Friday?
There is no sure-shot way to solve shipping delays on Black Friday. You can neither increase the workforce of the shipping companies nor decrease the volume of orders placed. 
But you can plan ahead and place your orders 2-3 days early, choose a reliable courier company and use their express services to ship your orders and hold your patience.
What is the best shipping service for Black Friday orders?
If you have an important order which needs to be delivered urgently, then it's best to choose Express Services. For, it's a service that guarantees the fastest delivery possible, even if it's Black Friday.
However, if the order isn't that time-sensitive and you prefer to save the extra bucks spent on additional express charges, it's better to go for Standard Delivery services.
What time do the courier companies prefer to work on Black Friday?
Most courier companies open for deliveries on Black Friday prefer to perform at their regular working hours. 
However, at some locations where the workload isn't high, they might close early to enjoy the rest of the day. Conversely, at places with enormous work pressure dealing with huge volumes of shipment, it might stay open far beyond its usual closing time and offer longer delivery hours.
How to deal with shipping delays on Black Friday?
Dealing with shipping delays on Black Friday isn't much different from handling normal delivery delays. 
When a shipment is delayed beyond 3 business days from the estimated delivery date, it's time to contact the retailer or the courier company. Check the delivery status and find out if the item has been shipped or not. If it isn't shipped, contact the retailer and if it's already shipped, contact the carrier. 
You can contact them via phone call, text message or email, as per your preference. Whatever you choose, ensure that you have the tracking ID, order details, etc., with you.
Conclusion:
Black Friday serves to be both—an important holiday as well as the busiest shopping day. Hence, there is no break for the courier companies who choose to serve their customers first, even if they are swamped with work. Neither is it a time off for the businesses that offer good discounts to their customers and, in turn, make a lot of money for themselves. 
So, a little modification in their services or slight delays in delivery on Black Friday is quite understandable in return for their efforts to serve their customers.