Having a confusion about the status of your package? Here's what you need to know:
When the tracking status shows 'in transit' on FedEx, it creates a baffled frown on many faces. Not to worry, as it only means to say that your package is on the way to your doorstep.
Still curious about the tracking process of shipment and delivery at FedEx? We have got you covered with all you might need to know for a hassle-free user experience next time.
Know All about FedEx Tracking:
FedEx is in the top-five list of multinational delivery and shipment services. Consumers seeking smooth and secure courier services across the globe look at FedEx for:
Reliable shipment
Fulfilment of services
End-to-end tracking convenience
Commitment towards getting your package delivered on time
Having said so, there always remain some factors conjuring up the doubts and queries of customers. One such most raised queries by FedEx customers is regarding the "in transit" tracking status. Such a tracking status might apparently be a tad confusing, especially if you are a new user. 
The credibility of a delivery service is best reflected through its tracking facility. Customers consider tracking convenience to be the excelling parameter of a courier service provider. FedEx implements a powerful tracking tool providing you with end-to-end visibility. They keep the entire process transparent, enabling you to track the movement of your goods thoroughly. Each step, right from the onset throughout its way to the final destination, is traceable and visible.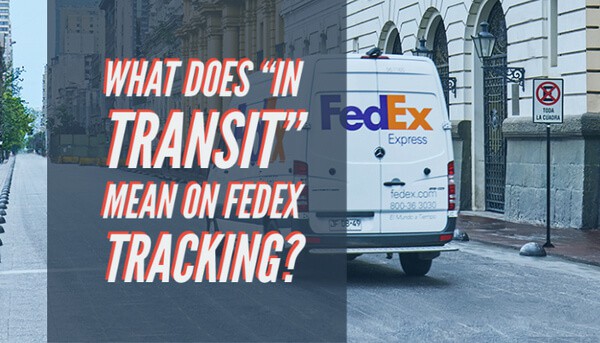 Once you choose FedEx to deliver your goods from one place to another, they generate a unique tracking Id number. Using this tracking ID number, you can seamlessly view the status of your shipment and delivery. Every step in between is mentioned and communicated.
Going with this flow, at one point in time, you will notice the status showing "in transit". A lot of customers have flagged doubts on what actually this status conveys about their package. The simplest explanation to this seemingly complex term would be, your package is en route to its destination.
How far has your package reached when it shows "in transit"? 
Now delving deeper into the details of this shipment status update, you need to go through the following facts:
Sources from FedEx reveal a number of stages that comprise the 'transit' segment. 
First, you generate a label with FedEx to ship your item 
Once done, the tracking screen displays "billing info received" 
Thereafter, as FedEx takes possession of the package, the tracking status shows a "pick-up or origin" scan 
On the package reaching its destination, the status first mentions "out for delivery".
Finally, it shows "delivered". 
The aforementioned route covers the journey of the package from its pick-up to final delivery. At each junction of this route, the package travels through different scanning stages. All stages in this entire route between pick-up and delivery are holistically considered "in transit." Thus, while and as long as your package traverses through these stipulated steps, FedEx tracking will show "in transit".
What causes confusion or difficulty for users to track their shipment? How to find a solution:
Despite bringing in optimum visibility into the tracking process, you might still encounter certain difficulties. Every tracking facility uses certain terms to denote or define the current position of your package. Such terms often lead users to face confusion or difficulty in understanding the real-time status of their goods. 
So, if you are unable to decode the meaning of certain terms, know that it is quite common and normal. Moreover, in case you have requested an international courier shipment service, your anxiety is more obvious. 
Now that you breathe a sigh of relief about the "in transit" status, you might also be stuck at some other edge. While such situations create huge tension in your mind, FedEx makes your life easier. They're easily accessible. You can get in touch with their customer support center at https://www.fedex.com/en-in/customer-support.html. Also, you can choose to call their customer support executive at their official handles. This guide covers how can you connect with FedEx customer support.
Next time, if you have a raised eyebrow over any seemingly dicey update, clearing your doubts is easy.
FAQs on 'In Transit' and Delivery:
Here goes a handful of FAQs for further clarification of your doubts:
1. Does the status in transit mean that my package is loaded on a moving vehicle?
If you see the tracking status of your shipment showing "In Transit", it simply means that your courier is on the way to its final destination. However, it does not necessarily mean that your parcel is loaded in an aircraft or truck. It might also be at a FedEx facility.
2. Can I reroute or change the delivery address of a package in transit?
Yes, you can. You may need to change the initial delivery address. In such a condition, you can request a reroute. If the sender sanctions the request, FedEx can reroute that shipment accordingly. In any case, they only allow one reroute request per package.
If you have to re-route a shipment, you need to call their Customer Service. There you must provide the following details:
– Your FedEx tracking number
– The changed or new destination for delivery
– The recipient's contact or telephone number
3. Are there any additional charges for rerouting a package in transit?
Yes, extra charges, as well as added restrictions, may apply. FedEx puts the best of its endeavor to deliver your package on time. But in case of a changed address, verification and handling procedures might cause a delay.
4.Does the FedEx Money-Back guarantee apply to shipments that are rerouted?
The money-back guarantee policy is not applicable for rerouted shipments.
With FedEx, at the end of the day, you know your parcel is in safe hands. This reliability quotient itself means a lot to customers. Be it couriering within your domestic boundaries or sending a parcel abroad, tension and anxiety prevail. We are wistfully waiting for our material to reach its destination in due time. Meanwhile, an easy and transparent tracking system becomes the most powerful tool to ensure peace of mind.
It will be fair to conclude on the note that FedEx is highly reliable. They provide you with optimum insight into your shipment status. Tracking is extremely smooth and seamless with your tracking number or ID. You will hardly experience any hassle while checking on the updates of your moving material. Even if you do, you can always reach out to them at their given customer support number.