Are you looking for ways to ship skateboards any time soon? Well, you are in for a treat, for this article is all about the solution to it. Skateboards can sometimes be quite tough to ship because although it may not look like it. 
The wooden surface or the print over it, the small rollers under the skateboard, all of its parts are prone to get broken or damaged if not taken proper care of while shipping.
Keeping in mind all those points, we have created a list of steps you should do and not do while shipping skateboards abroad or within the country.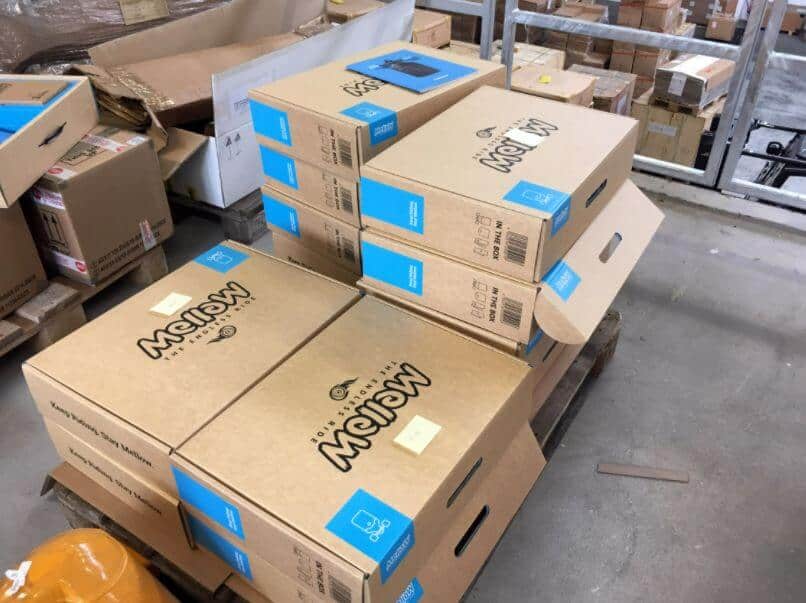 ---
How to Ship a Skateboard: Tutorial
The first and foremost step in the process requires putting together all the items necessary for preparing your skateboard ready to be shipped.

Now the materials that we are going to mention are easily available everywhere, and that fact makes the process easier. 
Things Required
The things that you will require to prepare for your shipping process are as follows:
These items are all you need, along with small and easy steps to get your skateboard ready for shipment. These items are quite necessary for the proper packaging of your skateboard because that is the one thing that has to be taken proper care of. 
Other Shipping Guides: How to Ship Perishables | How To Ship a Guitar | How to Ship Trading Cards | How to Ship Macarons
How to Ship a Sk

ateboard Boxes: Step by Step Guide
Now that you have gathered everything that was necessary, the next step involves making use of all of those items. Here are all the steps that you need to follow in order to pack your skateboard properly to avoid any sort of damage.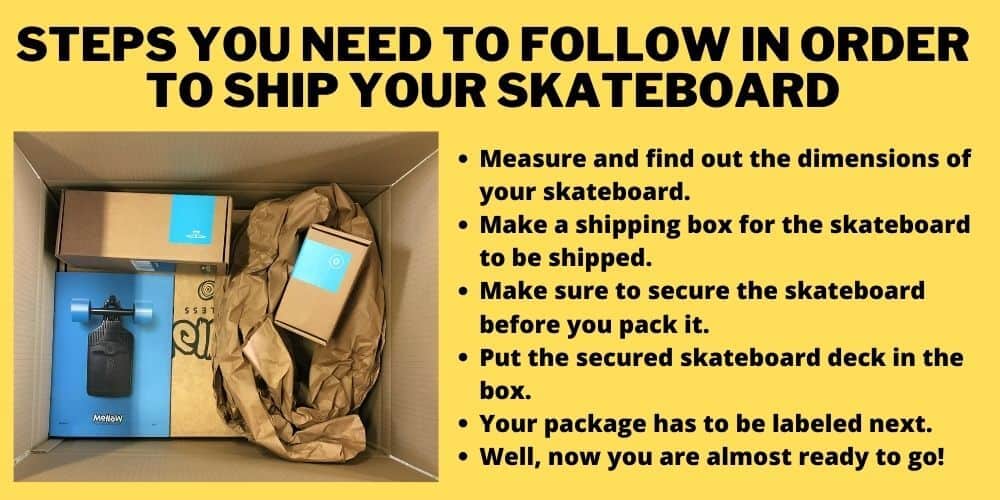 Measure and find out the dimensions of your skateboard
The First thing to make sure of is that you know the length, breadth and depth of your skateboard. If you do not have that information, take a measuring tape and measure all the dimensions. The latter should be accurate as it is an important factor. 

In order to find out the length of the skateboard, measure it from the nose of the skateboard to its tail. The average length usually ranges from 28" to 32".

whereas if you are wondering about the average breadth, it ranges between 7.5" to 8.25". If you need the average weight of a skateboard, it varies around 5 kilograms or 11 pounds.

Make a shipping box for the skateboard to be shipped
Now that you are well aware of the dimensions of your skateboard, it will be your next step to choose the right size of the shipping box as a container for your skateboard.

In any case, if you fail to get the right size of a cardboard box for your skateboard, you are in luck because you can quite easily make a box of your own. 

If you deal in skateboards and want to ship them in a huge amount, then you can even get the cardboard boxes at a cheaper rate that can go as less as 1 to 3 dollars per box. 

If you need a pro tip, leave an additional gap of 6″ more for each and every dimension so that there is enough space left for packing the skateboard. 

Make sure to secure the skateboard before you pack it
In order for the skateboard to remain intact and protected, you need to first secure the skateboard well. Take the bubble wrap that we first suggested and start wrapping it around the entire skateboard.

Make sure the wrapping is thick enough so that your skateboard doesn't receive any sort of damage from mishandling during the delivery. 
Put the secured skateboard deck in the box
Now that you have secured your item, with the help of a bubble wrap, put it carefully inside the box.

Once that is done, fill the gaps inside the box with polystyrene peanuts, which will ensure that your skateboard is well protected even from a fall from the hands. 

There is one pro tip that we would like to suggest, which is that you can tape your box in the pattern of an H so that you make a perfectly sealed box. 
Your package has to be labeled next
Your shipping box requires to be labelled properly next. Write down your name and address along with the name and address of the receiver; for easy identification, put the label on both sides of the package. 

You can even cover the box with bubble wrap and secure it well, but if you are doing so, make sure that you do not cover any barcodes.
Well, now you are almost ready to go! 
You are all set and good to go. You have secured your packaging well, and the only step that is required is going out and reaching your nearest post office. Next, you mail it straight away, and you can also just ask the postman to deliver it for you. 

To sum up our discussion, we hope you benefit from this step by step guide on how to ship a skateboard. We did our best in providing enough enlightenment on this topic, so you are good to go.
---
Conclusion:
We did mention all the items necessary in order to get your package ready to be shipped. We even provided the average length, breadth and depth of the skateboard so you will have an assumption while deciding on a box for your skateboard.
We hope the pro tips we have provided will help you out while you are securing the skateboard in the box and get you all set. 
Please do not hesitate to share this article with all your acquaintances who may benefit from it.