Time is money, and money is time. That is why we always search for an easy shipping method to manage and track our business properly. United Parcel Service (UPS) comes with an array of unique services suitable for both customers and business dealers. 
Despite organized ways, the company may fail to deliver on time because of some shipping restrictions. So, on those circumstances how late does ups deliver?
Recently, UPS has rolled out a package tracking system that helps you know exactly where your package is and how late it will deliver right from your PC or Smartphone. To a little more excitement, UPS also offers "minute to minute" tracking. But they are only available with UPS Air and UPS Worldwide.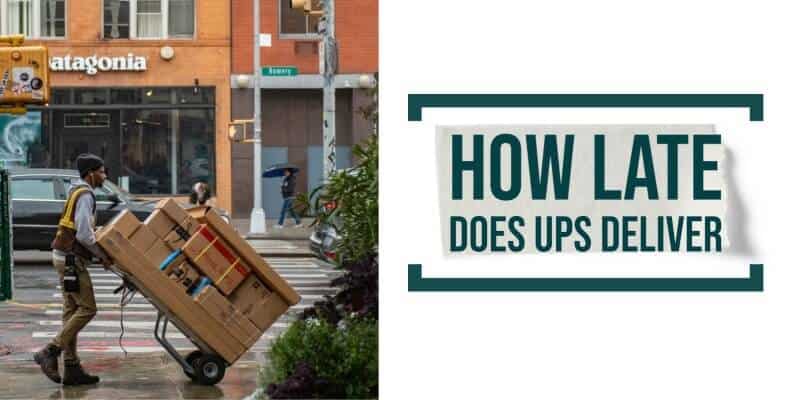 UPS always pledges you to deliver shipments on time. Even if the package is delivered a minute after the given time, UPS guarantees a "money-back guarantee" or a "refund." If your business is losing money from unidentified UPS refunds, more than 50 service failures are eligible for providing a complete refund.  
You can save up to 20% on the shipping cost by asserting UPS refunds. On the other hand, monitoring and Claiming will also help you receive better performance from the delivery services, resulting in a successful last-minute delivery. Now, let's get to the question How late does UPS deliver?
What Time Does UPS Generally Take To Deliver?
UPS Ground Service gets delivered between 9 am to 7 pm to the given address from Monday to Friday. Residential orders sometimes are delivered a bit after 7 pm. Shipment to any business address will be submitted by 7 pm.
UPS does not come with a service where you can schedule a package to arrive at a specific time during the day. UPS also provides overnight services. It arrives within 10.30 am the next day. USP generally delivers Next Day Air packages that have recently increased the time by 3 pm. 
Does UPS Deliver On Holidays?
On the following US holidays, UPS Ground, Freight, and Air Services are completely closed. UPS delivers packages even on Saturdays, and some UPS services also deliver on Sunday with extra cost. However, services are closed in:
Memorial Day
July 4
New Year's Day
Christmas Day
Thanksgiving Day
Labour Day 
Check out complete list of all holidays from here.
What If My UPS Do Not Deliver On Time?
Of course, this will make a negative impact on the image of the UPS business. In some cases, when UPS fails to deliver on time, fortunately, there is a solution that UPS offers. You can get a refund due to late delivery.
Services like UPS Ground and Express service guarantee the delivery on time. If they are late, the shipping cost will also get a refund. All you have to do is to determine which packages are late with proper identifications and request a refund within 15 days of the scheduled date.  
Via phone, you will submit the refund request, which is a bit time-consuming process. But once UPS accepts the request, they will refund everything depending on the report. This is why all prefer shipping with a renowned company like UPS.  
How late does UPS deliver?
UPS generally ensures to deliver anytime between 9.00 am and 7.00 pm (sometimes later) to the residence. UPS does not specify any particular time up in that window. Up to three delivery attempts are made, leaving holidays and weekends.
Within the US and Canada, UPS home delivery requires a signature. You can also leave a message for the driver if no one is there at home. Like, you may ask the service to get a signature from your neighbor and leave the shipment to them. UPS does not force a signature if the parcel is left in any safe place at the driver's restraint. 
If your package is not delivered within the given time, it could arrive within 1-2 days. But still, if you do not get the delivery after that, then it's time to check the status by calling UPS or the sender. 
Why Does The Delivery Take So Much Time? 
A computer generates the delivery route, and the driver follows it accordingly. Delivery depends on how far your residence is from the route. UPS generally completes their delivery within 8 hours. 
How late does UPS Deliver: What Are The Reasons
Not all packages get delivered at the given time. There are several consequences where a driver may face certain unexpected issues. For easy awareness, we have noted down to analyzing the most common reasons cited by UPS when a shipment is delayed. 
Severe weather conditions may delay the delivery process
When the delivery worker has an incorrect address, and the package is on the way to update 
When the package helps up for delivery as the recipient is unavailable
Insufficient documentation may delay the next delivery process
Poor carrier performance
How Long Does The Package Stay At UPS?
UPS holds your package for 5 business days. Moreover, it can also hold the package for 7 days at a chosen UPS Access point or UPS Store. They do not charge extra if you are a member of UPS My Choice. 
How late does UPS deliver FAQs
What are the commonly committed UPS shipping carrier errors?
The most repeatedly committed service failures are: Late Deliveries, Void shipments, Incorrect surcharges, Duplicate Billing, Address correction charges, Lost and Damaged shipments.
Can I get a refund if UPS is late? 
Yes, If your package is late by even 60 seconds, you are capable of a complete refund.
What To Do If The UPS Package Didn't Come?
Can I Call The UPS Driver?
You can also contact the driver if you are a member of UPS My Choice. Members can even request the driver to deliver their package to another address.
The study sums that 80% of online shoppers want retailers to deliver the product on time. Retailers and shipping companies, on the other hand, are struggling to keep up with their expectations. UPS, in regards to timing, ranked quite well in the report of 2019. UPS Grounds' in-time performance ranked above 98% in April. But it dropped in May as UPS Ground delivered 95.4% of packages on time. These are the statistics to give you an idea about How late does UPS deliver?