Every E-Commerce business owner faces a lot of issues regarding shipping and deliveries at the weekends. Customers nowadays want to purchase products almost every day. FedEx is one of the most renowned and reliable courier companies in the world. 
The most common question that arises about this service is "Does FedEx Deliver Even In The Weekends?" The good is here! Yes, FedEx now offers weekend services for Home Delivery Residential Shipment without any additional cost.
No longer waiting for Monday to get a parcel, you can get a speedy, affordable, and dependable delivery service even during the weekends. As reported in 2019, FedEx delivers about 6.2 million packages daily. From 2020, FedEx has declared to offer seven-day services through FedEx Ground Services.
What are the benefits of FedEx Weekend services?
Here are some points that will help you to understand the advantages of weekend services.
● Customers do not have to wait for the weekdays to receive their products.
● Late package deliveries are also available.
● Serves over 7,500 cities and towns.
● Reaches over 185 million people.
Online sellers can now transfer their products to millions of customers every day in a week. Unlike other delivery services guarantees, FedEx Ground Services guarantees to make the services available at the customer's fingertips. However, the timings vary depending on the services you choose.
FedEx has designed "FedEx Weekend Delivery Services" to cater to the increasing demand for online shopping.
Time and cost FedEx takes to deliver on the weekends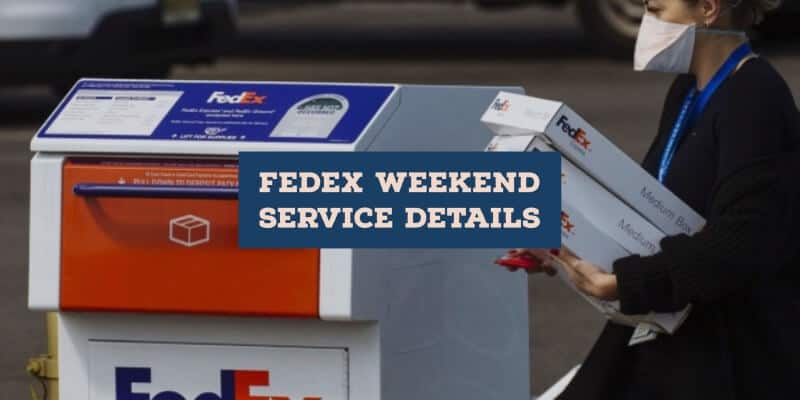 The standard FedEx timing is from 9.00 am to 8.00 pm. However, timings mostly depend upon two basic factors, place and service you choose. Here are some examples of the most popular FedEx delivery services:
FedEx Home Delivery Services
These services are available all 7 days of the week. Available for both merchants and customers using FedEx Home Delivery for Residential Shipments. It is generally done by 1-5 business days for the neighboring states within the US. For other countries, it takes about 3-7 business days to reach the delivery. Timing varies between 9 am to 8 pm. No additional cost is required. You cannot transfer any hazardous materials. Not applicable to P.O. boxes.
FedEx Charge for weekend delivery: No extra charge is needed for weekend deliveries.
FedEx Priority Delivery Services
FedEx overnight weekend delivery service can deliver packages any day between Friday to Saturday. This facility is not relevant for Sundays. This is specially designed for the customers who want service on the next day only. The delivery usually gets delivered by 8.00 am to 9.30 am for nearby areas of the US. For more distant areas, the delivery may occur between 1.30 pm to 4.30 pm.
FedEx Charge for weekend delivery: This service offers extra charges on Saturday, depending on the product and area.
FedEx 2 Day Delivery
Package is delivered on the 2nd business day after placing the order. Generally, it is done within 2 to 3 days. In case of late delivery, the company also provides a money-back guarantee. Delivery is made by Saturday within 4.30 pm and 8.00 pm to most of the parts in the US. This service is also not applicable on Sundays. Delivery is not available in Alaska and Hawaii areas. 
FedEx Charge for weekend delivery: This service allows Saturday pickups with extra charges.
FedEx Same Day Delivery Service
FedEx offers this service all across the UK on both Saturdays and Sundays. It delivers the parcel on the same day within a few hours. Available for all the 7 days in a week. Hours may vary depending on the distance of the delivery. Generally, the delivery is done within 4 hours if the location is within 45 miles. For more distant as it may take a bit longer time.
FedEx Charge for weekend delivery: Takes charge of US$20, and for the weekends, it takes an additional charge of US$40.
FedEx Smart Post
It is the most cost-effective delivery option, especially for low-weight shipments. This service is available from Monday to Sunday. This covers all across the US, except outside the countries. For USPS, a C22 clearance declaration form is needed. Hazardous materials are strictly forbidden in FedEx Smart Posts.
FedEx Charge for weekend delivery: No surcharge is attached to this service.
FedEx Hold At Location
This service allows customers to pick up their delivery within a fixed time and a settled place. FedEx holds a location that will not cost you anything on shipping except weekends. Delivery on Saturdays is available only via express services. It covers more than 14000 retail locations all across the US. The delivery is done by 9.30 am to noon.
FedEx Charge for weekend delivery: It takes an extra charge of US$16 per package on weekends.
FAQs:
Does FedEx Pickups on Saturday and Sunday?
Yes, you can now pick up your package on Saturdays and Sundays. In the case of international deliveries, this may vary a bit as FedEx doesn't deliver on weekends to some of the parts outside the nation.
Does FedEx charge extra on weekends?
It's dependable on the service that you choose. There are certain services like FedEx Smart Post or FedEx Home Delivery Services, who do not charge even a single penny in delivery. In comparison, services like FedEx Same Day Delivery Service or FedEx Priority Delivery Services charge a stipulated amount on the delivery.
How to make use of the FedEx weekend delivery services?
Plan your shipment process, ensuring that it meets all your needs. Follow the guidelines as issued by FedEx guidelines on the packages. Now list the services that are available in your store that will help customers choose accordingly.
To Wrap Up on FedEx Weekend Services:
In a statement, Raj Subramaniam, president and chief operating officer at FedEx, said that "Every day is now a delivery day at FedEx." So, it does!
Now you know about the 6 basic FedEx services available for the weekends. Choose the service that suits best for you. Take advantage of all the facilities that FedEx offers to both the customers and service providers at the weekends. From the user perspective, there are so many options accessible enough to satisfy all your needs. From a business perspective, you can install FedEx Services to help your products reach the vast audiences who are always searching for them. Thanks to the other service providers like Amazon and Walmart, that has increased the demand for weekend deliveries. These services have influenced a lot to FedEx to incorporate their weekend services.
Happy shipping!