In recent years, the need for delivery and shipment services has skyrocketed. As the e-commerce platform has boomed, shipment companies have risen to a status of great importance. 
Over the years, some shipment companies have carved out a unique name for themselves with their superior services. One of them is the one and only – FedEx. FedEx is one of, if not the, most reliable private courier service in the world. Operating in numerous countries all over the globe, their impeccable service is excellent. 
But, let me tell you, they are surely not without fault. FedEx encounters hiccups as well, and many times, customers face problems with having their products delivered. A common issue that many people face is the shipment tracker showing "delivered" when the product hasn't reached. This situation is precisely what I'll be talking about today. 
Steps to follow when your package shows delivered, but you've not received it.
Such a situation can, no doubt, be very alarming, especially if the package is of a high-value item. But there is no need to panic if you do encounter such a situation. I know that it is but natural to assume the worst, but it may not be the case at all. Most of the time, the delivery person has either mistakenly marked the status as "delivered," or it has been accepted by someone else with a similar address. 
Here's the guide on What to do when Fedex delivers your package to wrong address.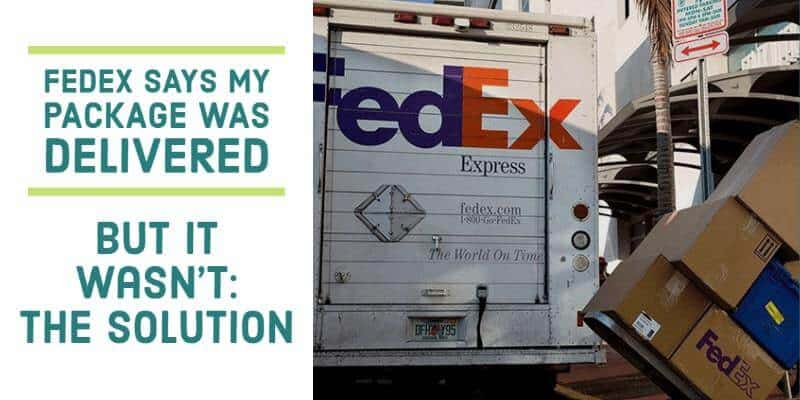 Nevertheless, if you are facing a situation where your package hasn't been delivered to you even when the status says so, here are the steps you should take.
Contact FedEx immediately
The first step that you need to take in such a scenario is to contact FedEx as soon as possible. This is important for many reasons. Firstly, the sooner you let them know, the faster they can track your package. Secondly, in case there has been a mistake on the part of the company itself, you will not be held liable since you contacted them immediately. Make sure that you have your package details, such as the tracking number, handy. 
Reach out to your designated delivery person
Make sure that you also contact the person who was supposed to make your delivery. Usually, shipping companies provide the customer with contact details of the person supposed to make their delivery. Ask him about the whereabouts of your package, and if he has delivered it, to whom. Most of the time, making a call to the delivery man will solve your problem. 
Talk to your neighbors
In cases where a package says delivered but hasn't reached the customer, more often than not, the item has been delivered to the neighboring house. So it is impertinent that you talk to your neighbors. If you live in an apartment building, talk to the person who lives next to you, or opposite to you. A lot of the time, couriers tend to leave packages outside your door, which may have been collected by your neighbors for safekeeping. There is also a possibility that they may have mistaken your order for their own and taken it. So, you must ask your neighbors if they have your package. 
Look around your front door
If you're not at home when the courier is to be delivered, delivery men often place the package near your door in a protected area. If you have shrubs or an alcove in your porch, make sure to check them as the package may have been left there. Make sure that you check your mailbox as well. You'll be surprised to know often packages are left in these places, without the customer knowing. 
Wait for a few days
If you have already contacted FedEx officials or you're sure that no package has been delivered, try to wait around for a couple of days. In the case of FedEx SmartPost, where FedEx provides the package to USPS for the at-door delivery, the status says "delivered" when they have handed the item over to USPS. So there is no harm in waiting around for a few days, given that you have taken some of the steps mentioned above. 
How can I prevent this from happening in the future?
Most of the time, how and under what circumstances your package is delivered, is not in your hands. But there are some precautionary measures that you can take. Such steps will prevent a situation like this from happening again. 
State your shipping details clearly
Always ensure that you have stated your address and corresponding shipping details correctly. A lot of times, such delivery mishaps occur due to incorrect addresses. If you have any distinct landmarks near you, you should mention them. Doing so will eliminate any confusion that may arise during delivery. 
Request "direct signature
If you want always to make sure that the package is delivered into your hands, choose "direct signature" in the future. This will ensure that your package is not delivered without your explicit signature. 
FedEx pick-up
If you want to be extra careful and not take any chances, you can also have your package delivered to the nearest FedEx office. You can then pick it up from there. This is an easy and fool-proof system that guarantees the safety of your package. 
FAQs:
What is the first thing I should do if my package says delivered, but I haven't received it?
The first thing that you must do is contact FedEx customer care and let them know your problem. Make sure that you explain the situation elaborately and provide them your package details. Such information will help them track your package in the most efficient manner possible
Should I lodge a complaint with FedEx if I haven't received my package?
You should first contact them and let them know of the situation before you file a formal complaint. Follow the steps mentioned above, like checking up on your neighbors. If within a  few days, you don't get your package or any information about it, then you can lodge your complaint.
How can I contact FedEx when my package isn't delivered?
In such a situation, the best way to contact FedEx is through a phone call. This is the fastest method with little to none waiting time. You can also contact them through an email, but I recommend placing a call due to the gravity of the situation.