FedEx has flexible services for all kinds of delivery needs. However, certain conditions must be considered while opting for the FedEx One Day Delivery service. 
The company does offer the fastest delivery services for urgent shipments within the shortest time. But there is a certain process to go about, which we will discuss in this article, along with some other information you must know regarding this topic. 
So, without further ado, let's begin!
What is FedEx One Day & Overnight delivery?: Meeting your deadline at light speed!!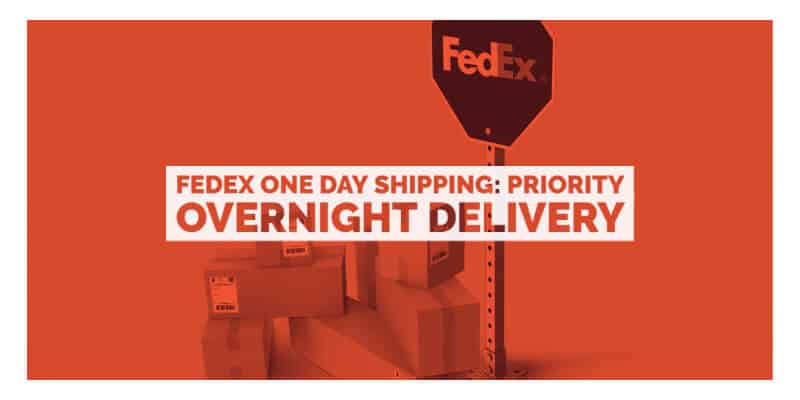 FedEx One Day Delivery or Same Day Delivery is the service provided by the company to deliver time-sensitive shipments within the shortest time and in the fastest way possible. 
This exception is allowed only for those parcels that need urgent delivery. 
So, if you have a package that needs to be delivered immediately, FedEx will help you deliver it in no time with its One Day Delivery service.
And if you request with some additional charges, the courier company will also deliver on weekends and holidays, even at the time which isn't considered their usual working hours. 
The Same Day delivery is specially designed to meet the crucial need of the customers who might need to ship a critical parcel or medical package urgently.
FedEx will be at your service, provided you can afford to pay a little extra. 
So, suppose you have any urgent shipment waiting to be delivered within a particular time frame.
In that case, you can choose from the multiple service options for the Same Day Delivery as per your requirement, and FedEx will get it delivered as fast as possible.
Conditions to Avail FedEx One-Day Delivery
As mentioned earlier, to avail of FedEx One Day Delivery, the customers must oblige with certain conditions necessary for the company to deliver its service efficiently.
So, here is the list of a few things that the customer needs to consider before opting for FedEx One Day Delivery service:
Service Options:
FedEx offers three service options while opting for its Same Day Delivery service.
FedEx First Overnight
FedEx Priority Overnight
FedEx Standard Overnight
FedEx First Overnight service is for early morning deliveries from 8 am to 9:30 am and can be extended up to 2 pm for some specific destinations.
FedEx Priority Overnight provides mid-morning deliveries by 10:30 pm to businesses and noon to residences but can extend up to 4:30 pm for certain rural areas.
FedEx Standard Overnight serves the afternoon deliveries by 4:30 pm to businesses and by 8 pm to residences. 
Customers can choose any available options, and FedEx will deliver the service accordingly.
Weight and Size Limits:
There is a limit on the weight and size of the packages that you decide to ship with FedEx. The maximum weight limit for each parcel is 150 lbs, up to 119 inches in length and 165 inches in circumference (L+2W+2H)
However, FedEx also has certain one-day delivery services that offer unlimited total shipment weight up to 2,200 lbs or more with prior approval. It's designed for those crucial items whose weight can't be compromised. 
Delivery Areas:
FedEx delivers throughout the United States and to around 220 countries across the globe. But while opting for its Same Day Delivery service, the customers must check whether that particular FedEx service is available in their location or not. 
Choose the service only if it's available at the desired delivery destination. If it's not available, but you genuinely need the service, check whether there are any drop and pick-up destinations nearby.  
Available Delivery Dates and Time:
FedEx usually offers delivery on business days, that is, Monday to Friday, from 8 am to 8 pm. But for FedEx One Day Delivery, the service is open 24 hours a day, 7 days a week, 365 days a year, including holidays. 
On holidays, the delivery hours might vary from normal days, but FedEx still does not stop its overnight deliveries for the items that need urgent delivery.
Drop-Off Deadlines:
There is a deadline for the latest time when you can drop off your package at FedEx for overnight delivery.
The exact time varies from one location to another. So, you will have to contact the local store via a call to confirm the cut-off time for your particular location.
Service Cost:
FedEx's One Day Delivery service is priced slightly above standard services because of the priority treatment provided.
The exact cost varies depending on factors like delivery location, delivery time, size and weight of the parcel, dimensional weight, packing quality, etc. 
The customer can calculate and know the cost of the service beforehand and then choose the option.
Also, there are several effective ways to reduce costs, such as 30% discount with a FedEx account, free packaging with FedEx Express services, using FedEx One Rate services to save a few bucks on the shipping cost, etc.
Important Documentation:
Certain important documents are required to avail FedEx One Day Delivery service. It includes export documentation, government-approved ID proof, Air Waybill, customs documents, etc.
On choosing the desired service, FedEx will let you know of all the documents you would require, and you can arrange them accordingly.
Restricted Items:
FedEx Same Day Delivery Service is unavailable for certain restricted items considered dangerous goods.
However, the exception is available for the items like dry ice, dry shippers, dry Dewars, biological substances, etc., if and only if they are properly packed, classified, and labeled accordingly. 
Steps to Create Shipments for FedEx Same Day Delivery
To create the FedEx Same Day Delivery shipment online, follow these simple steps:
Step 1: Visit the FedEx official account.
Step 2: Click on Sign Up to create an account or click on login if you already have an account.
Step 3: Fill in the form with all the required information and set up the shipping account for the Same Day delivery.
Step 4: Create your shipment.
Step 5: Complete the shipment with all the required information and the FedEx account number.
P.S.: A customer must have a FedEx Same Day shipping account if they want to create an online shipment for one-day delivery.
Factors Determining Shipping Cost for FedEx Same Day Delivery
The shipping cost for FedEx Same Day Delivery depends on the following factors:
Delivery Location: The delivery location of the package affects the shipping cost. Further, the distance, the greater the cost. It also decides the transportation facilities available—vehicles, trains, or flights- which determines the shipping cost.
Delivery Time: The time chosen for an overnight delivery also determines its cost. Delivery time that's committed later in the day costs less. That is, early morning deliveries cost more than mid-morning deliveries, which cost more than afternoon deliveries.
Weight: The weight of the package too determines the cost of shipment. The heavier the weight, the higher the cost. Weight up to 150 lbs gets parcel rates, but freight rate applies to weights above that. Total weight includes the weight of packaging used as well. So, choosing the packaging wisely can help reduce the weight and hence the effective cost.
Dimensional Weight: Dimensional weight reflects the package's density, that is, the amount of space a package occupies concerning its actual weight. There are several ways to reduce dimensional weight, too, further saving shipping costs.
Packing: Effective packing can reduce the cost to a great extent as it can reduce the total weight of the parcel while protecting the items inside.
FAQs on FedEx One Day Delivery
Can you request FedEx to deliver a certain day?
FedEx priority overnight delivery facility allows you to request packages to be delivered on the very next business day. You can pick up packages on your schedule at convenient locations to your workplace or residence. If you make your request before midnight of the scheduled date of delivery, your parcel will be available for pick up the next day.
How fast does FedEx ship?
FedEx Same Day City Standard: Arrives within 4 hours of pickup (up to 45 miles). Mon.–Fri. 7 a.m.–8 p.m. Available within select U.S. metro areas. Delivery is available between selected ZIP codes in each market. FedEx Same Day City Economy: Arrives by 5 p.m. on the same day you schedule the shipment (up to 45 miles). Mon.–Fri. 7 a.m.–5 p.m.
When do I opt for next day freight services with FedEx?
If you want shipment of any package that weighs more than 150 lbs., you might be safe to opt for FedEx next-day freight services.
Can letters be shipped overnight?
FedEx also allows the overnight shipment of letters. The three delivery options (early morning, mid-morning, and afternoon deliveries) are also available for shipping letters overnight. You need to pack the letter in an envelope with a proper shipping label.
Is One Day Shipping, Overnight Shipping, and Same Day Delivery the same thing?
These terms more or less mean the same, all referring to urgent deliveries. But while one-day and overnight shipping are interchangeable terms meaning that the parcel will be delivered within the next business day, with same-day shipping, a package can be delivered on the same day it's handed to FedEx.
There are several reasons why FedEx is listed among the world's top courier service companies. Catering efficiently to the urgent needs of the customers is one of the reasons. Shipping time-sensitive parcels with the FedEx One Day Delivery service is one of the fastest ways to send your urgent packages across borders. All you need to do is to keep an eye on the shipping conditions, and FedEx will surely take care of the rest. Enjoy fast couriering to any location with FedEx!!