FedEx One Day Shipping: Need urgent dispatching of goods on the very next business day? FedEx meets your deadline with their one-day shipping facility. 
Couriering has become an indispensable part of our modern-day lifestyle. Starting from sending official papers to personal goods to a remote address, we require a reliable and efficient delivery service. In our fast-moving lifestyle, we often find ourselves in situations when we need urgent delivery of materials. Suppose, staying in a faraway city; you remember your mother's birthday just the day before. 
Or, your boss has assigned you a couriering task to some client, and you are just one day prior to your deadline. Under such circumstances, overnight delivery becomes a priority as you can't afford to spare a day in between. Only a delivery service provider that is capable of shipping packages within a day can solve your problem.
The FedEx One Day Shipping & overnight delivery model: Meeting your deadline at light speed!!
Running closer to a tight deadline that demands next day delivery? FedEx has got you covered with their one-day shipping facility. If you need to get your package shipped on the very next business day, you must opt for FedEx overnight shipping services. However, for shipments larger than 150 lbs., you can go for FedEx next-day freight services. Here are a few facts you need to know about the priority shipping procedure.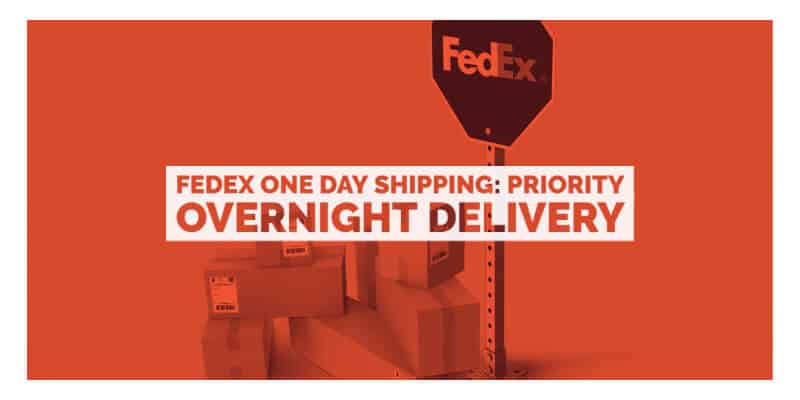 Take a look at the FedEx overnight delivery model to make the right call in an emergency hour:
FedEx First Overnight: It is not available for all the locations. You need to check your zip code at FedEx website to see if you can avail FedEx First Overnight. 
FedEx Priority Overnight: Expect your package to reach its destination by 10:30 a.m. in case of most U.S. addresses; by noon, 4:30 p.m., or 5 p.m. to some rural or remote areas on the next business day. In case of delivery on Saturdays, your package will arrive by noon, 1:30 p.m., or 4:30 p.m.
FedEx Standard Overnight: Your package arrives on the next business day around 3 p.m. to most U.S. addresses, by 4:30 p.m. to rural areas and by 8 p.m. to residences.
Knowing the entire delivery pattern, you get a comprehensive idea of how the FedEx overnight delivery process works. Accordingly, you can opt for an overnight delivery service at the right time. Having full clarity of their urgent shipping model, you can anticipate the delivery schedule of your package.
Read: How Late Does FedEx Deliver Packages? – Delivery Hours
Why FedEx?
Now we come to the most critical and awaited question – Why choose FedEx shipping services for the fastest delivery? What exclusive quality of service has FedEx to offer its customers that sets it apart from other carrier services? To answer your question without a second thought: it is the reliability factor that makes a big difference.
The goodwill associated with the name and brand of a service provider has to be earned over time through unwavering dedication and fulfillment of services towards the consumer. Having said this, FedEx has consistently been proving their commitment towards extending the best reliable services to customers. Besides the trust and reliability, they have also excelled in providing the matchless convenience of fastest delivery, worldwide.  
The original name of FedEx was Federal Express. It retained its primary name from 1973 till 2000, when onwards it changed into FedEx Express. Currently continuing with its latter name, the company has created a landmark in pioneering "overnight shipping services." The eminent courier service provider has introduced a smart tracking facility to bolster its superfast delivery model further.  
The transparent tracking system of FedEx allows you to track your packages and get real-time updates on package location. Later on, other vying courier service providers have shown endeavors in aping and implementing such a tracking feature. But concerning fast and hassle-free shipping services and reliable, customer-friendly facilities, FedEx has made a significant difference in the users' minds.  
After the fastest shipping, customers deem tracking convenience to be the second-best quality of a courier service provider. FedEx presents a peerless tracking tool providing you with end-to-end visibility into the movement of your goods. This 1000% tracking convenience speaks volumes about FedEx's goodwill and reliability. 
FAQs on FedEx One Day Delivery
Can you request FedEx to deliver a certain day?
FedEx priority overnight delivery facility allows you to request packages to be delivered on the very next business day. You can pick up packages on your schedule at convenient locations to your workplace or residence. If you make your request before midnight of the scheduled date of delivery, your parcel will be available for pick up the next day.
How fast does FedEx ship?
FedEx Same Day City Standard: Arrives within 4 hours of pickup (up to 45 miles). Mon.–Fri. 7 a.m.–8 p.m. Available within select U.S. metro areas. Delivery is available between selected ZIP codes in each market. FedEx Same Day City Economy: Arrives by 5 p.m. on the same day you schedule the shipment (up to 45 miles). Mon.–Fri. 7 a.m.–5 p.m.
When do I opt for next day freight services with FedEx?
If you want shipment of any package that weighs more than 150 lbs., you might be safe to opt for FedEx next-day freight services.
For the fastest shipping of packages in the furthest locations, FedEx is the most reliable courier service to ensure a light-speed doorstep delivery. With FedEx, you know your package is safe, easily traceable, and on its way to its destination. So, whenever you need a nest-business-day-delivery of any package, FedEx meets your exigency with full power and efficiency. Enjoy fast couriering to any location with FedEx!!