Did you lose the FedEx package? Most of the packages shipped through FedEx make it to their destinations. Yet on some rare occasions, your parcel might get lost. If this happens, try not to panic; instead, be a little proactive and proceed methodically.
FedEx allows you to file a claim for your missing shipments. Plus, it is very fast in resolving your claim. Keep all your package related information as FedEx might ask to see them.
Step 1: Complete the Online Claim form
This is the first step towards filling your lost package claim. Visit the official website of FedEx. Go to the "Customer Support" section. Then, click on the "Start a Claim" button. You will be directed to a new page.
Enter your tracking or PRO number here for the lost package. Then, select the "Claim Type" from the drop-down menu. In the case of missing parcels, choose the "Shipment Not Received" option. Then, click on "Continue".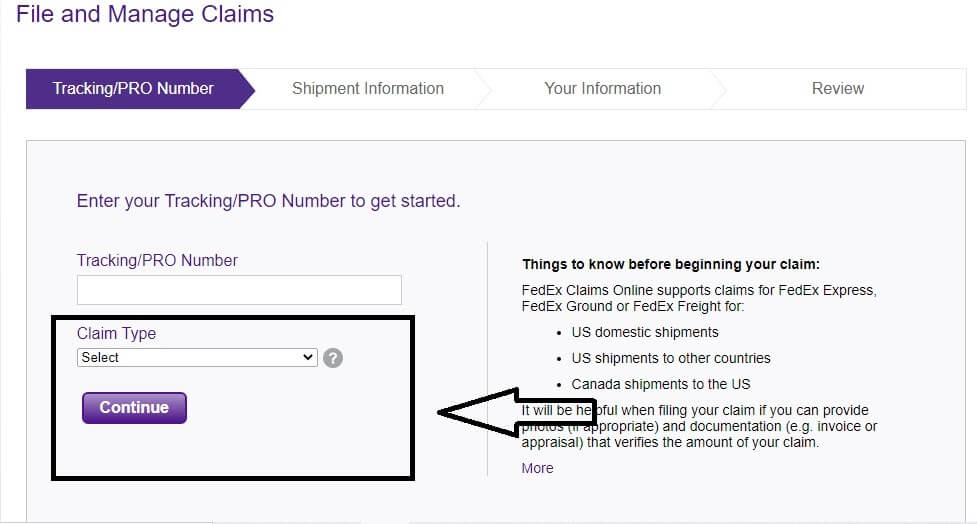 Step 2: Add Supporting Documentation
Now you will have to provide the documents in support of your claim. You will have to drag and drop your documents from the computer to finish this process.
Supporting documentation includes a serial number of the missing merchandise, a copy of the invoice, final confirmation of the order, and proof of payment. Once you upload all the required documents, move on to the next step.
Step 3: Submit Your Online Claim Form
Before submitting your claim form, make sure that you have entered everything correctly. Review your information and see if you have attached all the required documents for your missing shipment. Then, submit the claim form. The case no is important so note it down. 
Step 4: Schedule an Inspection
You should keep the documents clean for the inspection of FedEx.  
Step 5: Track the Status of Your Claim
Requesting email updates will help you to track the status of the claim. In case you are not comfortable with the above method, there are two other methods to file your claim for your lost shipment.
Alternative Methods for Recovering Fedex Lost Packages:
Send Written Claims:
If you are unable to proceed with the online filing, you can do it offline. Send your written claims and your supporting documentation via postal service or through fax to the following address:
FedEx Cargo Claims Department
P.O. Box 256
Pittsburgh, PA 15230
Fax: 1.877.229.4766
In case of fax, FedEx will send a confirmation letter to you via return fax.
Call Customer Service:
You need to acquire the case number by calling customer service at 1 800 463 3339 Also, you will have to submit your supporting documents for your lost merchandise. You can complete this process by fax or mail.
It is disheartening when your shipment goes missing. Yet, it is very important to maintain your cool during such a crisis. And if you ordered your package via FedEx, there is little to worry about. They have a pro-active method of filing your claim for lost packages and a speedy way to resolve your claim. 
Using any of the above methods, you can easily track your lost shipment or be reimbursed for your missing package. After all, no one wants to make their customer unhappy!
Just keep your calm, work through the proper channels, and help yourself out of the crisis. That's the best way out of it.
FAQs:
Does FedEx refund for lost packages?
Yes, but FedEx refunds are provided only upon the shipper's request. You, as a customer, cannot claim a refund from FedEx. You will have to contact the concerned person. And if they agree to a refund, you might get it.
What to do if FedEx says package delivered but you didn't receive?
In such a case, contact FedEx immediately. This will help to trace the driver delivering it and see if he can remember anything. While doing this, have your tracking number ready. That person will be able to file a claim on the missing shipment and ask FedEx to resolve the issue. If it's urgent, they may also ship a replacement while FedEx gets it resolved.
How long does FedEx take to find a lost package?
FedEx usually takes five to seven business days to resolve a claim. A sender or receiver has up to nine months to file a claim for a lost package. However, it depends on a number of other factors as well. So, it is better to keep track of your claim and be regularly updated about the progress.
What happens if FedEx delivers your package to the wrong address?
This might happen if you changed your address but forgot to notify the courier company of the new address. Or, perhaps you have changed the address, after ordering your package. Then, there is a chance that your package might get delivered to your old address. But if that's not the case, then it might have been wrongly delivered to another address. It can happen because of miswritten information on the shipping level. This might be an honest mistake, and you can contact the courier company to resolve the issue.