FedEx is accounted to cover about 15 million shipments every day in more than 200 countries all across the globe. FedEx Home Pickup service is much known for its time-sensitive feature. Along with sophisticated equipment like a digital photo, laser printers, desktop access, image scanner, and adobe design software, FedEx persuades all the corporate customers and business owners to make swift yet reliable shipping processes with them. 
The international company FedEx interacts all across the nation and abroad. Available for all over 24 hours so that you can pick up anytime at a suitable place. Moreover, it offers controls for holiday deliveries. FedEx allows you to know about the location of the package.  
FedEx pickups are the feature that allows the provider to pick up your shipment from the storehouse or home at a predefined time and date. FedEx will arrive at your site to pick up your parcel. You can plan and pack your shipments beforehand the FedEx truck arrives at your spot. 
Types of Fedex Home Pickups:
On-Call (FedEx Express):  Schedules pickup on the same day or the next business day. 
On-Call (FedEx Ground):  Schedule same-day or even to two weeks in advance
On-Call (FedEx Freight): Schedule same-day or even to two weeks in advance
Return On-Call (FedEx Express):  It is for the recipient where they can schedule on-call pickups to return to the shippers
Return On-Call (FedEx Ground):  It is for the recipient where they can schedule on-call pickups too the shippers
Regular Stop (FedEx Express): For shippers with daily pickup schedules
Regular Stop (FedEx Ground): For Frequent shippers
Regular Stop (FedEx Freight): For shippers with daily pickup schedules
The Available Pickup and Drop-Off Options that FedEx Offers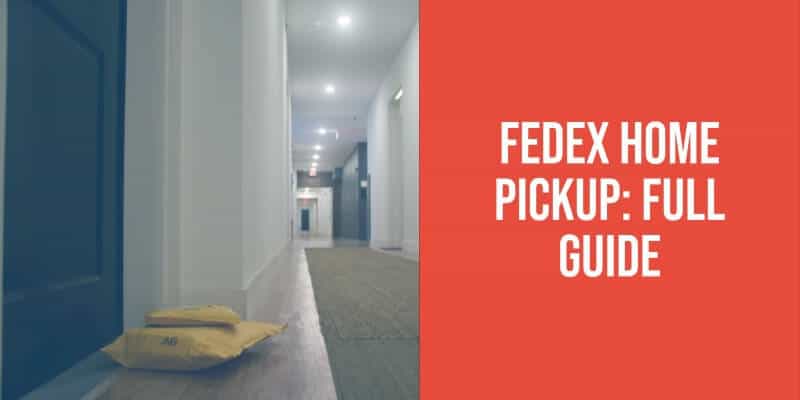 ONE TIME PICK
One can schedule online a relevant time location of pickup. FedEx will reach the location depending on the schedule. 
RECURRING FEDEX PICKUP
If you are making shipments regularly, this service will be a smart option for you. It will also offer a free express service and a time savior substitute doe those who are making routine shipping. 
DROPOFF AT FEDEX LOCATION
Drop-off you're the shipments anywhere to FedEx drop boxes opened for 24X7.
What about the payment procedure? Well, the payment selection is quite simple and livable. You can either choose to pay through cash or credit card. But there are certain rules for the payment process also. A government-issued photo ID is always expected at the time of payment. 
How to Do a Home Pickup?
You can do a FedEx home pickup by following these simple instructions given below.
STEP 1: Schedule a pickup while generating a label with FedEx Ship Manager
Plan a pickup at the time of labeling with FedEx Ship Manager. If you do not have an account, then you need to make one. It's easy and free. Or else, just log in to the existing account. Then, generate a shipping label. You need to complete the pickup request while making the label.
Now, you have to choose the shipping menu from "fedex.com navigation". Select shipment from the drop-down menu and enter all the necessary details. You can also edit the options in case it needs to be. Now select pickup or dropoff options accordingly. 
STEP 2: Schedule a new pickup without building a label
From "fedex.com navigation," you have to select the shipping menu and manage pickup options from the drop-down button. There are various scheduling options available from where you can choose the most preferable one. 
FedEx Express Pickup: This applies a charge for FedEx Express Pickup. It needs a request through fedex.com and FedEx Customer Service. 
FedEx Ground Pickup: This service provides a pickup service only on request and for an additional charge. 
FedEx Express FreigReturnup: Select this option when you are shopping for more than 150 pounds. FedEx accepts a package for pickup that fluctuates according to your location and destination of the package. Domestic shipment should weigh less than 151lbs through FedEx Ground or FedEx Express. 
STEP 3: Edit previously scheduled pickup with shipment
You have to select "use an already scheduled pickup at my location". It will display the scheduled selected service. Click on the underline confirmation number to get all the details about the pickups. Make necessary changes to the home pickup. Save changes and submit.
Various Features Of FedEx Home Pickup
FedEx Door Tag system helps you to notice that they visited when you are not in the home. This feature helps you to remind if you're missing any pickups. 
For many reasons, the business owner sometimes requires a pickup on Saturday. FedEx offers pickups on Saturday within the US and overseas also. 
FedEx makes shipping much easier with a liftgate pickup service. FedEx brings its device to raise shipments from ground level to their truck. This way, they can easily manage their packages. 
Can FedEx Pick Up From My Home?
Yes, FedEx can pick up your package from your home. You have to create an account or log in to an already existing account. Create a shipping label within it. Enter all the required details and complete the sections. Once done, FedEx will reach the given destination on time to pick up the package.
What does FedEx charge for home pickup?
Home pickup does not charge anything with FedEx freight. With FedEx express, it charges for Return: $4 per package. Next-Day: $4 per package, Future day: $4 per package, Same day: $4 per package.
How can I start FedEx pickup?
There are certain regulations that FedEx follows. They only pick up those shipments with the correct FedEx account number. So, it is essential to get the number before starting anything with FedEx.
Final Thoughts on Fedex Home Pickup:
FedEx Home Pickup services are useful for helping your business to reach a wider range of audiences. Just follow the proper steps and leave the rest to these expert services. If you have any query, then feel free to ask their customer services. They will be more than happy to help you out!