In the shipping and logistics business, companies consider various factors like shipping, costs, and customer experience. When it comes to shipping, cost, dependability, and value are taken into consideration. However, companies should also think about what's going wrong in their business. Imagine, one fine early morning, you ordered your laptop, and you receive a FedEx damaged package.
With massive excitement, you open the box, but those substantial cracks break your heart. This is almost the daily stories of many FedEx users. Most of the time, content is broken, lost, or dented.
You'll call the customer care and try to find a resolution for your damaged package. However, you don't have to struggle with the FedEx damaged package much. FedEx offers coverage on insured packages. What is the claim and refund process?
About FedEx Shipping Insurance 
FedEx has facilities to assist you with damaged packages. The 100$ (tentative) is the basic cost of the FedEx insurance. However, if the package's value is higher, you can also consider the other additional insurance packages.
There are less chances of package loss compared to damaged items. Most of the time, damaged items are common. When you are shipping with FedEx, you should rest assured of their shipping insurance packages. The ''declared value'' is the key to FedEx shipping insurance. 
Now, let's know the comprehensive guide to claiming the process of FedEx's damaged package.
What Is The FedEx Damaged Package Claim Process?
Start With Online Claim
You have to visit the authorized website of FedEx. Search the option ''Start A Claim'' and tap on it. Now, you have to enter your tracking or PRO number. At last, select the claim type and hit the ''Continue'' button. Now, you have to keep entering the required information in the online claim form.
Gather Supporting Documents For Damaged FedEx Damaged Package
When filing the claim process, you have to enter some supporting documents. It's easy, and you can directly upload them from your computer. Following are the supporting documents:
Scanned Printout of FedEx Ground Pickup Record, FedEx US Airbill, or FedEx Ship Manager.
Appropriate photographs of your damaged package.
Serial number of the merchandise
You also need documentation proof while filing the claim. For example- a copy of your package invoice, copy or receipt, receipt of repair invoice, or non-repair statement.
Note: Documentation is not required if the declared value of your package is less than $100. 
Submitting Your Online Claim Form
Now, it's time to review all the supporting documents and receipts. Remember, you cannot make changes once the online claim form is supported. Therefore, consider all the information and submit your claim form. If you want, you can also print your online claim form. 
Inspection Of Damaged Package
FedEx customer support team contacts you within a couple of hours after receiving your online claim form. FedEx only inspects if the package is fragile or quite valuable. It is highly recommended to keep the damaged product safe until you receive a refund or replacement.
If you are using FedEx Ground in the US or FedEx Express, you can conduct your own inspection if the declared values are less than $1000 and higher than $100. You need to download the inspection form by contacting FedEx customer care. 
Once the whole process is completed, you have to attach or upload the pictures of your shipment, including the inspection report. 
Checking The Status Of Your Online Claim
Now, you'll receive updates on your registered email address and notification on your number. You should keep tracking the status of your claim on the FedEx official website.
How To Avoid Delays In Compensation Of Your Damaged FedEx Damaged Package?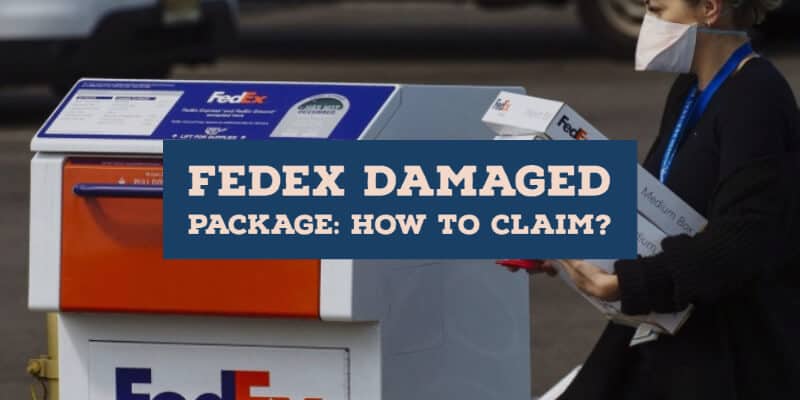 Declared Values Should Be Appropriate 
FedEx insurance package protects your lost, stolen, and damaged package up to a value of $100. However, if the value exceeds the limits (100$), you have to declare the right value. FedEx provides maximum liability 100$ of lost or damaged packages. 
Therefore, you have to provide the right value of your FedEx damaged package. In case you fail in declaring the appropriate values while submitting the online claim form for damaged packages.
Pack The Damaged Package Appropriately
FedEx is one of the finest shipping and logistics companies across the globe. This company packs all the packages attentively by FedEx employees. However, FedEx has the freedom to reject the package or shipment if it doesn't follow the packing guidelines. 
FedEx provides different guides to pack your product in the right way. For example- if you are packing your laptop, make sure the screen is face-down. 
The best part is FedEx also provides complimentary evaluation, design, and package testing service to avoid damaged product shipment. 
Share A Refund automatically detects the problems and takes necessary actions quickly. Share A Refund automatically creates essential documents, sends notifications, and directly files claims with FedEx. 
FAQs on FedEx Damaged Package
Will FedEx Cover Consequential Losses?
No, FedEx doesn't cover consequential losses according to their strict terms and conditions.
Can I Get A Refund? My Package Was Late Or Damaged?
FedEx ensures that your package reaches your doorstep before the arrival time. However, if the package is even late for a single minute, FedEx directly applies the Money Back Guarantee Policy.
How Do Declare The Values Before Shipment?
Declared value and the transaction value is the same. For example- you are importing two iPhones, each valued $700. The total value you have to declare is $1400. 
Claiming for FedEx's damaged package is a time-consuming and complicated process. Never skip or overlook any important step to avoid delays in compensation. Always use Share A Refund service to prevent errors during the online claim process.