With thousands of postal services all across the US, postal services are regarded as the most trusted shipping carriers, trusted by thousands of individuals all across the US. USPS has recently reported revenue of $71.1 billion in the year 2019. 
United States Postal Services has now become one of the most fundamental structures of this country. Shipping both domestically and internationally is much easier with postal services.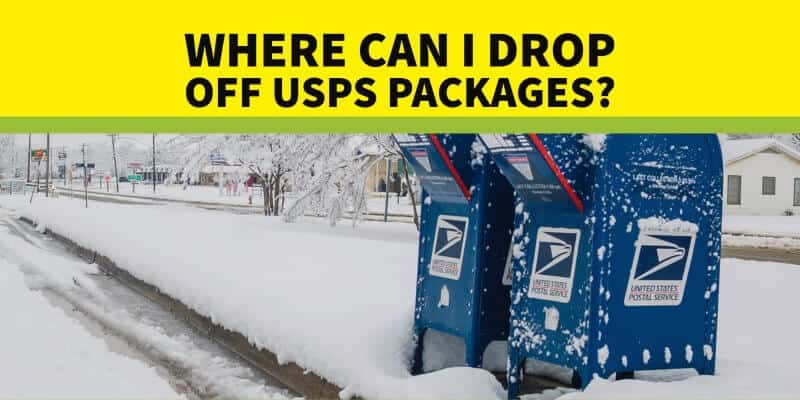 Are you looking for a way where you can drop off USPS Packages? Here are complete details of what should be done and what should not be. This guide will help you get complete details about dropping off USPS Packages. 
To make the whole shipping process much easier, USPS offers numerous drop-off locations all across the nation.
Let's now have a look at all of them.
Where to Drop Off USPS Packages?
1. US POST OFFICES
Post offices around the nation offer an array of services, including drop-off services. There are over 30,000 post offices within the US. Each of them comes with a drop-off facility. If you are willing to send your mail or package via USPS, this process will be convenient. 
Now the question arises: how to find the nearest post office? Well, you can easily get access to your nearby USPS with the help of their official website. Type some of your basic details along with the preferred radius (1 to 100 miles). 
All the convenient results, timing, and parking descriptions will appear on your screen. Choose the postal office nearby that suits all your needs.
Some of the other services that the US Post Office offers are like:
● International Priority Airmail.
● Priority Mail Regional Rate Boxes.
● Priority Mail International Flat Rate
● Priority Mail Express Flat Rate and so on.
2. USPS Distribution Center
The network distribution center is the place where parcels are sorted accordingly. This local place is not open to the public or retailers. Hence, you will not be able to get drop-off facilities from here.
Mails and parcels are processed from these distribution centers. After that, they are sent to sectional centers for shipping located in designated regional areas. So you can't drop off USPS packages here.
3. US Mail Box
USPS Mailboxes are quite standard all across the nation. The boxes are blue and found either in the lobby drop-off slots or on the building mail chutes. There are certain restrictions on what you can drop in the USPS mailbox. Here are lists of all those that you are not able to leave in the US Post Mailbox:
● International or Domestic Package that weights over 13oz
● Any international or domestic package that does not have proper custom declarations will not be submitted to the mailbox.
If you do not follow any of the above-mentioned points at the time of the USPS drop-off location, then they will return your parcel. It is recommended to take those things out at the counter as Postal Services strictly follows their rules. 
Where to Find the Nearest USPS Mailbox? 
You can get all the details about the nearest United States Postal Service Mailbox by clicking your location on the official USPS Website. Select the location type and enter all other details, including the ZIP Code, City Name, State Name, and more. Also, choose the radius of the postal office within 1 to 100 miles. 
All the relevant results will pop up on your screen, along with their timing and other services. People find this to be the most reliable and hassle-free way to get USPS drop-off services.
4. Contract Postal Units and Kiosks
There are self-drop-off services in shopping malls and post offices. Kiosks will help to print the shipping labels. All you have to do is to bring your package, properly tape them, fix the shipping label to it, and drop it in Kiosk. Contract Postal Units also provide an array of services without any extra cost.
Make the Process of United States Postal Service Easier 
● Complete all the form-filling processes online. This will assist you in getting applicable and formatted labels. It is likely to make lesser mistakes in online forms rather than offline ones. This also makes the method of USPS drop-off much more understandable and faster. If necessary, you can also visit the post office anytime between 8.30 A.M. to 5.00 P.M. Make sure that you sign up for an easy shipping account to get access to all the USPS rates.
● It is important to make USPS manifest if you are planning for multiple shipments. The advantage that you will get from manifests is that they will provide a barcode at the time of shipping. This code will help to scan several packages.
FAQS:
What can I drop off at the USPS dropbox?
You can drop any packages that weigh less than 14 ounces in the dropbox. Yes, it should have custom declarations too. You can drop the package in a blue mailbox.
Where to drop off a USPS Package?
If you have a domestic collection label, then you can drop off your parcel in any USPS even without standing in a long line. You can also drop them in the mailbox and other mail drop slots. Some post offices also have a particular spot for drop-off.
Can I drop off USPS at UPS?
Yes, you can drop off USPS at UPS. They accept USPS parcels frequently, but there are no scans on the parcel until it reaches the USPS sort facility. 
To Wrap Up
Now, you understand all about the United States Postal Service drop-offs. 
Numerous organizations may schedule pick up of your parcel from your home. This may save a lot of your time and money too. Or else you can also schedule a day to get to the adjacent USPS drop-off location. 
If your package has a domestic label, then you can simply drop off the parcel at the USPS location. You do not have to wait in a long queue or waste time finding out where to drop off USPS packages. Even some postal offices have appointed a counter for prepaid packages too.