DHL is the most popular shipping company in the world. They offer different types of services globally. DHL, on the other hand, has some limits, when it comes to weekend delivery (particularly on Saturday).
You've done the right to land here if you've been wondering if DHL delivers on Saturdays. Read out this post and you will get your answer regarding weekend deliveries by DHL.
---
Does DHL Deliver On Weekends?
The main objective of this article is to answer an issue that numerous people have raised. The topic is whether DHL will deliver your packages on weekends. Due to the varying DHL delivery regulations on weekends, the solution to this question necessitates a lengthy explanation.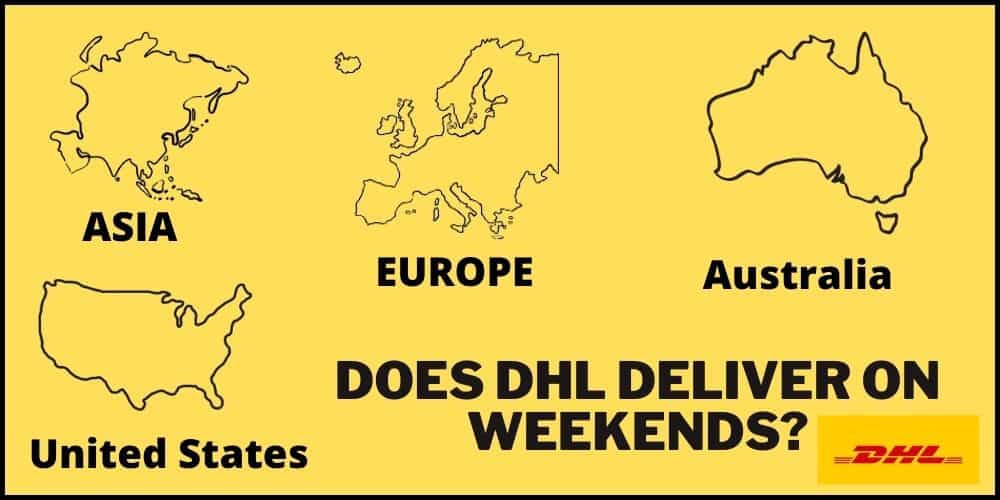 Residents of the United States
If you are from the United States, the answer is a definite no. In the United States, DHL does not deliver any packages on Saturdays or Sundays, except in the case of specific circumstances.

In the case of emergencies, you can request that DHL deliver your package on Saturday or Sunday. If you deem it necessary, DHL will deliver your package, but at a significantly greater cost.
Residents of Europe
When it comes to DHL's Saturday and Sunday delivery policy for consumers in Europe, the answer is yes, DHL does deliver on weekends, but there is a catch. If the consumer wants the package delivered on Saturday or Sunday, they must select that option when making their DHL package reservation.

If the consumer chooses DHL delivery on Saturday and Sunday, they will be charged an additional fee. Otherwise, delivery will take place on weekdays.

Please note that this weekend delivery option has one exception: Islands of the Wadden Sea in the Netherlands (Vlieland and Terschelling).
Residents of Australia
If you are from Australia, the same regulation applies as it does in the United States. If necessary, special requests for Saturday and Sunday delivery might be made.
For the residents of The Gulf
Weekends are Friday and Saturday in the Gulf countries. On Friday DHL does not deliver in the Gulf. On all other days, DHL collaborates with local post offices to provide deliveries.
For Asia
DHL provides Saturday and Sunday deliveries, as well as parcel collection, in Asia. If necessary, DHL will deliver on Asian public holidays.
---
Does DHL Deliver on Friday?
DHL delivery is generally only provided during regular business hours in the United States, Monday to Friday, 9 a.m. to 5 p.m. You can, however, schedule special deliveries for urgent shipments on weekends.
---
Does DHL Deliver on Saturday?
Yes, it's as simple as that!

On Saturdays, DHL offers delivery choices. DHL's usual delivery days in most European nations are Monday through Saturday.
However, if Saturday is not a normal delivery day in your area, you can use optional services. It's a worthy hint to call your nearest DHL office to discover what other services are existing.
---
Does DHL Deliver on Sunday?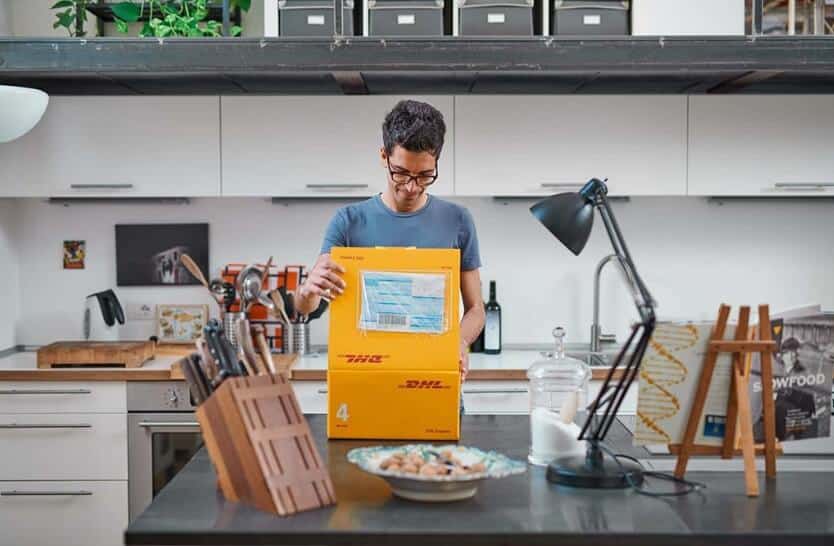 If you believe that DHL does not deliver on Sunday after reading it, you are both correct and incorrect, because its Same Day service delivers emergency packages 365 days a year, seven days a week.

If you need to send an important package, document, or other items quickly, DHL's Same Day service is an excellent option. So, even on a Sunday, your package arrives on the doorstep of the delivery address within a few hours.

Again, it is dependent on the locality. Sunday delivery is not available in the United States, however, it is conceivable in countries where Sunday is not a holiday, such as the United Arab Emirates.

DHL enlists the help of local post offices to deliver parcels, especially on Sundays. When an urgent delivery is required in certain countries, Sunday delivery can be arranged for an additional cost.

The majority of DHL weekend deliveries are made within limited hours, particularly in the mornings, compared to other days.

---
What DHL Weekend Delivery Service Can You Use?
DHL have plenty of services for their esteemed customers globally. The following are some of the most popular DHL courier services: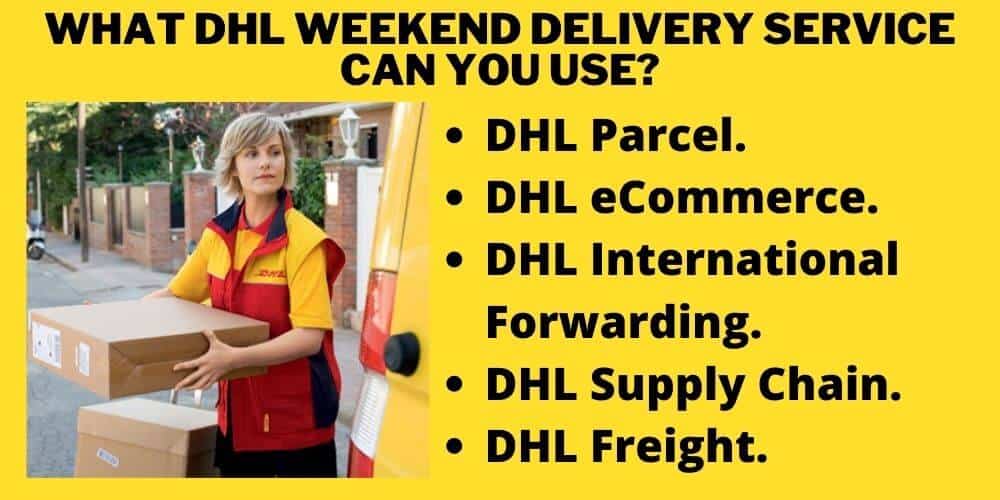 DHL Parcel.
DHL eCommerce.
DHL International Forwarding.
DHL Supply Chain.
DHL Freight.
Charges for all of these services are entirely depending on the location where they are delivered, and they may even be subject to additional charges. You can choose DHL Saturday Delivery for Saturday delivery, and only urgent deliveries are permitted on Sundays.
---
What are the Common DHL Weekend Delivery Hours?
Generally, DHL delivers from Monday to Friday from 9 AM to 5 PM. DHL's routine delivery operations run from Monday through Saturday throughout Europe.
Saturday DHL delivery timings mostly depend on the area (and country) from which you're sending and where you're delivering. On Sundays, DHL delivery times are the same. Delivery on that day is not allowed in many Christian countries.
However, in the Gulf, weekends are treated as ordinary working days, and deliveries are delivered during regular business hours. You can, however, request delivery at an additional cost in extraordinary situations.
They consider contacting early to ensure they can satisfy your needs if you believe you require immediate delivery although most stores will be closed. You're undoubtedly curious as to when your shipment will be delivered.
You can enter your tracking number and figure out when your package will be delivered on the DHL website's "tracking" section. You can also get details about your package delivery by calling the customer support number.
---
Does DHL Deliver on Holidays?
They deliver on most US holidays, but the cut-off dates are crucial, as they are with any courier. If you use DHL or are considering it, keep a note of the key holidays on the calendar so you can adequately plan and educate your clients about the deadlines.
---
1. Does DHL deliver on Saturday in the USA?
Unfortunately, the company does not provide weekend delivery in the United States, but you can arrange special deliveries on weekends for urgent deliveries. These can incur significant additional costs, however, they can be handy if you need to ship an item quickly.
2. Does DHL deliver on weekends in California?
Yes, it's as simple as that! On Saturdays, DHL offers delivery choices.
3. Does DHL Express deliver on weekends?
The answer is Yes, DHL's usual delivery days in most European countries are Monday through Saturday. DHL Express Malaysia delivers from 10:30 a.m. to 12:30 p.m. on Saturday. On the other hand, no deliveries are done on Sunday.
4. Does DHL Express deliver on Saturday UK?
DHL's usual delivery days in most European countries are Monday through Saturday. Monday through Friday, between the hours of 8:00 a.m. and 6:00 p.m., DHL delivers. Delivery times will vary depending on the size of the package and the delivery address.
5. Does DHL Express Deliver on Sundays UK?
If you want to offer your customers a weekend parcel delivery service, DHL now provides a Saturday delivery service as an optional service, but not a Sunday delivery service.
6. Does DHL work on Saturdays in Nigeria?
Except for holidays, DHL Nigeria works every day of the year. Monday – Friday, 8:00 a.m. to 8:00 p.m. are the company's working hours. 09:00 a.m. – 2:00 p.m. on Saturday and Sunday.
7. Does DHL deliver on Saturday in Germany?
Your urgent deliveries within Germany will also arrive on Saturdays with DHL Express.
8. Does DHL ship on Sunday Germany?
Despite an increase in orders due to the coronavirus shutdown, Germany's Ministry of Labor refused Deutsche Post's (DHL) request to make deliveries on Sundays.
9. What time does DHL stop delivering in Germany?
DHL Parcel UK ServicePoints are open seven days a week from 7 a.m. to 8 p.m. 7 a.m. to 4 p.m.on Saturdays. During public holidays, the service is unavailable.
10. Does DHL update tracking on weekends?
DHL updates tracking after every status check in a matter of minutes under typical circumstances. An electronic gadget, either from a DHL facility or from the field, generates this update.
11. Can I pick up a package from DHL before delivery?
DHL Parcel ServicePoints are POPular as well as super-convenient places where you can swiftly and simply pick up or drop off your shipment. Most DHL Lockers are open 24 hours a day. 
They will send you an e-mail or text you a distinctive pick-up ticket immediately after your parcel is safely in the locker if you've shipped it to a locker.
Within the next seven days, you can pick it up whenever it is convenient for you. It will be returned to the sender if you do not come to pick it up.
Conclusion:
It all boils down to whether or not DHL delivers on weekends. They send out millions of shipments every month worldwide. As a result, you can choose them without hesitation. Hopefully, you will have all of your questions answered after reading the post.