Shipping insurance is a service that will reimburse shippers a certain amount of funds (either total or partial depending on the insurance terms) if uncertainty is caused during transit.
Uncertainties mostly include items being damaged or stolen, and it is offered by the postal service that is being used to send the items. It is like insurance on goods and will not apply to the damage caused to inventory sitting in the warehouse.
You may also find helpful: Documents Required for International Shipping | What are Delivery Exceptions and How Should You Deal with Them?
---
Kinds of shipping insurance
There are two kinds of shipping insurance, one applicable from the buyer's side and one from the seller's side. They both are basically the same, the prime difference being the owner of the potential loss bearing.

In seller shipping insurance, items are considered the seller's responsibility as long as they are not delivered and is the most common form of shipping insurance out there. 

There are times when a buyer can add shipping insurance on the goods being purchased. It is common for all those who actively practice e-commerce business, and a small fee is deducted from the buyer during the purchase of goods.
---
Do I Need Shipping Insurance?
Shipping insurance is one of the most common forms of insurance being done by business people these days. There are certain types of items, which it is advisable to include under an insurance contract. They are discussed below: 
Designer items and antiques
When it comes to designer items, they are quite rare and losing one or any damage can potentially lead to a fortune. It is always important to get a sufficient amount of insurance based on the value of the goods.
International purchases
It is important to have insurance on items being shipped internationally. International shipping cannot take place overnight, and it means that there will be times when they will be sent to some cross-dock fulfillment center, and from there, they will be further sent to some retail FC. This change of hands can result in the loss of goods as items are being transshipped in bulk.
Electronic and fragile items
Art pieces and electronic items are the most delicate items that might be shipped from one place to another, domestically and even internationally. Since they are fragile, there can be damage or theft, even if handled with extra care. Shipping insurance on art pieces is mostly mandatory, which is done by the company itself. 
Shopping seasons
During certain seasonal festivals such as Christmas, Black Friday, etc., there are incidents when items get lost, stolen, or damaged quite frequently. During these periods, implementing shipping insurance becomes most important.
---
Benefits of Shipping Insurance
There are many different schools of thought talking about whether shipping insurance is required or not. It primarily depends on the kind of goods being sent. If they are too valuable and any damage will result in a serious financial loss, then it is advisable to opt for such insurance.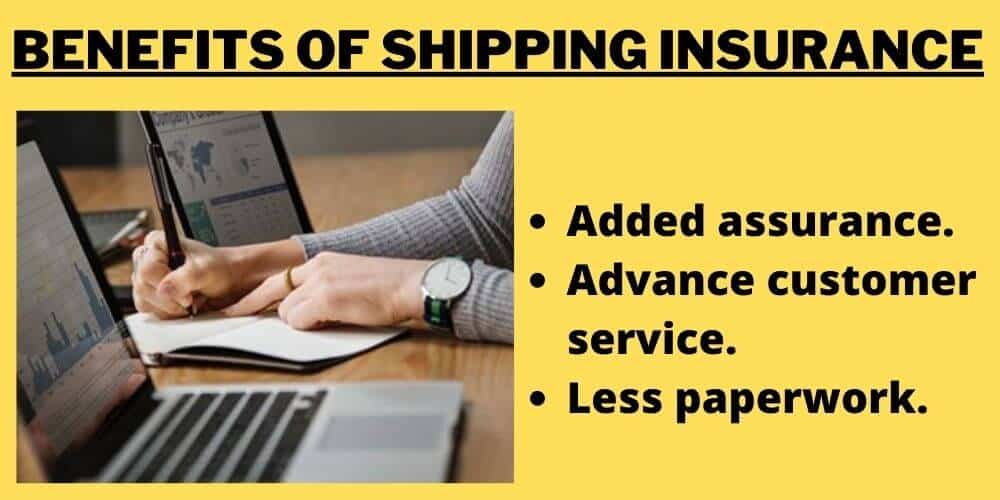 Added assurance
With shipping insurance in place, there is an assurance that any damage to the items eventually leading to financial loss is being covered by a third party. This is a massive relief for a business owner, and now they can focus on performing the other activities for running the company.
Advance customer service
The shipping insurance companies are legitimate, and one will get a wide range of packages from which they can choose. Alongside comes effective customer service that is tailored to suit the needs of new business owners as well.

As per a survey conducted on the experience of delivery service, almost 80% of consumers that had a bad experience from a shipping company have not used their services in future.
Less paperwork
Since everything is done online, there is the least requirement of any physical paperwork. The businesses involved in the shipping or delivery of goods daily will not have much time to fill in all the necessary information regarding the shipments. That is why the websites ask for the least information from the persons signing up for the insurance. 
---
How to operate shipping insurance?
Shipping insurance is very much like any other form of insurance done on home or travel. If a shipment is under an insurance agreement and is damaged for some reason, the insurance company will reimburse the financial losses to the owner of the insurance agreement. 
It is quite easy to operate shipping insurance as well. Now that everything is digitized, one can get their goods insurance from the comfort of their home by visiting the website online.
Certain necessary documents, including the authenticity of the insurance bearer, the exact description of the goods or contents if items are being shipped in a carton or pallet, needs to be provided. Furthermore, when there is loss or damage of goods, the bearer will need to revisit the same website and claim reimbursement.
Risks of not taking shipping insurance
Shipping without insurance to cover it leaves a business unprotected and open to potential losses that might happen if any damage is caused to the goods.
The entire expense of the item will never be covered through any other kind of reimbursement contract, provided that the carrier provides any further information on what happened with the goods. In short, shipping without insurance will leave the business in a vulnerable position.
Shipping insurance charges
Insurance is added to the shipments individually, and it is always around 1.5 – 4% of the net value of the item. There are other shipping options such as blanke shipping, where the insurance will cover all the deliverables together, which are done within a certain period. 
---
Frequently Asked Questions (FAQs)
1. Which company provides insurance with shipments?
There are many private shipping companies out there. However, it is always better to go ahead with some of the most trusted ones. Worthy mention can be made of government-based companies such as USPS.
I hope you got the answer if you were wondering about "do I need shipping insurance?", if you still have any confusion, let me know in the comment box.