DHL and FedEx are two renowned names when it comes to courier service. Both companies have long-earned reputations for their seamless services, domestically and internationally. 
Yet it is still much of a debate when we compare these companies with each other. Each of them having its plus points or advantages makes it even more confusing. 
In this article, we will have a side by side comparison of DHL vs FedEx for your convenience. So you will be able to understand which company is better for you.
Before jumping straight into the comparison, let's just have a quick overview of these two companies to understand better.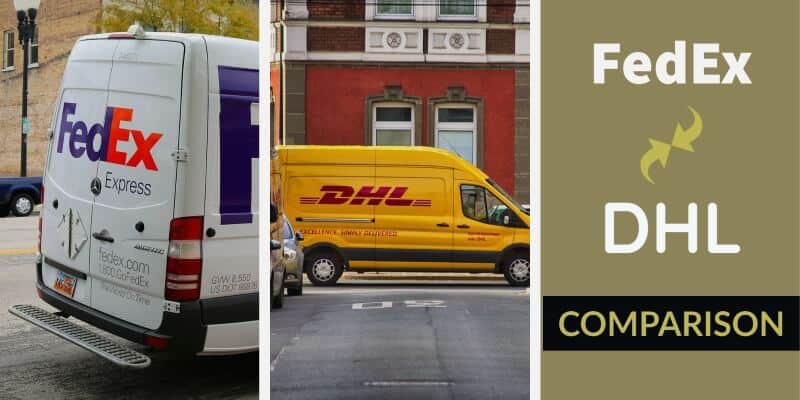 DHL vs FedEx: Overview
DHL 
Founded in San Francisco in, 1969 DHL is an American – German courier company having its headquarter in Germany.
Delivering over 200 countries worldwide, DHL is a famous name that delivers nearly 1.3 billion packages yearly. DHL Express is their most reliable service for international shipments.
FedEx
Founded in Arkansas in, 1971 FedEx is an American Multinational company having its head-quarter in Memphis, United States. Shortened from "Federal Express," FedEx ships an average of 3.4 million packages daily.
FedEx is especially acknowledged for its overnight shipping service. FedEx is one of the top contractors of the U.S. government. 
Now that we have learned briefly about the companies let's point out the most critical factors and see a side-by-side comparison. 
DHL vs FedEx: Critical Factors
Shipping Service and Delivery
DHL vs FedEx, from the point of shipping services both the companies are famous for their domestic and international service. Take a look at the below table comprising different services and the time of deliveries.
| | |
| --- | --- |
| Service type | Time of delivery |
| DHL same day Jetline | Offers the fastest possible delivery using flight |
| DHL same day Sprintline | Offers the fastest possible delivery using vehicles |
| DHL Express 9:00, 10:30, 12:00 | Offers next day delivery at the scheduled time |
| DHL Express Worldwide | Offers next day delivery at selected international location |
In FedEx, shipping services include-
| | |
| --- | --- |
| Service type | Time of delivery |
| FedEx International Next flight | Offers delivery in 24 hours (FedEx One Day Shipping) using next flight out |
| FedEx International First | Offers delivery next morning |
| FedEx International Priority | Offers delivery in 1-3 business days |
| FedEx International economy | Offers delivery within 5 business days |
Also, there are FedEx Priority, FedEx Ground Delivery, FedEx Home Delivery service available. 
Both companies offer a wide variety of shipping services. However, for international shipping, DHL would be a more reliable option as they have a strong global presence covering countries in Asia, Europe, Africa, and U.S. FedEx is usually a better option for shipping and delivering in the U.S. Yet it is known for faster delivery service.
DHL vs FedEx: Shipping Costs & Discounts
Shipping cost is a really important factor to consider while shipping items domestically or internationally.
Both companies are renowned for offering cost-effective shipping services. In the same day delivery and priority products, both of them charge higher than usual. However, the study shows that DHL offers a relatively cheaper shipping cost worldwide.
Thinking of their valuable customers, both the companies offer discounts on their shipping charges.
FedEx has its Save Now Program, where you can get up to 16% shipping discount on selective service FedEx Priority Overnight, FedEx International Priority, FedEx International Economy, and some more.
DHL also has a similar kind of reward program where they offer up to 35% off shipments considering some factors.
Insurance package
As these two companies ship millions of products every day, they have to provide a reliable service. They are obviously successful at getting their customers' trust. Both the companies have included insurance package in their service.
They offer up to $ 100 of insurance for the shipment. Both of them also have flat rate insurance options from $100 to $300. There is also a refund service available if there is any service failure in both the companies. However, DHL makes the claims a bit complex for the customers.
Customer Service
Company- customer relationship is a very important thing to run any business and maintain its goodwill. Therefore each company, irrespective of being small or large, looks after its client's problems and benefits.
Likewise, DHL and FedEx both offer customer service for their products. FedEx offers in-person assistance in their FedEx locations or Mailing centers. FedEx generally solves issues like the wrong delivery within 30 days. DHL eCommerce applies to eCommerce shipping needs. 
Membership Program
Both DHL and FedEx come up with member programs. Here the customers are benefitted by different offers and discounts. DHL bonus Program allows the customers to collect valuable points and redeem those points for postage or a shopping coupon.
On the other hand, the FedEx Advantage program lets the customers get a discount of up to 16% on select FedEx Express U.S service, up to 15% on select FedEx express International services, up to 12% on select FedEx Ground and FedEx Home Delivery Service and many more.
These are the most significant factors needed to be discussed. Now, let's look at quickly over some more facts.
Additional facts
DHL
Door to door delivery
No pick-up charge
Air, sea, and ground delivery option
Less domestic option
Occasional extra charges
 FedEx
Highly efficient tracking service
Shipping packages up to 150lbs
Weekend deliveries
Smooth refund policy
More expensive
Fewer pick-up and drop- off locations available
Conclusion
As promised above, we have discussed all the factors and projected a side by side comparison between DHL and FedEx. As we saw, both of the companies have their unique plans and market strategies.
Therefore both of them have a large scale of customers all over the world. Comparing all the necessary facts, we can sum up that FedEx is more reliable for U.S shipments, whereas DHL has a more global appearance.
Where we can go with DHL for a more cost-effective option, FedEx will provide a superfast experience. So, it is up to our needs and priorities. According to that, you can choose any of the shipping services. Hope you are satisfied with our article on DHL vs. FedEx. Keep visiting the page for more useful topics.