DHL Global Mail is a shipping method offered by the world's largest shipping and logistics company, Deutsche, in collaboration with DHL Express. DHL Global Mail is specially designed for customers to bulk-ship multiple packages internationally. With Global Mail, a person can post their international shipments to 220 countries worldwide at a very affordable price.
If you are someone who regularly ships packages and need a cost-effective way to ship multiple packages all at once, then with its flexible shipping options, would be at your service. Especially if you own an online store that requires international shipping, DHL Global Mail can serve as a powerful tool to ship your products to customers all over the world.
So, in this article, we have tried to compile everything that you need to know about DHL Global Mail, starting with how it works and its benefits to usage conditions and finally how to get started with it.
---
How does DHL Global Mail work?
Let us first explore in a step-by-step process how DHL Global Mail works.

Step 1: Pack and address all the parcels which you want to ship through DHL Global Mail. Attach a Deutsche Post shipping label on each one of them. Pack all the small packages into a larger shipping box. 

Step 2: Ship this large package directly to Deutsche Post International Mail Centre in Frankfurt, Germany, by using a Global Mail airway bill.

Step 3: Once Deutsche receives your shipping box, it unpacks it to sort out the smaller packages inside and ships them individually to their respective destinations around the world.

Step 4: On reaching the destination country, the packages are handed over to the local postal authority.

Step 5: The postal service then carries them off to the recipient's address.

The service utilizes the combined strength of Deutsche Post, DHL Express, and the vast international mailing network to reduce shipping time and effort, save your money and promote operational efficiency.
---
Benefits of DHL Global Mail
By now, you probably understood how DHL Global Mail serves to save your time, effort, and money to get your parcel shipped across the globe. And this, in turn, impacts your customers who return the favor by providing you with repeated business and great referrals.
So, if you want to reap the benefits of it as an online retailer, look below to know here all that the service has to offer.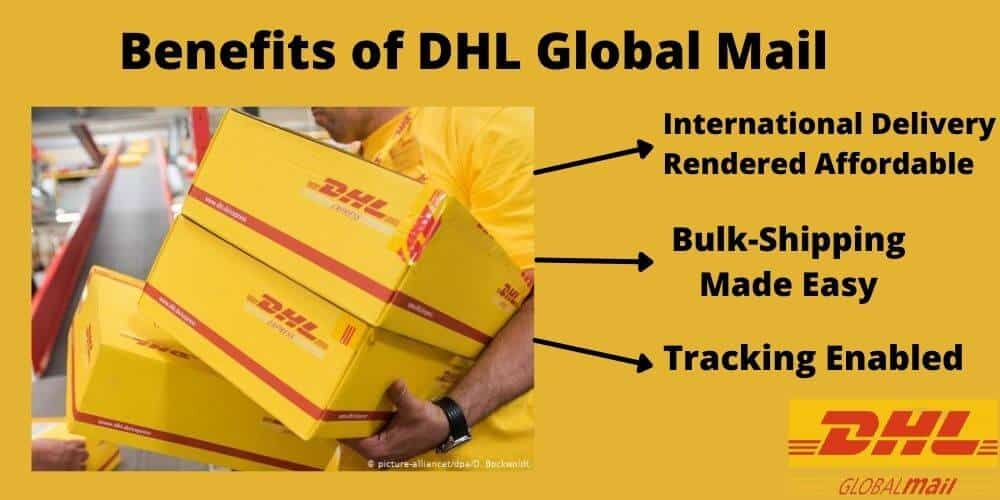 International Delivery Rendered Affordable
As an online retailer, you probably know the value of fast and reliable deliveries. Getting your products delivered quickly to your customer at quite an affordable rate is what Global Mail specializes in.

Check below to know how quickly it delivers your products to these countries:

Germany: 2 to 4 days
Europe: 3 to 6 days
USA & Canada: 5 to 9 days
Rest of the World: 6 to 13 days

Perhaps, it's true that DHL Global Mail isn't the fastest shipping service available on the market, and other companies are faster than this. But still, it is undeniable that DHL does offer great value for money with its low-cost bulk-shipping techniques.

The greatest advantage of it is that it simplifies the process of bulk shipping. It allows you to ship multiple packages to a different destination with just one large package and a single DHL airway bill.

E-commerce stores are most benefitted as they can send multiple packages addressed to different locations all at once and with the minimum cost and effort.

All they have to do is pack their small parcels in one large package and send them off to Deutsche to handle the process from thereon.

DHL Global Mail comes with its tracking services as well as increasing its reliability. Global Mail Tracking ensures that you can individually track the delivery status of all your packages as they are shipped across the world.

Also, packages that fail to reach their delivery locations are returned. Plus, DHL even compensates you monetarily in case they lose a tracked package. And even if you don't opt for its tracking services, they will still return your undelivered parcels. 
---
Conditions of Using DHL Global Mail
Now, to use DHL Global Mail, there are a few criteria that you need to fulfill. If you can meet the following conditions, you will be eligible to use DHL Global Mail: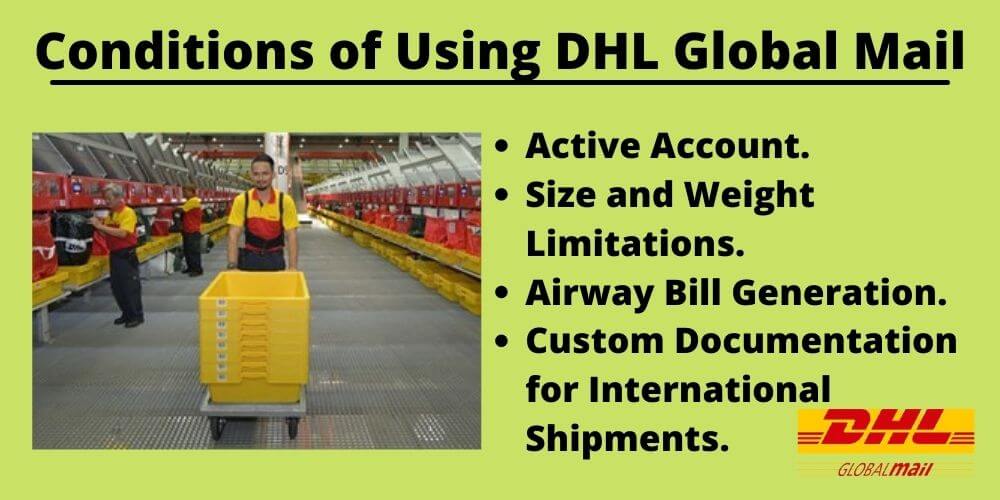 You must have an active account with both DHL Express and Deutsche Post. Once you set up your account, you will be allowed to use the services of DHL Global Mail.
Size and Weight Limitations
There are a few limitations regarding the size and weight of the parcels that you wish to ship with DHL Global Mail.

Maximum Weight: 2 kg
Minimum Dimension: 14 cm X 9 cm
Maximum Dimension: Length + Breadth + Height cannot be more than 90 cm. Single dimensions cannot exceed 60 cm.

It allows for fairly small packages and is mostly suitable for online stores that sell small, light-weight merchandise like books, clothes, jewelry, or personal care products.
Next, you need to generate one single DHL Express Airway Bill for your bulk shipment. The creation of the airway bill will depend on the weight of the large box.
Custom Documentation for International Shipments
You are required to use the correct documentation for international shipments. Your large box shipped to Frankfurt might not need to clear customs, but all your small parcels inside it will.

So, make sure that each of your packages contains all the necessary customs documentation required by the international countries where they are headed.
---
How to Get Started with DHL Global Mail?
Now that you know almost everything about DHL Global Mail, we come to the final tip of getting started with it. It's pretty easy! 

Step 1: Create an account with DHL Express and Deutsche Post.
Step 2: Generate your DHL GLOBAL MAIL label using your DHL booking tool. You can also get a pre-printed DHL Express waybill. 
Step 3: Get all your individual parcels ready and pack them together in a large box. 
Step 4: Attach the label to the large package you need to send directly to Deutsche Post.
Step 5: The DHL Express courier service will then pick up your package to be shipped to Frankfurt.

And then just wait and watch as DHL Global Mail takes care of your international shipments all at once.
Conclusion
DHL is constantly devising some methods to make the shipping faster and easier. And it takes the cake with the introduction of DHL Global Mail. There is a reason why several e-retailers over the world are embracing These services to grow their e-commerce business internationally. 
DHL Global Mail manages to take a huge burden off your shoulders with its affordable, fast, and reliable shipping services. You no longer need to sort and ship your international parcels individually. Hand them over all at once in bulk to DHL Express courier using the Global Mail, and rest assured that they will efficiently take care of everything else.