Deutsche post is one of the world's largest shipping and logistics companies, serving about 220 countries around the globe. Providing a range of national and International services, Deutsche Post subsidiaries list long and reliable.
Deutsche post serves as the parent company to many subsidiaries to enjoy mutual benefits and offer better services to their customers. 
Owning subsidiaries enables the Deutsche post to influence the companies that manufacture components essential for their production or offer services necessary for the smooth running of the parent company.
It also gives them tax benefits, diversified risks, and increased assets in the form of equipment or earnings. Subsidiaries can also limit the problems or financial losses encountered by the parent company and shield against lawsuits. 
---
Deutsche Post Subsidiaries
Let us now dig a little deeper into the Deutsche Post subsidiaries that make things easier for the company.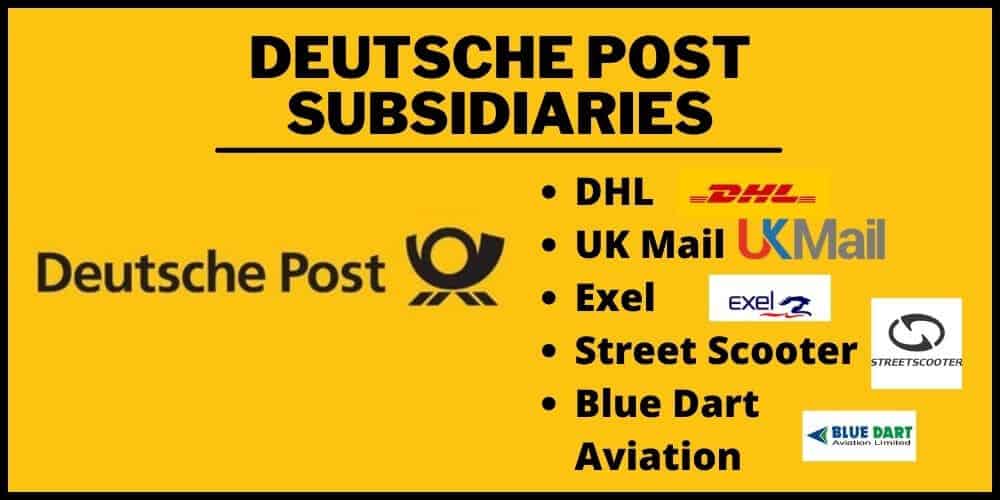 DHL is the best-known company working under the division of Deutsche Post. It provides international courier, package delivery, and express mail services. Founded in 1969 in San Francisco, USA, DHL has come a long way over the decades, expanding its services worldwide. Now, it is a prominent name among the top postal companies that earned its reputation through the trust of thousands of customers around the globe.

DHL provides a range of services to the customers, including shipping and logistics. It provides both domestic and international shipping services for air, ocean, rail, and road freights.

Plus, it provides some special services like Global Mail, Global Forwarding, etc., and policies like Return to Shipper, Parcel Tracking, etc., to serve the customers' specific needs. DHL also provides logistic services like warehouse solutions, transportation management, and distribution.

Moreover, several divisions like DHL Express, DHL E-commerce, DHL Supply Chains, etc., and industry sectors like automobiles, chemicals, engineering, manufacturing, etc., come together to provide the best possible services to its customers.
Formerly known as the Business Post, UK Mail is the trading name for DHL Parcel UK Limited working under the Deutsche post since 2016. As the name suggests, UK Mail is a mailing service company operating in the United Kingdom with its distribution networks delivering mails to local Royal Mail sorting offices.

Originating as a taxi firm in Harrow in 1971, the UK Mail surprised everyone by evolving into a national business that offered the same day and overnight deliveries. Having established itself as "one of the largest integrated parcels and mail operations in the United Kingdom," the company decided to enlist itself as one of the major subsidiaries of the Deutsche post to expand its horizon further.
The Supply Chain and Logistic Company working in North America and Europe, Exel, became the proud subsidiary of the Deutsche Post in the year 2005. The roots of its logistic origin lie in several independent warehouse as well as transportation management companies. 

After its re-branding as Excel and establishing its headquarters in Westerville, Ohio, in 1992, the company began to grow and expand to spread over Canada, Latin America, and South America.

It also expanded its portfolio of solutions to cover supply chain services like contract manufacturing, contract packaging, demand planning, freight consolidation, etc. Then, the future decades saw the company's rise that kept expanding to cover some leading contract logistic businesses of UK until declaring itself as the subsidiary of the Deutsche Post in 2016.

The company is now thriving with about 441 facilities and over 40,000 associates in North America. It continues to trade with the Deutsche Post while merging the rest of the business with the DHL Supply Chain and DHL Express. 
Exel now excels in its services to different automotive, consumer, chemical, energy, life science, retail, technology, etc. It covers several important services like transportation management, supply chain management, warehousing, manufacturing, assembly and packing, home and business delivery, reverses logistics, plant services, etc.
Founded in 2010, Street Scooter is a German company that manufactures electric vehicles. It began its journey as a privately organized research initiative that later evolved into an independent company.

Its designing journey began with a small two-seater city car and emerged as the leading manufacturer of electric cars with 700 employees manufacturing 200 vehicles annually. Street Scooter produces different electric vehicle models like Work, Work L, and Work XL and smaller models like pedelectric bicycles and tricycles. 

In 2014, the Deutsche Post decided to own Street Scooter as one of its trusted subsidiaries, and the company has been manufacturing cars for the Deutsche Post since then.

The year 2017 saw the production of 10,000 Work vehicles by Street Scooter as the result of scaling up its manufacturing process for the Deutsche Post. Street Scooter is now planning to replace the entire fleet of 70,000 vehicles of the Deutsche Post and DHL Express with its very own electric vehicles.
Founded in 1995, Blue Dart Aviation is an Indian cargo airline based in Chennai, serving seven Indian metro cities. Blue Dart Express owns 100% subsidiary of Blue Dart Aviation, and the Deutsche Post owns 70% of its stakes through its subsidiary Blue Dart Express.

Blue Dart Aviation was created to support the growing demands of the Blue Dart Express. Blue Dart Aviation was truly a path-breaking decision to buy its own aircraft and build its own infrastructure. 

Blue Dart Express decided to set up its first domestic freighter operation in India. It originated in Chennai, and another opened later in Mumbai and then proceeded to open six other aviation hubs in several other parts. Owing to its connection with the Deutsche Post as its subsidiary, Blue Dart Aviation now serves over 220 countries around the world through DHL's Parcel Service.

Blue Dart is best known for its night operations designed to serve its customers belonging to the business community who are more focused on late night cut-offs and the early morning deliveries.

With Blue Dart, the shipments originating from a city at the end of a business day can arrive at their destination before the beginning of the next business day. This service, accomplished with the help of the Deutsche Post as its parent company, marked Blue Dart Aviation as one of the most reliable companies.

---
These were the top five Deutsche Post subsidiaries. The company owns several other subsidiaries under it. Proficient in every field, Deutsche Post ensures that in exchange for gaining benefits from its subsidiaries, the subsidiary companies also earn their advantages from the parent company.

And hence, instead of facing limitations, the subsidiaries are flourishing under the influence of the Deutsche Post. And that's the reason why several subsidiary companies are thriving under the influence of the Deutsche Post and expanding their horizon towards greater achievements.