Providing a range of International Courier, Parcel and Express Mail services, Deutsche caters to the need of the customers around the globe. With their supply chains, management solutions, and delivery policies, Deutsche Post takes full responsibility for the entire shipping process for their customers. Since serving customer needs and demands is Deutsche Post's top priority, the company attaches equal importance to personal and business shipments deliveries. 
However, despite their outstanding services and unparalleled performance, some people are still faced with the question: How long does Deutsche Post take to deliver? 
It's not an uncommon question that peeps into the mind of many first-time customers. 
Let's begin!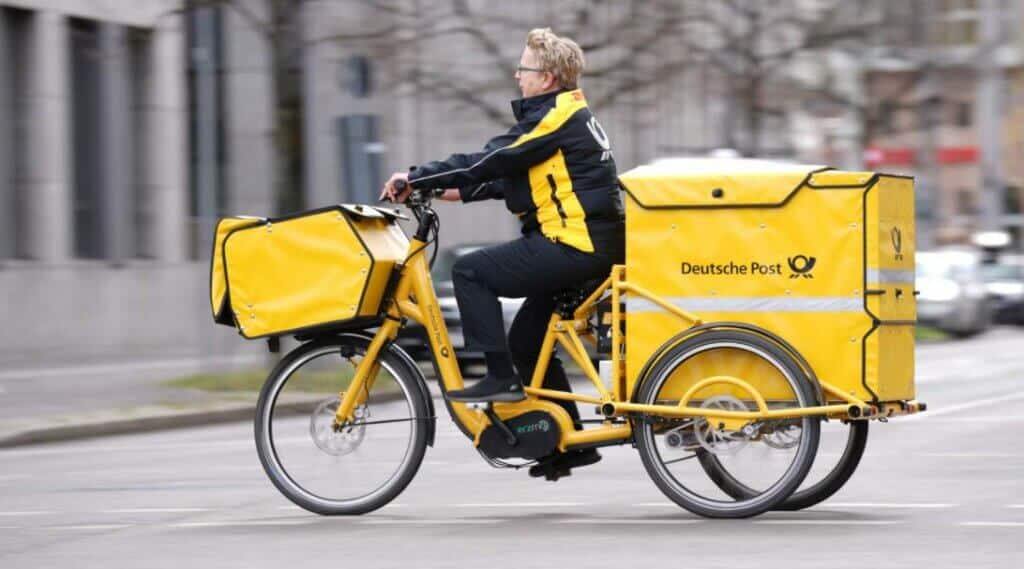 ---
How Long does Deutsche Post take to Deliver?
As said earlier, it is difficult to answer this question in just one word since many factors influence the delivery process. So, the best way to put it would be to say: Without any unnecessary hazards, normal deliveries with Deutsche Post take around 2-6 days.

However, it is important to mention here that some deliveries may take a few weeks depending on the distance between the origin and destination and the delivery option or shipping service chosen. Plus, certain unfortunate incidences can also cause a delay in deliveries, but that's an exceptional case.

Also, there is a new factor that recently raised its head as the direct consequence of the Corona Virus pandemic.

The safety rules that demand to be followed to stop the further spread of the virus are causing delays in deliveries in certain places. However, we believe it to be a temporary inconvenience, and the Deutsche Post is trying its best to prevent the calamity of COVID19 from affecting its delivery service.

There are still several other factors that need to be acknowledged to answer the question: How long does Deutsche Post take to deliver? So, let us shift our focus to those factors now.
---
Factors Influencing Deutsche Post Delivery Duration
There are several factors that impact the speed of delivery and hence the time that Deutsche Post takes to deliver. Below is a list of such important factors that influence the time that Deutsche Post takes to deliver: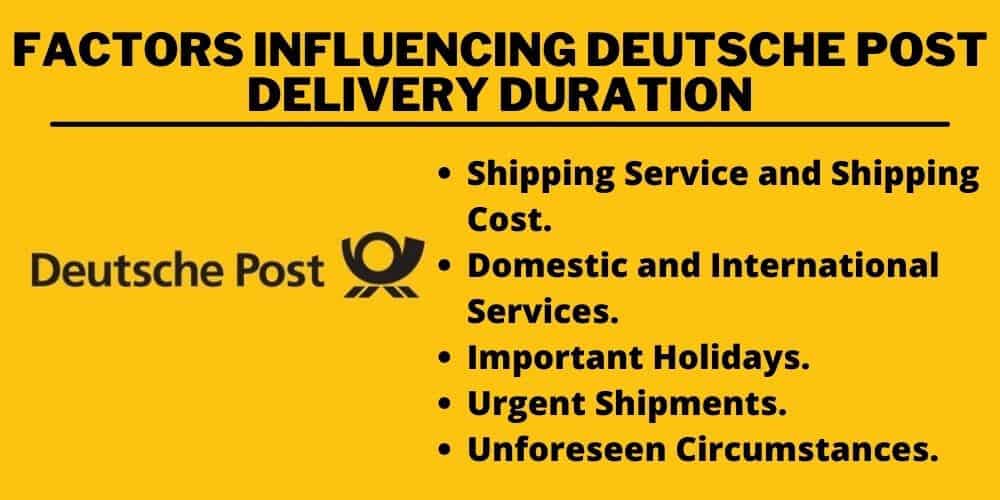 Shipping Service and Shipping Cost: 
Delivery speed is greatly influenced by the type of shipping service that you choose and the shipping cost that you are ready to incur. 

While selecting the service through which the customers want to mail their shipments, they are provided several options. However, the two most common choices available to the customer are:

👍 To choose a service with a longer delivery time at a lower rate.
👍 To choose a service with a shorter delivery time at a higher charge.

So, for a package shipped with the first option, it would take Deutsche Post about 7-14 days or more to get delivered. But if the same package is ordered using the second option, the delivery period would be reduced to a whopping 2-3 days. 
And what's more, the Deutsche Post also offers an additional service for one-day deliveries for urgent needs of the customers. But to avail of that service, you would have to pay a little extra.

Hence, it boils down to this: If you decide to have fast delivery, it will cost you some additional charges that are absent with the delivery services which are comparatively slower. But the expense will fasten delivery and effectively reduce the delivery time.

So, it is up to the customers and their needs that serve as the determining factor for the delivery duration here. It's the service chosen by the customer which decides when the package will reach its destination. Needless to say, the service with a higher shipping charge ensures faster delivery and vice versa.
Domestic and International Services:
The delivery time is also influenced by whether the customer is using the domestic services or international services of the Deutsche Post. International deliveries will take more time than domestic deliveries.

For domestic deliveries, Deutsche Post takes about 1-3 business days while for international deliveries, it can take up to 4-20 business days.

But then again, it is the particular shipping service chosen and the shipping charge paid that would determine the actual delivery time, regardless of the domestic or international services you choose.
Important Holidays:
Holidays are the most important determining factor regarding how long the Deutsche post takes to deliver. During important holidays, it's common for shipments to suffer a little delay in delivery.

Firstly, Deutsche Post closes some of their delivery services during certain major holidays, that delays delivery for a few days. Moreover, the company encounters a rather busy time during the holiday season. That's because many people shop at major e-commerce sites that use the services of the Deutsche Post to deliver their products. 

So, during holidays, it's normal to face little delivery delays with the Deutsche Post.
Urgent Shipments:
Deutsche Post understands that urgent times require immediate actions, even in deliveries of certain vital shipments. Hence, it extends its services to facilitate the delivery of certain urgent shipments which need to reach its destination within a particular timeframe.

That is exactly why Deutsche Post has its Same Day Delivery policy to meet the crucial demand of the customers in urgent need to deliver a critical or medical package. With this service, the Deutsche Post will be at your service without checking the calendar to determine whether it's a weekday or a weekend. 

Deutsche Post's emergency Same Day Delivery is at your service 365 days a year and 7 days a week! You might just have to pay a little extra amount to avail of it, that's all!
Unforeseen Circumstances:
No one can control certain unforeseen circumstances which can critically influence the time that the Deutsche post would take to deliver. 

In spite of their best efforts, Deutsche Post deliveries might get delayed due to several unpredictable events encountered during the delivery process.

Be it certain small events like traffic jams, custom delays, congestion at the airport, failed delivery attempts, or serious events like bad weather conditions, natural calamity, impacts of COVID19 pandemic, or any such unprecedented events, can cause a few hours to several days of delay in delivery.

Moreover, there are times when certain rules and regulations in the destination country cause unprecedented delivery delays. Also, regional uproars or local lockdowns in certain countries may hamper the delivery process of the Deutsche Post and cause unwanted delays.

Although, it's an exceptional case. Nevertheless, it's an important factor in determining the time taken in delivery.
---
Conclusion:
Rightly reputed as one of the most significant shipping and logistics companies globally, Deutsche Post always likes to be on the top of the game. Hence, the multinational company strives to bring the best delivery services and keep its customers satisfied.
Deutsche Post ensures quick and efficient deliveries—a reason why customers rely on this company, even during the crucial time of emergencies. Hence, ignoring the unforeseen circumstances and holiday season rush delays, the customer will always find Deutsche Post one of the most trustworthy companies with the swiftest delivery service.