In today's world, we simply cannot keep our lives going without online shopping platforms. Be it your groceries or home appliances, we all have become dependent on such online shopping sites. 
It's way more comfortable as you can get your product at your doorstep without going out. What if this comfort is going to put you in huge financial trouble? Have you ever thought about the security breaches that can take place while shopping online?
If your answer is no, then it is high time you should think about it. Here in this article, we will cover the latest delivery scams on Amazon, UPS, FedEx, and DHL. 
What's the current situation? – Delivery Scams
We all know that this festive season has always been the timing of huge online purchases. All the courier companies are busy delivering the parcels to the customers. Keeping the popularity of the festive season in mind, scammers have opted out this time of the year.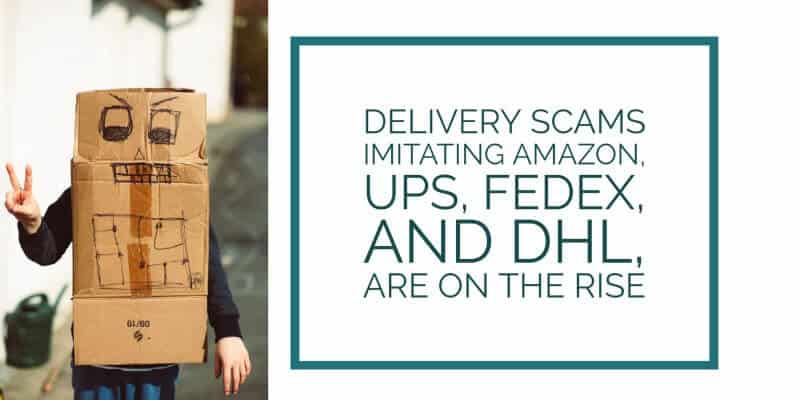 Scammers and hackers are sending fake notifications and messages to the customers stating that their deliveries are delayed. They are providing a link with it. As soon as you click on that link, your device screen goes black completely. Soon you get an alert message that your device has been hacked, and they will ask you for ransom money. In case you don't give them the money, you will lose access to your personal data on that device.    
Long Beach Realtor Tom Hoehn faced such an issue, and he denied to pay $4.8 billion as the ransom to the hackers. His email ID's hacking followed this, and the IRS informed him that his identity is being misused. That is how hackers are choosing their targets just when they are expecting their parcels to arrive. 
What's the problem?
Well, hacking is not a new thing in this age of technological evolution. Online scams have always been there, but this time the delivery scam is extremely on the rise. Here in this section, we will try to find out the root cause of the rising issue. 
We all know how crowded the malls become during Black Friday. However, this year there were a few exceptions. According to the S&P Global Market Intelligence, there was a 70% decrease in foot traffic in the present year. On the contrary, Amazon faced 37% increase in their third-quarter sale. 
This gave Amazon 200% profit, which is greater than any year. By these figures, you can well imagine how many people chose to shop at these online sites. That is precisely what we should consider to dig out the root cause of these delivery scams. 
Hackers are aware of the huge amount of sales on these platforms, and they're just waiting for the right time. They started collecting data about those customers who were expecting parcels from UPS, DHL, Amazon, FedEx. 
On the day of arrival, they decide to send phishing emails and messages to the customers to look real. All these courier services send an email or a message regarding the shipping on the very day of delivery. No one could even think that the texts, they have got phishing policies of the hackers. The numbers and the email addresses looked as perfect as anything, no doubt regarding the credulity of these messages.
Source: https://www.cnbcafrica.com/article/2020/12/19/delivery-scams-imitating-amazon-ups-fedex-and-dhl-are-on-the-rise/
What are the possible solutions? 
First thing first. We all know that protection is better than cure. We can avoid such scams by not clicking on any link that you get via these texts; if you need to inquire about your parcel, log in on the courier company's official website. You can get tracking details from their official website or directly call them in their given numbers. 
Secondly, if you by any chance get into such trouble, contact the cybercrime cell immediately. Amazon has given an official statement on this. They stated that if any of their customers get such questionable texts or emails, they can lodge a complaint at Amazon. The Federal Trade Commission or Better Business Bureau is in charge of going after the hackers.  
Thirdly, keep changing the password of your online shopping site accounts frequently. If possible, use multiple email accounts for various shopping sites. Do not purchase everything using just one email account. If hackers see many activities from a single account, they try to target them. 
Lastly, try to back up all your personal data to some other devices that you do not use for online shopping. 
Above all these measures, there is one more thing that can be done on behalf of device making companies. Microsoft's own Digital Crime Unit has rescued more than 500 million devices from hackers since the year 2010. 
Wrapping Up on Delivery Scams
Hacking and scamming are inevitable parts of this online world. However, to which extent the hacking and scamming are taking place becomes the important question. When it is about a scam worth $4.8 billion like in Tom Hoehn's case, it becomes a matter of concern. Such issues can be avoided only when the government improves its technologies to find out these hackers. 
The online shopping sites should also launch two-factor authentication for providing their customers with better security engagement. Until such measures are taken, the only thing we can do is to be cautious with such questionable messages. 
We hope this article helps you understand why such delivery scams are on the rise these days.